[Photo courtesy Dayanand Nikam]
For a little over eight days, Dayanand Nikam, 32, has chosen to deviate from his normal morning routine. Instead of supervising labour at his farm in Nhavi Budruk, a village on the periphery of Satara district in Maharashtra, Nikam has been busy aggregating his perishable produce—watermelons, ginger, papaya, among others—and combining it with collections from a few farms nearby, loading it into four tempo vans, criss-crossing the district, halting at select locations, and using loudspeakers to attract attention from families looking for fresh produce. Sales have been brisk.
Nikam and his cohort of 37-odd farmers, who are part of this daily routine, are now making more money than they ever did when they took their produce to the local mandi to sell to the middleman. Nearly 40% more, avers Nigam. "Kisaan ko ugaana aata hai, bechna nahi. Corona humko bechna sikha raha hai." (Farmers know how to sow, but not to sell. Corona is now teaching us how to sell as well.)
Even in his wildest dreams, Nikam had never imagined himself as an entrepreneur. But since the rabi harvesting season started a month ago, he and his cohorts discovered two big challenges.
The migrant labour to cut and lift the yield had disappeared. And so had the truck drivers who transported fresh produce from mandis to the markets. As a result, middlemen had either stopped buying their produce or were offering ridiculously low prices, leaving most of it to rot on the fields.
This problem wasn't endemic to Satara. Across Maharashtra, the sudden and wide reverse labour migration had thrown the agri sector into disarray. The state's political establishment tried to draw the attention of the Centre. There was no proper response.
That is when in Satara its local administration, farmers and the local mandi middlemen, civil society and social innovators decided to take things into their hands and find home-grown solutions.
Driven by compulsions created by the lockdown, the local administration in Satara has managed to kill two birds with one stone.
It has successfully experimented with a direct-to-home model for most essentials—grocery, milk, fresh vegetables and fruits. In turn, this has opened up an opportunity for small farmers-turned-entrepreneurs like Nikam. There are many more like him who are now waiting to get in.

It also ensured that the municipal council was able to enforce social distancing norms during the lockdown.
Too close for comfort
Well before Nikam and his cohort of farmers took the plunge to set up their direct-to-home model, the management team at Satara's municipal council knew they had a challenge on their hands: the district collector had ordered the lockdown on March 22. They knew it would be a challenge to restrain people from venturing out of their homes, unless they could ensure essentials such as groceries and milk are delivered at people's doorsteps.
This was easier said than done. With a population of 1.5 lakh, spread over 40 wards, Satara isn't exactly a pocket borough. On Day One, after the municipal council ran the local mandi, their resolve was further strengthened. It was extremely overcrowded, with every citizen making a beeline for supplies to stock their refrigerators.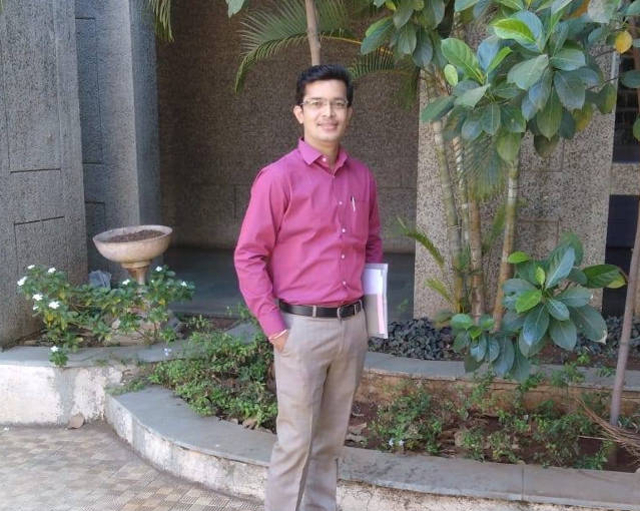 "Corona is making all of us reflect and bring in systems which are for the benefit of the citizens."
- Sanchit Dhumal, deputy chief officer and head of the health department at the municipal council
"No matter what measures the council would have taken, social distancing would have been virtually impossible at the mandis," said Sanchit Dhumal, deputy chief officer and head of the health department at the municipal council. "But because the city had managed door-to-door garbage collection with a fleet of 40 trucks, we believed it was very much possible," he added.
With Dhumal and his team trying to figure the logistics out, word reached Dr Avinash Pol, a seasoned social worker and dentist.
Pol imagined this as an opportunity to invite a collective of small farmers who had the entrepreneurial instincts to build a direct-to-home model by securing permissions for them to run a fleet of vans. He saw the crisis as an opportunity to organise these farmers and turn the threat on its head.
More than a week into this direct-to-home experiment, Pol sounds confident. "I don't think any city in India has a system close to what we have started in Satara," Pol told me proudly over the phone.
The catalyst
A trained dentist, Pol has been involved in many social causes across rural Satara. When actor and director Aamir Khan and his wife Kiran Rao set up the Paani Foundation to solve drought in the state in 2016, they picked Pol as their chief advisor.
Today, Pol has taught Nikam and his cohorts to forget about relying on politicians or the state to help them—instead, he taught them to use their innate entrepreneurial instincts. "Dr Pol was able to successfully play the role of a bridge-builder because of the trust and credibility he enjoys, thanks to more than three decades of social service," said Sundeep Waslekar, president of Strategic Foresight Group, a think tank that advises governments around the world, and the author of a best-selling non-fiction book in Marathi, Ek Dishecha Shodh.
"This is a great chance not just to serve the residents of Satara during the lockdown, but to address a long-term business opportunity where you can build a direct bond with your customers."
- Dr Avinash Pol, a seasoned social worker and dentist
Pol offered the small farmers wise counsel. "I had told farmers that your primary business is not to sell crops. It is to invest in human capital. This is a great chance not just to serve the residents of Satara during the lockdown, but to address a long-term business opportunity where you can build a direct bond with your customers," he said over the phone.
It helped though that six months ago, the same cohort of 38-odd farmers had set up a self-help group (SHG). The idea of forming an SHG had come up casually when they were hanging out at the village shop like every other day. "We felt we should go ahead because not only will this strengthen our collective and help us learn from each other, but in the future, we could also form a private limited company and apply for special governmental benefits. We are trying to move towards organic farming. This will not just strengthen the health of our produce but also help us avail the various benefits the government is offering," said Mahesh Dalvi, president, Mhatoba Krushivikas Mandal, the SHG that Nikam is a part of.
Now, a large majority of farmers would baulk at the prospect of turning entrepreneurs. But a small section like Nikam and others had seen the writing on the wall: If the season's yield went to waste, it would trigger a food shortage in the near term, and many farmers would have no cash flow left to prepare for the next season.
That's when Pol suggested they club their produce and collectively hire a tempo van. Using his good offices with the local municipal council, Pol helped farmers secure permissions for the tempos to ply during the lockdown.
These tempos, hired for Rs 1,200-1,500 a day, now go to various parts of Satara. They are parked near residential areas and the produce is sold directly to customers. Each day, a farmer volunteers to accompany the driver and helps sell the combined produce. "While we can start 40 tempos from tomorrow, it is better to first try out this model with four tempos and figure out the challenges we face," Nikam explained.
Slow and steady, does win the race.
For example, on the first day, when the tempos arrived, customers didn't turn up. Because no one was aware this service existed. "Next day, we added mikes to announce our arrival and the problem got solved," said Nikam.
Direct benefit transfer
When fear is all around that infections can be transmitted, the direct transfer model is a much safer option, as opposed to the overcrowded mandis. Social distancing is practically impossible to enforce there.
Implicitly, mandis also encourage buyers to hoard because they fear they may not get a chance to return (due to lockdown restrictions) and are fearful that little produce will be left the next time they visit.
On the other hand, crowds are manageable within residential premises and social distancing measures can be implemented. Once they are assured about the frequency of supplies at their doorstep and that the produce is handled hygienically, residents can be more easily persuaded not to hoard.
For farmers, eliminating middlemen has helped significantly boost margins. Typically, at local mandis, as a thumb rule, for Rs 10 for every kg of produce sold, the middleman would keep nearly Rs 3.5/kg, leaving Rs 6.5/kg for the farmer. The middleman—or the vyapari, as he is known—then goes on to sell at the nearest Agricultural Produce Market Committee (APMC) market in Vashi in Mumbai at nearly three or four times the purchase price and pockets the difference.
The question now is, what happens when mandi operations resume? After having tasted success, the farmers' collectives are in no mood to continue relying on middlemen at the mandi for their fresh produce. Instead, they are planning to add more vans to fully scale their practice, well beyond the 250-odd households that they are currently covering.
Besides, the farmers have supported each other in cutting and lifting each other's produce. This has reduced the need for agri labour.
Pol said he is happy to see the level of collaboration among the farmers. "They (the farmers) have a good relationship. Even the application for tempo permissions was submitted by one farmer on behalf of everyone. This also made it easy for the municipal council, who didn't have to deal with many people," he added.
The entrepreneurial spirit—and the urge to test and learn—is rubbing off on Nikam and his cohort. "We now plan to create a list of 15 essential items like brinjal, tomatoes, and onions. Each of these items will be available in small packets and we will publicise what the fixed price is to customers. While this will require additional effort to create packaging at our end, it will save on time and reduce queues. I hope we can start this soon," Nikam said.
Meanwhile, the local administration has to decide whether this direct-to- home model should be allowed to continue, once normalcy returns. As many as 281 grocery stores and 175 medical stores have been allowed to serve homes directly in specific wards across the towns. And another 146 vans supplying vegetables, milk and fruits have been allotted specific wards as well. Around 22 of these vans are run directly by small farmers. Dhumal is also coming around to the view that Dr Pol's recommendation—to invite more small farmers to the opportunity to step up—has merit. More small farmers are being drafted now. His logic is simple: data shows their end consumer prices tend to be lowest.
And Dhumal knows the consumer response has been strong. He set up a WhatsApp portal to receive complaints about the direct-to-home model. Not a single one has come in so far. In fact, people have expressed a demand for more variety of fresh produce. This is being addressed by ensuring each tempo gradually improves their assortment of fruits and vegetables.
Necessity may be the mother of invention. But Dhumal knows it will be hard to put the genie back into the bottle. Ultimately, he says the decision to continue or not will depend on habit formation, whether people prefer buying groceries at their doorstep, like they have gotten used to ordering food from restaurants. And longer the lockdown continues, the more residents will get used to direct deliveries.
Besides, there is recognition that the mandi poses other challenges as well: the lack of parking and the possibility of the spread of other common communicable diseases.
"Corona is making all of us reflect and bring in systems which are for the benefit of the citizens. I think we should not wait for the next virus to again set up such systems. Instead we should continue with the arrangements we have discovered this time so that we are prepared for the next pandemic," said Dhumal.