[Image by Rudy and Peter Skitterians from Pixabay]
What does TikTok reveal about millennials and consumer behaviour? How can marketers leverage it? This is the first story in a four-part series—a collaboration with Quipper Research, led by its co-founder and CEO Piyul Mukherjee.
TikTok has created waves around the world with its social content app. In less than a year, it has reset the narrative in India as well—especially in small towns—with nearly 200 million users in its fold. Even though the videos are no more than 15 seconds, you have to see the virality to believe it. TikTok has turned some of its content creators into "stars" in their own right, with millions of followers.
Yet most experts are struggling to understand what's going on.
Founding Fuel has planned a special package of stories on understanding the TikTok phenomenon, in collaboration with the team at Quipper Research, led by its co-founder and CEO Piyul Mukherjee. This multimedia story, with embedded video and podcast, is the first story in that series. It offers a quick look at the factors at play behind this rising wave—and the possible breakwater that may stem the tide.
Click on the image below to view the multimedia story—on your laptop, keep clicking to go through each slide and view the entire presentation. On a smartphone, you can expand it and view in landscape mode; and you can swipe to view the slides.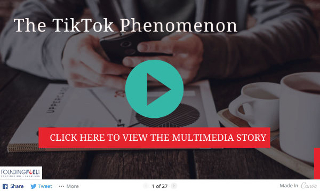 What's Next
A Facebook Live session on Understanding the TikTok Phenomenon
Date: July 19, 2019, at 3 pm (IST). Register here
Panellists:
Piyul Mukherjee, Co-founder and CEO, Quipper Research
Damodar Mall, CEO, Reliance Retail (Grocery Retail)
Ashwin Suresh, Founder, Pocket Aces
Host: Indrajit Gupta, Co-Founder, Founding Fuel
Watch out for more stories on this theme over the next few days.
Also in this series
A Facebook Live conversation with Piyul Mukherjee from Quipper Research; Damodar Mall from Reliance Retail; and Ashwin Suresh from Pocket Aces
To make sense of the uncertainties and disruptions around us, we must try and understand the underlying human attitudes and behaviour. There's much for brands and marketers to learn from the TikTok phenomenon, says Piyul Mukherjee. (Don't miss the embedded multimedia story 'Inside the World of TikTok Stars')
Business As Usual marketers are blissfully insulated from what's happening on TikTok, an app that has at least 200 million of their own core customers hooked, says Piyul Mukherjee