One of the biggest tragedies of India has been the waste of human potential. In all corners of the country, you meet the most talented and gifted people, but they have not been able to flower and bloom because of lack of access to the right training, the right advice or the right opportunities. On the one hand this is due to economic deprivation and social barriers, and on the other our failure to build enough institutions that could help people vault over these obstacles.
Recognising this problem, the government has done its bit from time to time, setting up the RECs (now called NITs) and IITs in the 1950s and 1960s, the National Law Schools, and more recently the IISERs. At the school level, repeated taunting of Rajiv Gandhi about his privileged Doon School background led to the creation of the Jawahar Navodaya Vidyalayas, high-quality residential schools set up in almost every district of India.
Now, in this age of capitalism and individual initiative, it's the turn of large-hearted philanthropists. One of the most audacious efforts to make sure that the best and brightest don't get left behind merely because they were born poor or underprivileged is the VidyaGyan schools project started by the Shiv Nadar Foundation (SNF) in Uttar Pradesh in 2009.
VidyaGyan
VidyaGyan consists of two fully residential schools, one in Bulandshahar, and the other in Sitapur. The schools start from Class 6.
To start with, SNF was inviting the best boy and the best girl student from Class 5 in each government school in UP to take a state-wide entrance test. After a few more levels of selection, including a verification of family income (not more than Rs. 1,00,000 per annum), 200 students from across the state, were chosen to join these schools. About 60% are boys and 40% are girls.
From this year onwards, the selection process will be open to students across the state, and the school hopes to find 400 talented students. Recognising this, the test preparation and coaching industry has swung into action, producing test guides for the entrance exam. I have mixed feelings about this – while this is a clear sign of market recognition of the importance of these VidyaGyan schools, entrance may no longer be on a level playing field. The "political market" has recognized VidyGyan too – UP CM Akhilesh Yadav landed on one of the VidyaGyan school playfields a few months ago for a visit.
Distinctive features of VidyaGyan
What's special about these schools? A generously laid out campus – 30 acres is the size of the expanded Bulandshahar site. Contemporary architecture that would make any school proud. Well-lit classrooms, labs and library with huge glass windows. The best faculty from across the country, with prior teaching experience in the best schools you can imagine. An emphasis on learning by doing with students encouraged to design their own experiments. The walls adorned by tasteful art work created by the students themselves.
No, this is not Doon or Welham or any of the new era international schools that dot our metropolitan cities today. Each of the students who attends VidyaGyan comes from a family that earns less than Rs. 200,000 per year and pays nothing to get a world class education.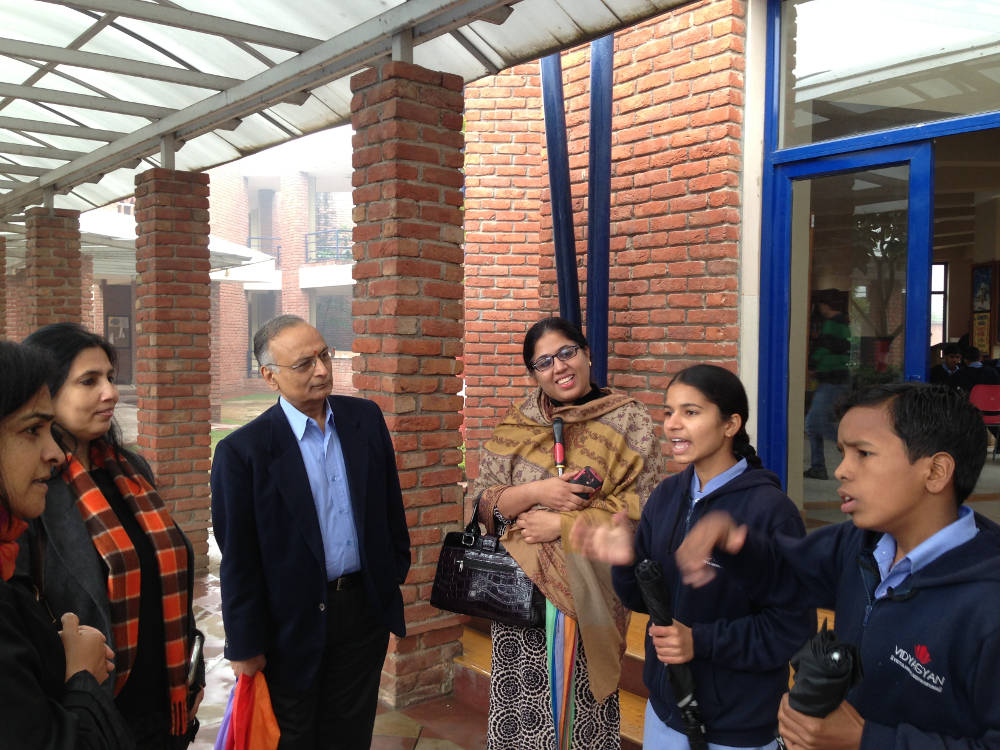 On a recent visit to VidyaGyan Bulandshahar, we got shown around the school by the best guides possible – Pooja and Prince, two 8th standard students. They dispelled the gloom of a foggy, cold, rainy day. Pooja had the flair of a practiced hand – it turned out that she had done this many times before. Prince was a little hesitant, but appeared to be learning the ropes fast. Their pride in their school was obvious as they showed us the labs, the classrooms and the library, all the time explaining small details. Their English speaking and reading skills were perfect even though they had studied at Vidya Gyan for just a little over two years. And they were perfectly at ease making conversation with people four times their age!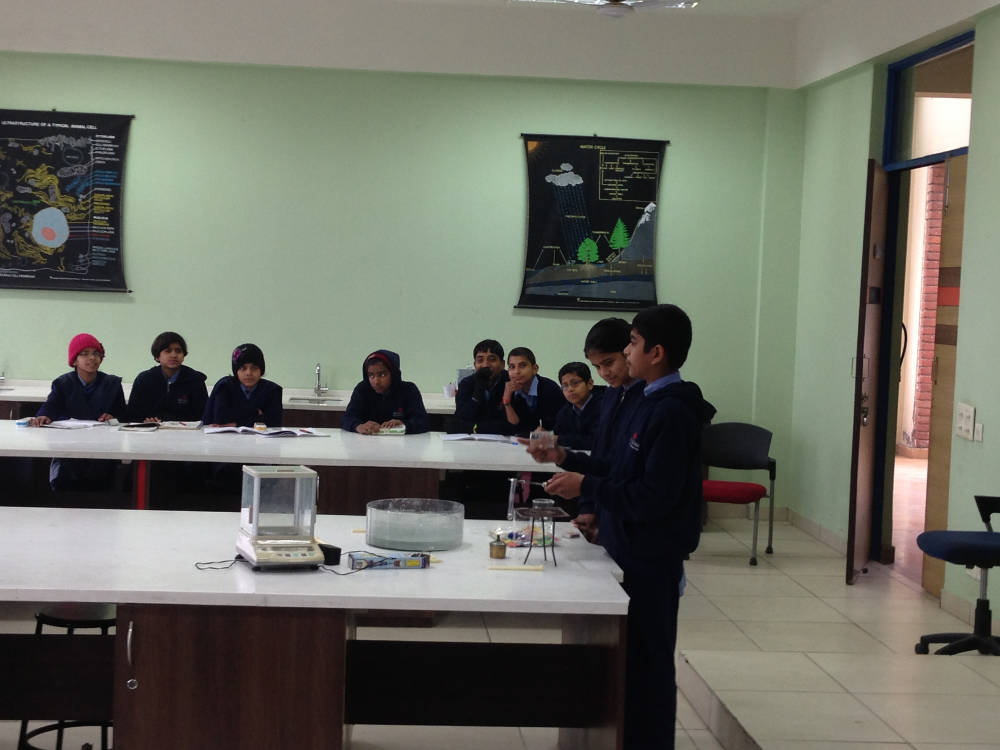 We peeped in on a Class 6 science class. Two students, a boy and a girl, were standing at the head of the class and demonstrating something to their peers. The boy was speaking confidently in English, but then suddenly broke into Hindi to make a point. All of this was done quite naturally.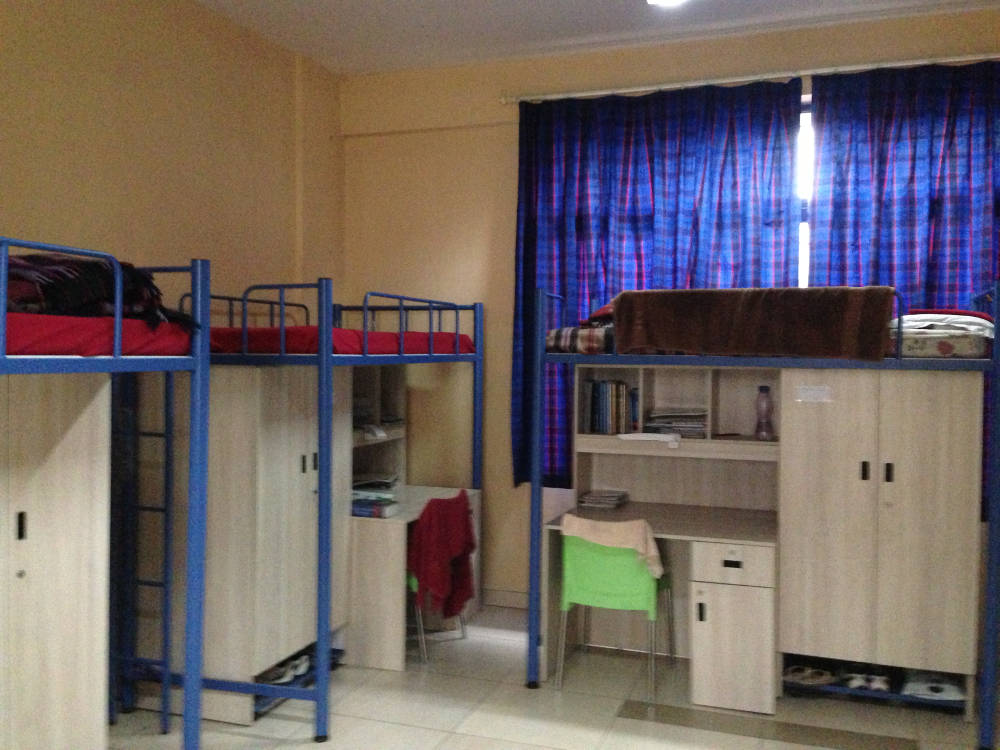 Everyone looked bright and well cared for. Pooja told us that she likes to spend her spare time studying. She looked thirsty to learn. The hostels are densely packed but well arranged. Each student has her own "set" of furniture – a chair and table with a bunk bed on top. Each desk has an integrated table lamp so that those who want to study late can do so without disturbing others. The cafeteria is bright and airy.
International links are growing. 14 interns from some of the best universities visited VidyaGyan last summer. A few students from Vidyagyan have visited the US on short exchange programmes. One of them has spent almost a year on a longer programme and, as we saw on a video recording, has already developed an American accent! Some students in Class 11 are preparing for SAT and hope to attend American universities.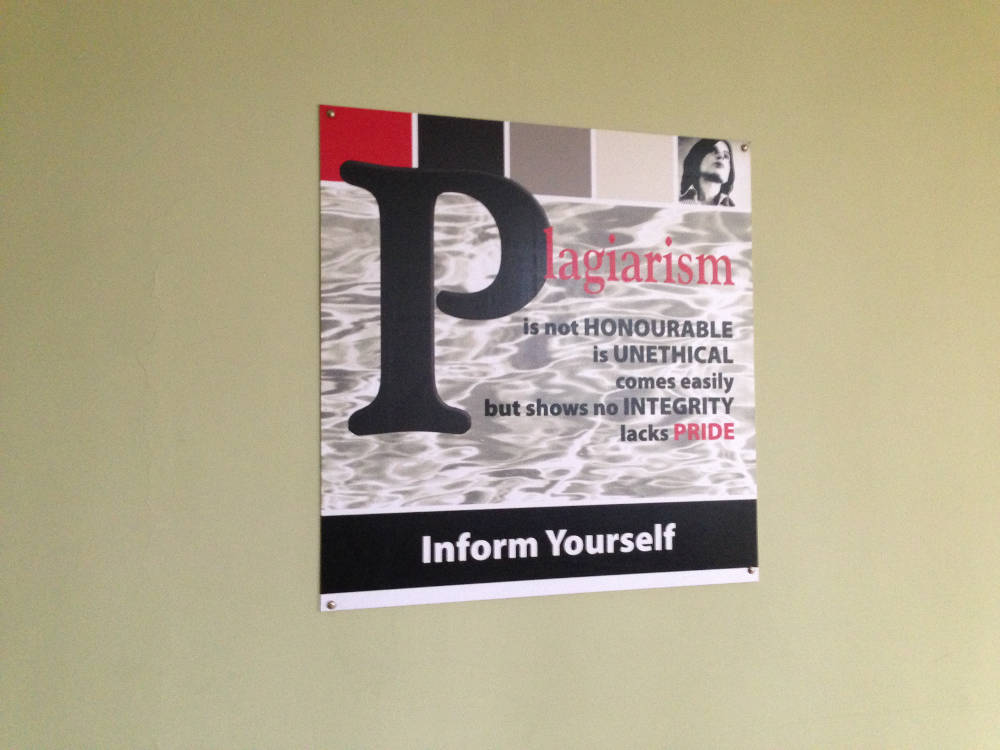 I was particularly impressed by the school's anti-plagiarism campaign. We saw posters all over the campus creatively explaining what plagiarism is, and how it can be prevented. Let's hope this spawns a set of creative thinkers and writers for our country.
Challenges faced by VidyaGyan
VidyaGyan's students have been plucked out of their homes from distant corners of UP. One of the biggest challenges is making sure these students retain their connections with their families, homes and the communities from which they come. As they become proficient in English and exposed to the wider world, their distance from their communities is bound to grow.
The VidyaGyan schools are conscious of this and encourage students to do local projects back at home during breaks. Successful ones have included building water filters, spreading the message of health and hygiene, and contributing to adult literacy. The hope is of course that VidyaGyan's alumni will become leaders in their own right in their local communities. The champion of the VidyaGyan schools, Roshni Nadar Malhotra is more ambitious though, and hopes for a Prime Minister from VidyaGyan one day.
According to SNF's latest annual report, the Foundation has spent Rs. 342 Crores so far on the VidyaGyan project. The SNF estimates that it costs about Rs. 2 lakhs per student per year to provide them this world class education. The VidyaGyan schools don't stint on anything, and it shows in the costs. Clearly, this is not a "scalable" model. But that should not detract from its value.
Conclusion
Over the last two decades, the Indian IT industry created good jobs for hundreds of thousands of Indians and put India on the world technology map. Now, in their second avatar, the founders of India's iconic IT companies are trying their hand at social transformation. Clearly, they are as ambitious about their philanthropy as they were about their business. Shiv Nadar has mentioned Rockefeller and Carnegie as his philanthropic role models.
Though I feel a little squeamish about their very visible and "branded" philanthropic efforts, it's certainly good to see a diversity of such initiatives. There is often a debate about whether one should strive for widespread access or the SNF-type initiative to give the best an outstanding education. I believe that in a country of our size, there is room for all sizes and flavours, and I will be looking at the VidyaGyan initiative with expectation in the years ahead.