[Image by stokpic from Pixabay]
Dear friend,
It's Friday morning.
And when today comes to a close, promise us, you'll slow down and take time out with yourself.
If you may need any reason, "Consider the human brain," writes Lawrence Freedman, in Strategy: A History. "The brain consumes 20 percent of the body's energy, far more than any other organ while making up only 2 percent of an adult's body weight. Something so costly to maintain must have developed to meet a vital need…"
"In evolutionary terms, the value of these skills was not hard to imagine in the face of challenges from other species that might be stronger but also more stupid."
To understand the significance of what that means, consider an example Freedman cites.
"Ants are among the most warlike of creatures. Their foreign policy has been described as 'restless aggression, territorial conquest, and genocidal annihilation of neighbouring colonies whenever possible. If ants had nuclear weapons, they would probably end the world in a week'….
"Warfare among ants has a clear purpose: a struggle for food and territory. Ant warfare is in no sense strategic… There is no scope for bargaining and negotiation… By contrast, studies of chimpanzees demonstrated a strategic intelligence at work."
When thought about, what we know is, chimps have brains more evolved than ants. What we also know is that a chimp brain is one third the size of a human brain.
But the human brain needs a well-deserved break as well as today ends.
In this issue
Will streaming services decimate movie theatres?
Meeta Sengupta on the New Education Policy
What to do about ads?
Have a great day!
Founding Fuel Exclusive: Will streaming services decimate movie theatres?
In the third part of our series on Talkin' 'Bout My Generation, an intergenerational dialogue, father-son duo Damodar and Harsh Mall discuss movies.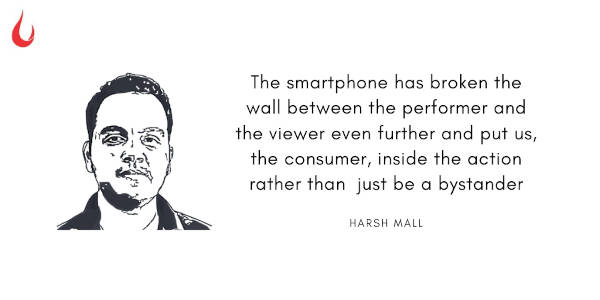 Harsh Mall begins his essay with the story of Nina Alves, for whom watching movies in a theatre with friends and family was a social event. The pandemic changed not only where she watches movies, but also how she watches movies. Harsh writes:
"But if the bulk of movie-watching shifts from theatres to couches, does it change how we watch movies as well? In the age of smartphones, a movie theatre is that rare space where you devote all your attention to a single screen. And unlike with your own device, you can't pause the film in a theatre for a bathroom break, fast-forward through yet another song, or give up on the film altogether, as Nina often does. And she's not alone. Less than 20% of viewers in the US completed watching Netflix's The Irishman and Birdbox, two of the streaming service's biggest hits. With so many options accessible at a click or tap, and no cost associated with ending one film and starting another, viewers like Nina are sampling films rather than consuming them whole."
In the audiogram, Damodar Mall builds on what Harsh says, pointing out that entertainment is a group activity and a shared pass-time for us in India.
They will continue their conversation with our Founding Fuel network, and we welcome you to be a part of it.
Dig deeper
What the New Education Policy gets right
Meeta Sengupta, founder, Centre for Education Strategy, offers her first comments on the New Education Policy.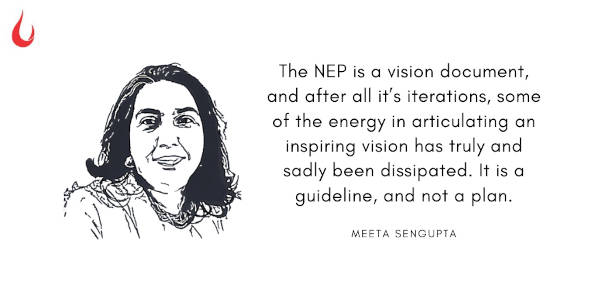 Sengupta writes: "The New Education policy leads with three radical changes that will bring much needed relief from the pipeline approach that had trammelled much of our students' potential. First is the excellent initiative of allowing students in HE to collect credits and step away from HE and return when they can (within limits). Life happens to us all—it should not be a reason to lose out on one's degree. Combined with the ability to transfer credits across universities (now being enabled), this gives true freedom to students to find their best fit. The second is multidisciplinarity—across schools and higher education. Students can choose any subjects, all subjects are equal and the concept of streams has been disbanded. This truly frees up students to work to their talents rather than to an administrator's diktat. A huge breath of fresh air, much needed. The third fantastic input is flexibility given in Class x/xii board exams. Again, more choice, more chances to get it right."
She says it's not perfect. There are many gaps to be filled. And there's more to be done.
The toughest criticism that the NEP will face will be that it is idealistic and not practical at all. That these are words that mean little to educators. The NEP is a vision document, and after all its iterations, some of the energy in articulating an inspiring vision has truly and sadly been dissipated. It is a guideline, and not a plan. Plans follow from here on.
Dig deeper
What to do about ads?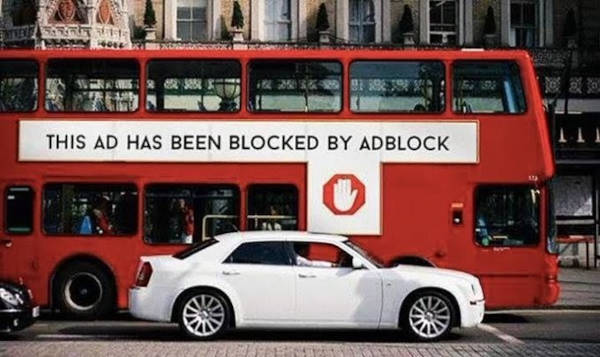 (Via WhatsApp)
Do you use adblockers? Tell us why or why not on email, or share it on Twitter, tagging @foundingf. Or head to our Slack channel.
And if you missed previous editions of this newsletter, they're all archived here.
Bookmark Founding Fuel's special section on Thriving in Volatile Times. All our stories on how individuals and businesses are responding to the pandemic until now are posted there.
Warm regards,
Team Founding Fuel