[Photo from Unsplash (cropped from original)]
Good morning,
An old Turkish story goes like this. Somebody once found Nasreddin Hodja searching for something under a street lamp. He asked the mulla, "What are you searching for?" Hodja said, "my key." Trying to be helpful, the man joined the search.
After some time, he asked him, "Where did you lose it?"
"Inside my house," Hodja said.
"Then, why are you looking here?" the man asked.
"Because there's more light here," Hodja said.
In a new book, Think Like a Rocket Scientist: Simple Strategies for Giant Leaps in Work and Life, Ozan Varol, a rocket scientist and a law professor, shares this classic, and goes on to offer an insight that's important for today.
Varol writes: "Our yearning for certainty leads us to pursue seemingly safe solutions—by looking for our keys under street lamps. Instead of taking the risky walk into the dark, we stay within our current state, however inferior it may he. Marketers use the same bag of tricks over and over again but expect different results. Aspiring entrepreneurs remain in dead-end jobs because of the certainty they get in the form of a seemingly stable paycheck. Pharma companies develop me-too drugs that offer only marginal improvement over the competition as opposed to developing the one that's going to cure Alzheimer's disease.
"But it's only when we sacrifice the certainty of answers, when we take our training wheels off, and when we dare to wander away from the street lamps that breakthroughs happen. If you stick to the familiar, you won't find the unexpected. Those who get ahead in this century will dance with the great unknown and find danger, rather than comfort, in the status quo."
In this issue
Salman Rushdie on resilience
The evolution of the hustle economy
The importance of intergenerational dialogue
Have a great week ahead!
Salman Rushdie on resilience
Recently, Interview magazine asked novelist Salman Rushdie what good could come out of this lockdown. Rushdie starts by questioning that line of thinking—the human tendency to believe that something good should always emerge out of something bad—in the first place. Then he goes on to give an answer that's both insightful and uplifting.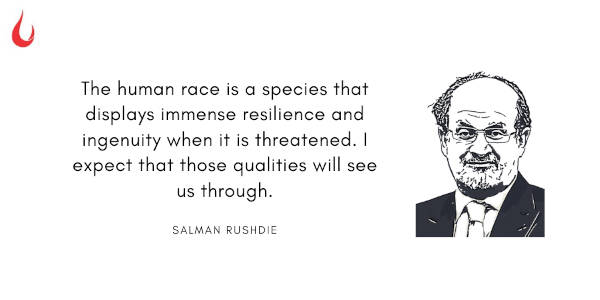 Rushdie says: "I'm not sure why this question is being asked so often. Did our ancestors ask themselves what good would come out of the Black Death? Why this need to believe that there's always a positive side to a global calamity? The best that can come out of this is that we learn that we have the strength and resolve, as individuals and as communities, to survive it. Beyond that, the voices asking for the emergence of a kinder, gentler, less greedy, more ecologically wise, more inclusive society are, I think, indulging in Utopian thinking. The 'Rona is not a comet trailing socialism in its tail. The creators and beneficiaries of the world's power structures will not easily alter or relinquish what benefits them. But, yes, we can struggle toward that better world, and who knows? Our children may see it. As to hope, there's always reason to hope. The human race is a species that displays immense resilience and ingenuity when it is threatened. I expect that those qualities will see us through."
Dig Deeper
The evolution of the hustle economy
Last year, Li Jin, a partner at the VC firm Andreessen Horowitz, observed, "gig work isn't going anywhere—but there are now more ways to capitalize on creativity. Users can now build audiences at scale and turn their passions into livelihoods, whether that's playing video games or producing video content. This has huge implications for entrepreneurship and what we'll think of as a 'job' in the future."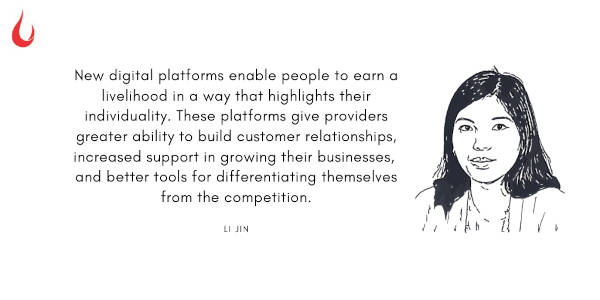 The trend has only strengthened during the coronavirus pandemic. A recent piece in OneZero captures its growth, with some inputs from Li Jin.
"To Jin, hustle economy platforms represent an opportunity to commoditize a once-worthless or near-worthless resource—think bottled water. Every person on earth has some deep knowledge or experience or skill in something, she argues. If platforms can funnel that into a product that consumers want, then the value of the hustle economy balloons into the hundreds of billions of dollars.
"'Anyone with noncommoditized skills can do this,' Jin told OneZero.
"For workers, the premise of hustle economy work is equally seductive. Just like gig work, you can choose your own hours. But with the hustle economy, you can really be your own boss, and spend time only on projects you like and feel proud of. While both the gig economy and conventional employment 'stripped workers of their autonomy and agency,' Jin said, hustle economy platforms 'empower' them. The movement's rhetoric often, and ironically, echoes Karl Marx: Only liberated workers with control of production can soak up the full spiritual and financial benefits of their labour."
Dig Deeper
The importance of intergenerational dialogue
This illustration by Israeli artist Yuval Robichek brilliantly captures the dynamic between older and younger generations.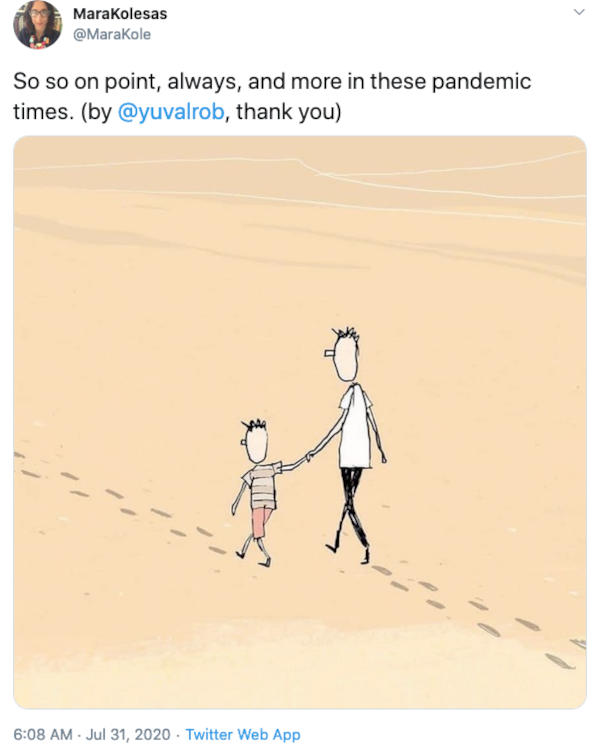 (Via Twitter)
What do you talk about when you talk to the younger generation? Let us know. Head to our Slack channel.
And if you missed previous editions of this newsletter, they're all archived here.
Bookmark Founding Fuel's special section on Thriving in Volatile Times. All our stories on how individuals and businesses are responding to the pandemic until now are posted there.
Warm regards,
Team Founding Fuel