[Photo by Étienne Godiard on Unsplash]
Good morning,
In his letter for the first international Giving Pledge group, Azim Premji, former chairman and managing director of Wipro, wrote about the difficulty his mother faced in helping to build and run a charitable hospital in Mumbai.
He wrote: "My mother was the most significant influence in my life as I was growing up. She was a strong woman, and a deeply committed person. Though she was a Medical Doctor, she did not actually practice medicine, but dedicated a large part of her life, close to 50 years, in helping to build and run a charitable hospital for Polio and Cerebral Palsy Children in Bombay. It was not an easy task. It was very difficult to get the funding and even harder to organise everything and make it run efficiently. Yet she tackled every kind of challenge and never stepped back from her purpose.
"In those days, a newly independent India was abuzz with a sense of idealism and a genuine sense of nation building; this influenced me as well. I was deeply influenced by Gandhi's notion of holding one's wealth in trusteeship, to be used for the betterment of society and not as if one owned it."
As India faces one of the worst crises, there is again a sense of idealism and a genuine sense of building the nation back. In this issue, we have put together something that reflects the sense of purpose. We hope you will find it useful. Please do write in with your thoughts.
Have a great Sunday!
FF Recommends | Giving: Which causes need your support and why?
The pandemic and the lockdown have shone light on the amazing work that NGOs are doing to reduce the suffering of fellow humans. But, these organisations are now facing difficulties, because they have to work under severe constraints—less money, less people, less mobility.
Meanwhile, as the pandemic drags on, there is donor fatigue among people who want to help. Because the ground is shifting, there is no clarity about which cause to support. And there are also stories about fraud and mismanagement in the social sector.
There is a big gap between the intent to donate and making the donation.
That's why we reached out to a diverse set of leaders in the giving space who know what's happening on the ground, and requested them to tell us which causes are important, why they are important, and which are the credible organisations that we should support.
Venkat Krishnan, founder, India Welfare Trust, #LivingMyPromise Signatory and #DaanUtsav Volunteer, says, two areas that need urgent support are livelihoods and food security.
He explains, "People's livelihoods have been decimated with the lockdown—and the suddenness of it.
"Many people are simply not able to make ends meet….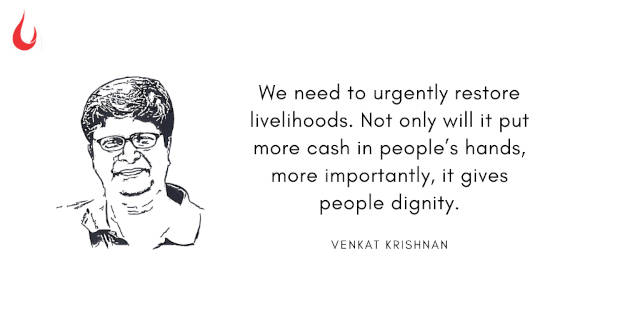 "A couple of days ago, I read a story about the homeless in The Times of India in Mumbai. It was a gut-wrenching story of a single mother feeding her two young children sugar and water because she didn't have money to buy milk…
"If a child does not get nutrition, the damage is permanent. We aren't realising that in trying to save the 100,000 to 200,000 lives from Covid, we are letting millions of kids slide into permanent damage."
Another dimension to the current crisis is that these causes are interconnected.
"I might believe my giving for livelihoods will generate the greatest impact. But will it count for much if people are dying of starvation? So, it is hard to delineate the causes I support."
He suggests, apart from giving to the well-known entities working in these spaces, there is a more direct way: "All you have to do is walk to your local hardware store… Ask the store owner for a list of electricians, carpenters, masons, plumbers, AC repair technicians who are still around and whom you could reach out to…talk to them and find out what's proving to be their biggest challenge.
"For instance, if you're a marketing pro, you could help design interesting communication, like a poster for WhatsApp which talks about, among other things, how the worker practices safe social distancing. Share it with at least 50 people in your own apartment complex and it will automatically go viral in the neighbourhood.
"Another way is to create a working capital pool and provide small loans of Rs 5,000-Rs 10,000 to these people to set up a vegetable cart or a street shop to sell samosas. Offer it as a loan. Ask them to pay it back. But in your mind, write it off as a donation. If they pay it back, that's great. Pay it forward to the next person."
Anurag Behar, CEO, Azim Premji Foundation, says "Speed is of the essence…avoid discovering new organisations during this phase...stick to the ones who you gave to before and significantly increase the size of your contribution."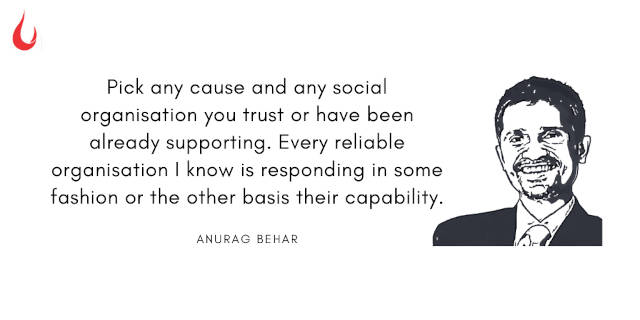 He recommends: "If you are a first time donor, you can consider giving to Oxfam, Cry, Rainbow Homes, or any other well known organisation."
Nachiket Mor, health economist (with Ankita Shirodariya, Samhita), says "Given the urgency of the situation at hand, our focus must move towards ensuring clinical readiness of the existing primary healthcare centres."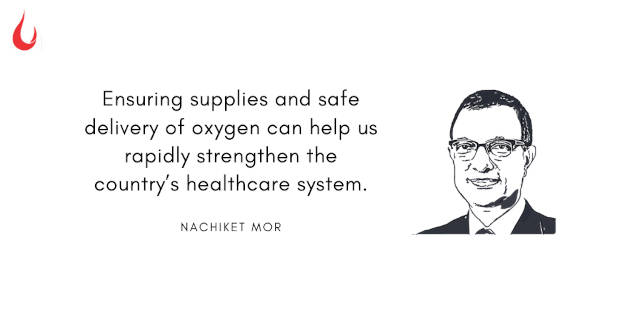 He recommends the India Protectors' Alliance. "[It] supports the frontline healthcare workers and is working towards making primary healthcare accessible and available to the underserved populations… You can donate here."
For Luis Miranda, founder, IDFC Private Equity and Indian School of Public Policy; chair, CORO and Centre for Civil Society, identifying local needs is a critical first step. Because "unless government's intervention is in line with localised needs, the effectiveness...will be limited."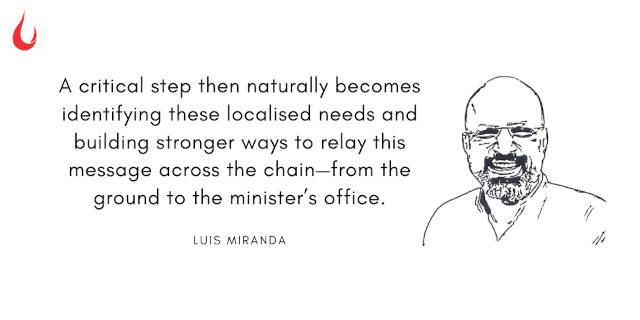 "One of the organisations I chair, CORO, has been deeply involved in grassroots leadership work for the past 30 years… When the pandemic hit, in addition to the relief work, we launched a unique people-led grassroots initiative called #LokPudhakar…we went directly to the people and asked them to list down their collective demands…
"Six causes emerged as front and centre—food security, livelihoods, health, education, violence against women, and governance….
"I urge you to reach out to the dedicated team at CORO to know more and contribute to this bottom-up empowerment initiative. You can find further details here."
Climate migration is a focus area for Shloka Nath, who heads Sustainability & Special Projects at Tata Trusts, and is executive director, India Climate Collaborative,
"Climate migration, spurred by extreme weather events or a slow degradation of natural resources...leaves migrants without the balm of an eventual homecoming," she says.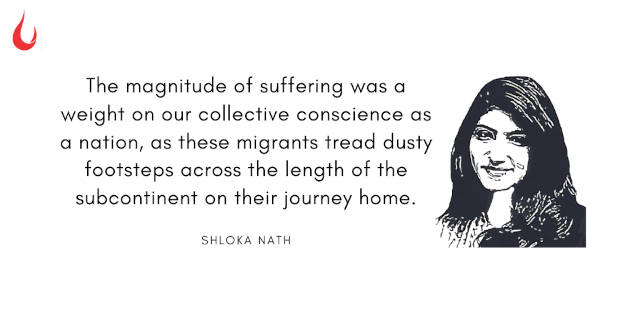 "To this end, Aajeevika Bureau conducts extensive research on migration patterns and works closely with migrant workers and their families to provide healthcare, legal aid, social security and financial services. On the other hand, Mahila Housing SEWA Trust (MHT) empowers women in poor communities to improve their habitats and build resilience to climate-induced risks. You can contribute to Aajeevika Bureau here, and to MHT here."
Dig Deeper
Advanced algorithms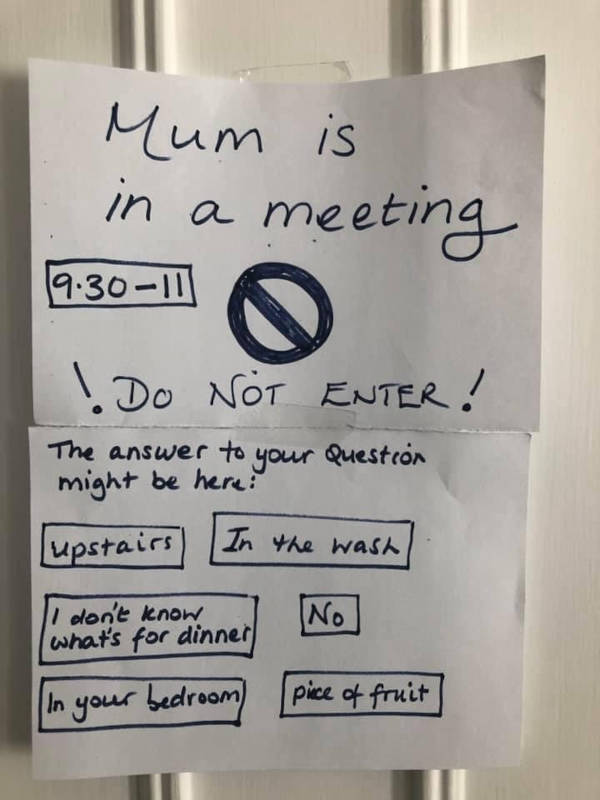 (Via WhatsApp)
What are the most common questions your kids ask you? Let us know on our Slack channel.
And if you missed previous editions of this newsletter, they're all archived here.
Bookmark Founding Fuel's special section on Thriving in Volatile Times. All our stories on how individuals and businesses are responding to the pandemic until now are posted there.
Warm regards,
Team Founding Fuel