[Photo by Green Chameleon on Unsplash]
Good morning,
A book we reckon most people must have on their shelves is How to Write Short: Word Craft for Fast Times by Roy Peter Clark. This, because he shows just how to write well and stick to the point. It's an art form. Consider this instance on how to keep things short.
"Vigorous writing is concise. A sentence should contain no unnecessary words, a paragraph no unnecessary sentences, for the same reason that a drawing should have no unnecessary lines and a machine no unnecessary parts. This requires not that the writer make all his sentences short, or that he avoid all detail and treat his subjects only in outline, but that he make every word tell.
"I count sixty-five words in this worthy or wordy paragraph. So which is it? Worthy or wordy? To answer that question, I decided to try reining in that paragraph within the corral of a 140-character tweet. Such an experiment might reveal pathways to intelligent cutting…
"Vigorous writing is concise. A sentence should contain no extra words for the same reason that a drawing should have no extra lines. Not all sentences need be short and without detail. But every word must tell.
"What have we done here?
Preserved the topic sentence
Substituted the shorter extra for unnecessary (not exact synonyms, but close)
Cut the analogy to a machine, preserving the one about drawing, which is more organic and protects the use of lines, a measurement for both artists and writers
Kept the focus on the writing and not the writer, eliminating words necessary to describe the producer in favour of the product
"That got us from sixty-five to thirty-seven words… much tighter, but still not within Twitter margins. Let's try again:
"Strong writing is concise. A text should have no extra words like a drawing with no extra lines. A sentence can be long with detail. But every word must tell.
"We've cut seven words and are down to 159 characters. Where will I find more 'needless' words? I gained space by turning vigorous to strong and sentence to text, but I feel a slide toward brevity at the loss of nuance. But let's not stop now:
"Strong prose is tight. A text needs no extra words like a drawing with no extra lines. A phrase can be long with detail. But every word must tell.
"One hundred forty-six characters. Almost there:
"Write tight. A text needs no extra words as a drawing needs no extra lines. A sentence can be long with detail. But every word must tell.
"One hundred thirty-seven characters. Bingo!"
Twitter now allows 240 characters, but that shouldn't stop us from keeping it short.
In this issue
When ghar ka khana meets bahar ka khana up in the air
Anticipate changes and respond fast
Before and After
Have a lovely day!
When ghar ka khana meets bahar ka khana in the air
In the second season opener of Talkin' 'Bout My Generation, the series that explores intergenerational and intercultural trends in consumption, work, entertainment etc, we had father-daughter duo, chef Sanjeev Kapoor and Rachita Kapoor. The topic of discussion was how the two generations relate to ghar ka khana and the changing foodscape. First, Rachita wrote a column When the Swiggy generation rediscovers the home kitchen and on Saturday, Sanjeev and Rachita had a live conversation, attended by the Founding Fuel community.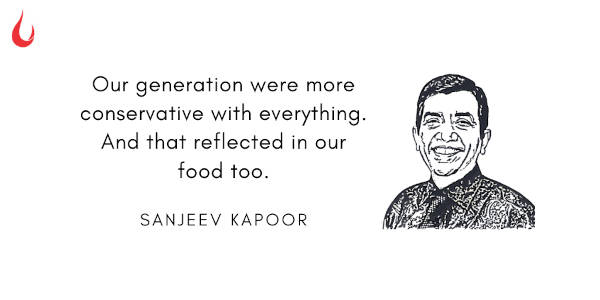 In the conversation, Sanjeev discussed how even the idea of "let's meet" has changed over time. When someone from his generation said "let's meet", it meant they will meet at home, and they will have special food cooked for the occasion. When this generation says "let's meet", it mostly means let's meet at a restaurant.
"I would say that we as a generation are probably more conservative with everything. And that reflected in our food, that reflected in the way we spoke, the way we behaved, the way we did that. That has changed a lot and that reflects in food also."
"Though sometimes I feel that it is a convergence that is happening," he said. There's a desire for home-style food even when people go outside. He mentioned a survey he did for making menus for first-class travellers in an airline. What they found was interesting. When a family was going out on holiday, they wanted restaurant-style food. But when they were coming home and feeling nostalgic about home, they wanted something basic, like khichdi.
Dig Deeper
Anticipate changes and respond fast
In Harvard Business Review, Ben Ramalingam, author of a forthcoming book about navigating pressure and stress through creativity, and his coauthors offer a framework for responding to the Covid-19 pandemic, which is constantly evolving, changing the ground beneath our feet. They say leaders need four As to navigate the crisis: Anticipation of needs, Articulation for understanding and support, Adaptation for continuous learning, and Accountability.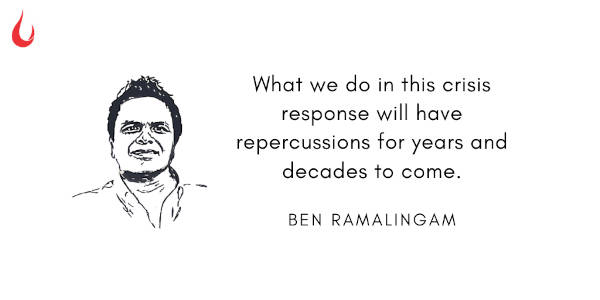 They write: "One of the most systematic and rigorous approaches to Covid-19 scenario planning has been developed by Boston Consulting Group. Drawing on military approaches to strategic learning, they advocate that firms establish an integrated model of 'anticipation, intelligence, and response' that can underpin business decision-making. Using such an approach, different scenarios have been developed for use by the automotive, fashion, and luxury goods sectors. These scenarios account for critical uncertainties in the public health situation, the impact of government measures, the wider economic environment and business-specific demand forecasts, and make use of real-time monitoring as the basis for decision-making."
Dig Deeper
Before and after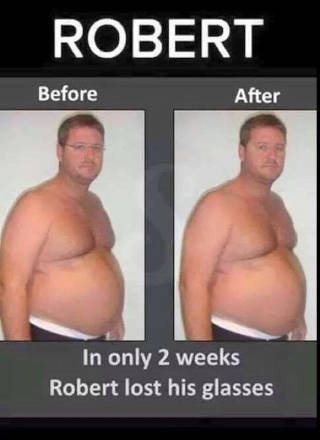 Share your thoughts with us. Head to our Slack channel.
And if you missed previous editions of this newsletter, they're all archived here.
Bookmark Founding Fuel's special section on Thriving in Volatile Times. All our stories on how individuals and businesses are responding to the pandemic until now are posted there.
Warm regards,
Team Founding Fuel