[Image by Ichigo121212 from Pixabay]
Good morning,
Yesterday morning, one of our colleagues stepped out for a long walk-run, donning a mask—the first time in months after some restrictions on public movement in his part of the country have been lifted. He was over the moon. Why do he and many others feel that way as they get back to physical activity? Damon Young's How to Think About Exercise offers some clues.
"The most obvious pleasure is muscular. If yoga's Warrior pose or t'ai chi's Cat stance look strange, it is partly because they are designed to use muscle groups we often ignore. For many, a typical day includes sitting—driving, typing, travelling on a train, watching television, browsing the internet—and a little movement, depending on our vocation: walking up foyer steps, picking up children, sawing and hammering wood, drawing, and so on. Then there are the most common exercises: walking, jogging, swimming, tennis, football.
"Even when we are physically adventurous, it is rare to really feel the individual muscles and their relationships. The way we stand, walk, sit—each requires countless motor skills, subtle and gross. But we are not aware of them: they are reflexes and habits.
"As a result, our daily routines are often mute testimonies of our psyche and society. Gait, stance, accent, gestures, they are all what the French sociologist Pierre Bourdieu called the habitus. The habitus demonstrates not only our individual quirks, but also upbringing, schooling and professional life. The body, in other words, is a kind of fleshy record: an inscription of our private anxieties (and joys) and public achievements (and failures).
"Question: Which muscles are tense right now? Which are relaxed? Ask yourself this question a few times a day, and see how your body parts are underused and overused."
After poring over ancient philosophical texts from India, China, and civilisations, Damon concludes that "increased sensitivity to one's body is also a mental exercise: a labour of imagination. By stretching meticulously and patiently, and meditating on the body's tensions, we can engage in a creative act."
If our colleagues' exhilaration after getting back home from a workout and Damon's conclusions from the texts are anything to go by, there is a case to embrace a physical life.
Have a good day!
In this issue
Why you should wear multiple hats
Why flexibility matters
WFH myths busted
Why you should wear multiple hats
One of the many stories that N Dayasindhu, co-founder and CEO, itihaasa Research and Digital, tells in his latest essay on Founding Fuel is the one about Prof Ashok Jhunjhunwala, a professor at IIT Madras.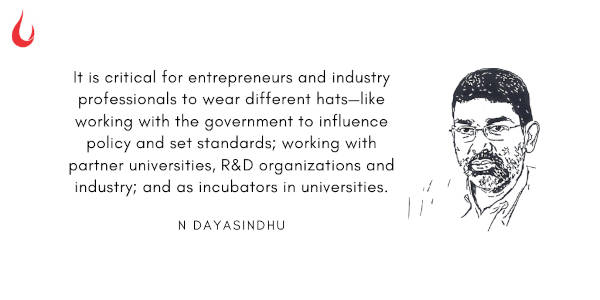 Dayasindhu writes: "Along with Prof. Bhaskar Ramamurthi and Prof. Timothy Gonsalves, [Prof. Ashok Jhunjhunwala of IIT Madras] founded the TeNet (Telecom and Networking) Group in IIT Madras in the mid-1990s. The research from TeNet Group spawned startups like Midas Communications that designed a low-cost corDECT Wireless in Local Loop (WLL) communication technology, and Banyan Networks that designed a Digital Subscriber Loop technology.
"Prof. Jhunjhunwala was the chief evangelist for the technology and the startups. The corDECT technology was an alternative to the more expensive wireless cellular technologies that existed in that era. Though not a commercial success, coreDECT was research translated into a commercial venture that had limited success. More important, Prof. Jhunjunwala helped to convince Ray Stata, the founder of Analog Devices, a leading speciality chip company, to agree to design and supply the chipsets needed for corDect WLL networks. Prof. Jhunjunwala also helped the startups collect license fees from potential customers.
"That was not all, one of the startups from the TeNet group was n-Logue, a telco, that connected a few hundred villages with corDECT in Tamil Nadu and a few other states. Albeit on a much smaller scale, this has some parallel to India's largest telco, Reliance Jio, announcing its decision to make 5G gear and become self-reliant in core technology. Given the size of the Indian telecom market, it is interesting to note that India is also pushing for appropriate 5G standards for the Indian context. This may also provide an indirect impetus for domestic electronics manufacturing."
Dig Deeper
Why flexibility matters
Haresh Chawla is one of the sharpest minds who understands the internet, media, consumer and entertainment spaces. But his 18-year-old son Shiv, has always been more inclined to the physical world. He prefers printouts over e-copies and avoids social media as much as he can.
Then Covid-19 struck. And everything that he did in the physical world started moving to digital—almost overnight. Like many of us, Shiv was compelled to adapt.
In this essay, Shiv, an undergraduate at Brandeis, a well regarded liberal arts college in the US, reflects on his love for humanities at a time when techies seem to be doing well.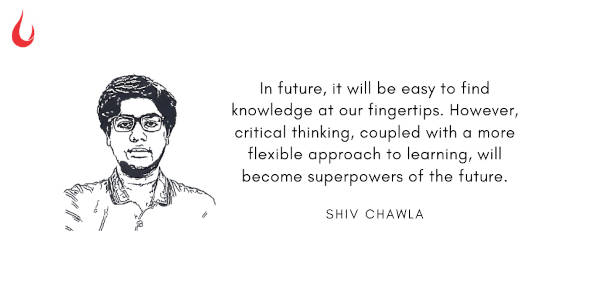 He writes: "As things at school became more application-driven rather than knowledge-oriented, I wondered, would work be like this too?
"From my limited experiences outside school, I have realised that the new world would require professionals who are able to synthesise knowledge from across fields and also be ready for lifelong learning. Subjects like sociology, psychology and economics, that form the core of what I'm studying, help us understand how people behave as individuals, as teams and as a society. Plus, they also help us study the structures that govern us. Not only do they demand intense reading and research, they help us build critical thinking skills and force us to analyse information, help us discover patterns, get us into the habit of sifting through information with ease. This could emerge as a key skill in the digital age. In future, it will be easy to find knowledge at our fingertips. However, critical thinking, coupled with a more flexible approach to learning, will become superpowers of the future."
Join Haresh and Shiv Chawla as they explore the theme and offer some practical ways to both think about and plan the transition.
The show will be anchored by Harsh Mall, who along with his father Damodar Mall, appeared on the first three episodes of Season 1.
Theme: Learning to Live a Digital Life
Where: Facebook Live
When: Saturday, October 3rd, 7:30 pm – 8:00 pm IST
Register here: bit.ly/FFTAMG
Dig Deeper
WFH myths busted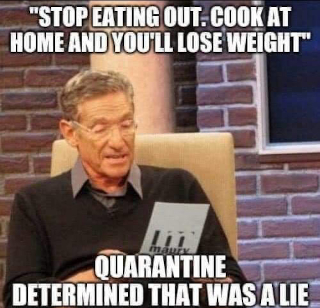 (Via WhatsApp)
Are you among those people who are at WFH and have gained weight? Or still healthy? In either which case, will you let us know? To do that, head to our Slack channel.
And if you missed previous editions of this newsletter, they're all archived here.
Bookmark Founding Fuel's special section on Thriving in Volatile Times. All our stories on how individuals and businesses are responding to the pandemic until now are posted there.
Warm regards,
Team Founding Fuel