[Image by Tumisu from Pixabay]
Good morning,
The weekend is a good time to revisit this story from Thich Nhat Hanh's gentle book Silence: The Power of Quiet in a World Full of Noise.
"There was a monk in Vietnam who was called the Coconut Monk because he liked to climb up a coconut tree onto a platform, where he would practice sitting meditation. It was cooler up there. As a young man, he had studied in France and had become an engineer. But when he returned to Vietnam, where war was raging everywhere, he no longer wanted to be an engineer; he wanted to be a monk, and he practiced as a monk. He wrote a letter in honor of Nhat Chi Mai, a lay student of mine who had immolated herself to call for an end to the war. He said, 'I am burning myself like you. The only difference is that I am burning myself more slowly.' He was saying that his life was also given over entirely to calling for peace.
"The Coconut Monk did many things to teach peace. One time he organized a practice center in the Mekong Delta and asked many people to come and practice sitting meditation with him. He collected bullets and bomb fragments from the area and forged them into a big bell, a bell of mindfulness. He hung it in his practice center and invited the bell to sound day and night. He wrote a poem in which he said: 'Dear bullets, dear bombs, I have helped you come together in order to practice. In your former life you have killed and destroyed.'
"'But in this life you are calling out to people to wake up, to wake up to humanity, to love, to understanding.' He invited that bell every night and every morning. The bell's very existence was a symbol of how transformation was possible.
"One day he went to the presidential palace, wanting to deliver a message of peace. The guards wouldn't allow him to enter. When talking with them didn't work, the monk became silent. He settled in and slept just outside the palace gate. He had brought a cage with him, and in that cage were a mouse and a cat who had learned to be friends. The cat did not eat the mouse. One guard asked him, 'What is your purpose in being here?' The Coconut Monk said, 'I want to show the president that even a cat and a mouse can live peacefully together.' He wanted everyone to ask themselves: If even cat and mouse can live in peace, why not we humans?
"The Coconut Monk spent a lot of time alone and in silence. His volition, his desire, was to be part of creating a more peaceful environment for the country; and to do that he needed to be very clear and not distracted. Some people might say he was crazy. But I don't think he was. I think he was an activist for peace who was very solidly at home in the island of himself."
Do take time with yourself. And have some fun as well. We plan to do that later this evening at 7:30 pm (IST) with the father-son duo Partha and Atreyo Sinha as they discuss how their generations discuss sport.
In this issue:
FF Recommends: Whom to follow the US elections with
An Indian lens on the While House
FF Recommends: Whom to follow the US elections with
The US Presidential elections are now at a crucial inflection point and people across the world are keen to know who will next occupy what is inarguably the world's most powerful office. Will it be Joe Biden? Or will Donald Trump retain his place? And how are those of us outside the US to decipher their campaign trails? We turned to Nic Dawes for pointers on whose voices ought we follow. He is someone we have known for a few years now and have come to trust.
Dawes is former Chief Editorial and Content Officer, Hindustan Times, and was until recently Deputy Executive Director of Human Rights Watch. Based in New York, he is a board director and advisor to media and non-profit organizations. Here's what he had to say.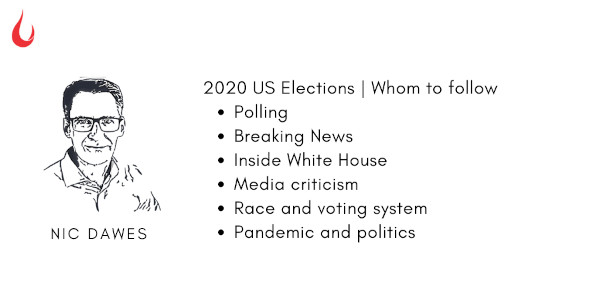 There is a lot of anxiety about polling, but it is still essential. There have been real refinements, not just in the modelling, but in how it is communicated. The must follows here are the two Nates. Nate Cohn of The New York Times data unit, and Nate Silver of FiveThirtyEight, not only for their own numbers, but for their explanations of the wider landscape, the likely impact of various developments, etc.
For breaking news from within the White House, and insights into the thinking of the Trump circle, Maggie Haberman of The New York Times is unrivalled. From the frontlines of the White House Press pool, Yamiche Alcindor is excellent.
The media is a key battleground. I'd especially recommend CNN's Brian Stelter, who also has an excellent newsletter. Fans of media criticism should follow The Washington Post's Margaret Sullivan for trenchant takes on how the press is handling the campaign.
The New York Times columnist Jamelle Bouie, with a focus on race and the voting system, brings deep reading of US history to bear on his writing about race, the US election system, and the broader political landscape. It is a vital perspective for understanding what is really going on in this election, and for what might be possible after.
Right now, we need an insight into the science and policy dimensions of the pandemic if we are to make any sense at all of events. Ashish K Jha, the Harvard epidemiologist, who is active on Twitter, is an excellent source of live insights on the data and their implications for policy.
Writing in The Atlantic, Ed Yong is the defining journalist of this period, brilliantly weaving together insights from science with a sense for the mood of the country. He predicted this pandemic, and is its foremost explainer.
Zeynep Tufekci is a sociologist who has written extensively on social media and politics. Over the past nine months she has consistently been on the leading edge of the science, persuasively advocating for the adoption of masks before that view was widespread, explaining aerosol transmission, and more recently, focussing on mechanics of spread, and their implications for policy.
An Indian lens on the While House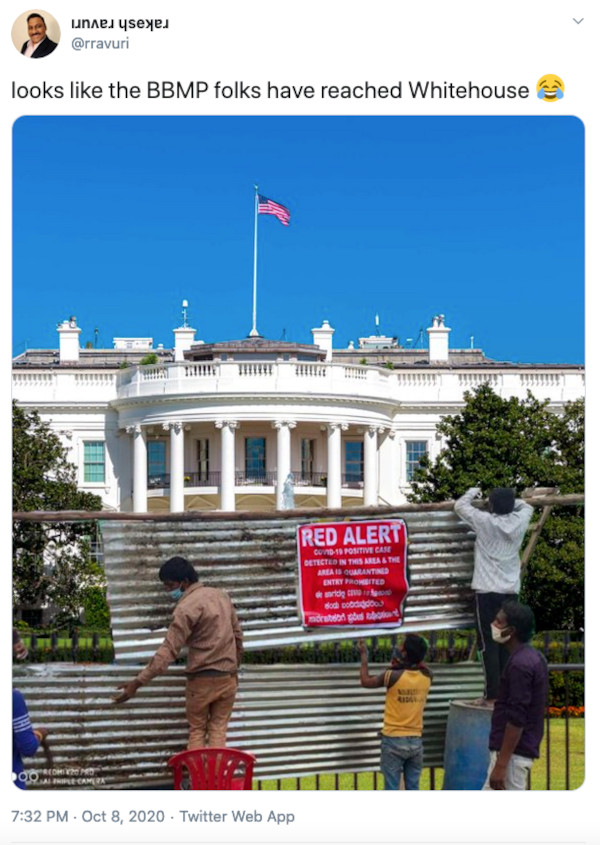 (Via Twitter)
Jokes apart, do you believe India needs its own lens to understand the US? Whom do you follow to get a sense of what's happening there? Let us know.
And if you missed previous editions of this newsletter, they're all archived here.
Bookmark Founding Fuel's special section on Thriving in Volatile Times. All our stories on how individuals and businesses are responding to the pandemic until now are posted there.
Warm regards,
Team Founding Fuel