[Photo by Luis Villasmil on Unsplash. Cropped from original]
Good morning,
On Sunday evening, we logged in to listen to a talk by Dr Ivan Tyrell, a British psychotherapist, author, and educator. The 75-year-old Dr Tyrell has spent a lifetime studying why people run into depression and what triggers anxiety. Moderated by the New Delhi-based Dr. Rajat Chauhan, who contributes to Founding Fuel as well, the audience included an eclectic mix of people from India and other parts of the world.
The slide titled Human Function Curve got our attention. That is, he explained, the difference between what it means to be "stretched" as opposed to "stressed".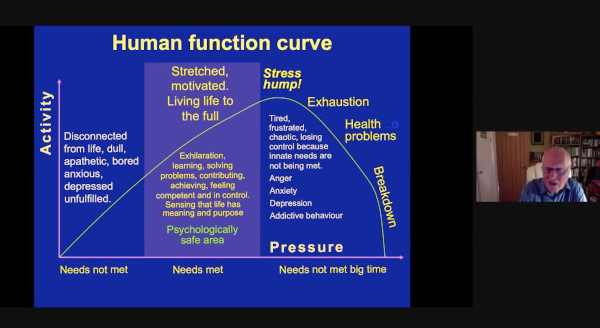 He has observed that people across the world are reporting how stressed they feel. Much of this has to do with the anxiety triggered by the pandemic, the state of the economies they live in, the politics people are witnessing, and worse still, he said, relentless exposure to media that insists on delivering breathless news, minus longer-term context.
"This isn't the first time us humans have been exposed to a pandemic. And this won't be the last either," he said. "But we learn and get better at handling it." But our knee-jerk reactions, he said, include feeling angry and depressed at how things are.
The challenges each of us must face up to includes learning how to feel "stretched" everyday and adapting to what is happening around us. Because if we don't do that, we will never grow physically, emotionally or mentally. What we must watch out for though, he said, is that the boundary that separates feeling "stretched" and "stressed" is a very thin one.
Think about it and have a good day.
In this issue
What to expect in the coming Bihar elections
The art of finding the balance between knowing, being and doing
Love in the time of Covid
What to expect in the coming Bihar elections
Recently, Charles Assisi had a long and wide-ranging conversation with Sankarshan Thakur, National Affairs Editor at The Telegraph and author of The Brothers Bihari.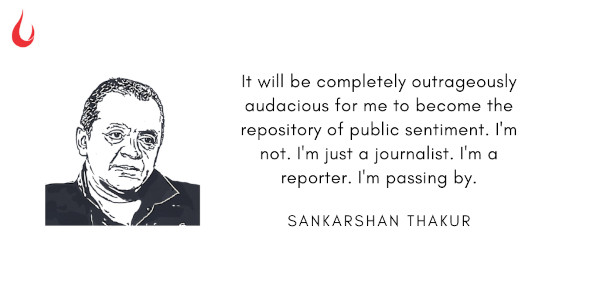 The conversation explored what will matter and what will not in this election (pandemic, labour migration, good governance won't; Narendra Modi's "Teflon-coated" image will.). It delved into the Lalu years and Nitish Kumar's previous terms to give context and to understand the complexities of Bihar—from the caste equations, the personality cults and the issues of governance. And Thakur spoke about what he's picking up from the ground today.
Here are three insights.
The chemistry of the Bihar election is yet to be crafted. One doesn't know when Modi drops a shock and the graph goes higher or lower. But the general trends that you understand as an observer is that Nitish Kumar does not have the shine that he had five years ago.
Nitish's JDU has never won on its own. He has always won as part of NDA or Mahagathbandhan. In 2010 he could have struck out on his own, but he missed the chance. And, he will never be able to rule Bihar on his own.
Nitish's graph as an administrator is going down; the entire graph of the opposition is going down. The graph of Narendra Modi (not the BJP) is sustaining.
Dig Deeper
The art of finding the balance between knowing, being and doing
Harvard University recently announced that Srikant Datar, the Arthur Lowes Dickinson Professor of Business Administration and the senior associate dean for University affairs at Harvard Business School (HBS), will become the School's next dean. Datar will begin his service on January 1.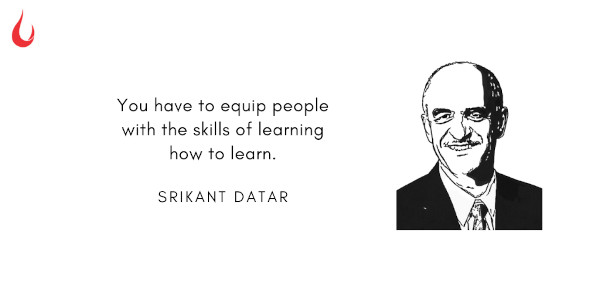 Earlier in July, Founding Fuel had organised a Masterclass on The Future of MBA. The discussion took place at an interesting juncture. Urgent issues were emerging around the need for an MBA as a vehicle for social good. Covid-19 was accelerating the pace of digitalisation by at least 5-10 years across many businesses, forcing b-schools to revamp their curriculum and make it future ready. The panelists also spoke about the long-term issues. Here's Srikant Datar's take:
"Businesses exist because society gave them license. So, the purpose of MBA should be to educate leaders [to serve society]. To do this, MBA programmes need to create transformational educational experiences. That means [imparting three things]—knowing, doing and being.
"Knowing—what you need to know in professional management. Doing—practicing professional management. Being—working with others, inspiring others. MBA programmes' focus has been on 'knowing', not so much on 'being' or 'doing'."
Dig Deeper
Love in the time of Covid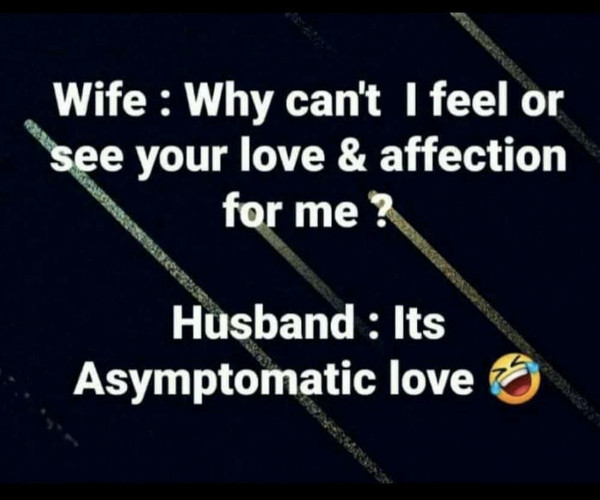 (Via WhatsApp)
Tiffs at home with your partner? Or heard of some such silly joke that had you laughing? Let us know. Head to our Slack channel.
And if you missed previous editions of this newsletter, they're all archived here.
Bookmark Founding Fuel's special section on Thriving in Volatile Times. All our stories on how individuals and businesses are responding to the pandemic until now are posted there.
Warm regards,
Team Founding Fuel