[Photograph of Apple iPhone SE © Apple]
The real reasons behind Apple's launch of iPhone SE
On March 21, Apple formally announced the launch of iPhone SE (Special Edition), iPhone's smaller, cheaper version. It started taking pre-orders from March 24 and will start shipping from March 31. It hopes that by May-end SE will be available in 110 countries.
With this version it hopes to woo first-time smartphone users who are switching over from feature phones. My take is that it is likely to do well in China but not so much in India. I'll explain why in a bit, but first the reasons Apple felt compelled to launch a special edition for first-timers.
Why a cheaper iPhone
iPhone contributes handsomely to Apple's profits, but in recent months iPhone sales have been slowing down, especially in China, one of Apple's most lucrative markets. Result: adverse impact on its top and bottom line. So severe was the impact that it lost the title, albeit briefly to Alphabet, as the world's most valuable company.
To retain its grip over this title, Apple has to do "something magical" to kick-start sales of iPhone, particularly in China and India, arguable two of the most lucrative markets for smartphones in the world.
It is Apple's good fortune that in both these markets, customers have shown an insatiable appetite for its range of products.
Why SE is likely to succeed in China
Let us first visit China.
The market seems to indicate that there is a big swath of Chinese customers who desire to graduate from mobile phones to smartphones. These people desire three features in their smartphone:
a 4-inch screen size
excellent computing power
Attractive price (read: low price).
When Apple looked to develop a smartphone incorporating these three requirements, the solution seemed as obvious as it was simple:
marry iPhone 5C's 4-inch screen size with iPhone 6S's awesome computing power and price it attractively at $399 (compared with 6S's $650).
The SE can easily qualify for the title of the world's most powerful compact smartphone.
If SE were to be dispassionately evaluated, it is in many ways a smaller 6S at an attractive price. It has all the features of 6S, except three:
It has a smaller screen size, because that's what first-time smartphone buyers prefer.
It does not have the 3D Touch feature, because it would have made the phone fatter and look ungainly.
Its front facing camera is 1.2-megapixel compared with 5-megapixel in 6S. So, selfies will not be as sharp, but this difference can only be noticed when this deficiency is pointed out.
So, if Apple has understood correctly what its target buyers want, SE has all the ingredients of becoming a big hit in China.
In India, the price whammy
Let us move to India. The chances of success appear slim.
It essentially comes down to price: The 6S (16 GB) is available in India for Rs 42,999 (as on April 3, 2016), due to the bloody price battle being fought among e-commence companies. The iPhone 6 (16 GB) is available online for Rs 34,999.
And the price of SE? It is likely to be—hold your breath!—Rs 39,000.
Shocked?
Now $399 converts to Rs 26,000 (1$ = Rs 66), so how is the price of Rs 39,000 arrived at? In a word: duties.
The Indian government is vigorously pushing its Make in India initiative. It wants multinational companies doing business in India, to manufacture locally, else they have to pay import duty to get its products to India. Apple will incur a 47% additional cost made up of import duty, shipping and other miscellaneous costs.
When 47% gets added to $399, the price in India starts nudging Rs 39,000.
Given that Indian customers have calculators fitted in their minds, they will quickly do the math and conclude that it makes better sense to buy the iPhone 6 or pay a little more and buy the iPhone 6S.
The reality is that Indian consumers, unlike Chinese customers, are not looking for a smaller smartphone, but a cheaper one.
In China Apple is spared similar import duty because it manufactures locally
Realizing the benefit of local manufacturing, Chinese players like Xiaomi have already started manufacturing in India.
Apple will also have to contend with local challengers
Price is not the only battle SE has to fight in India.
India, like China, has robust local competition in the form of companies such as Micromax, Intex, iBall, Lava International and Karbonn Mobiles which have been offering smartphones at under Rs 10,000. They have succeeded in getting a large number of people to graduate from mobile handsets to smartphones.
Of course, at under Rs 10,000, you would get a basic smartphone with limited features that do not offer much of a memorable experience during usage. But for first-time smartphone users, possessing a smartphone itself gives them an awesome feeling and experience.
Is Apple finally entering a price war?
Many Apple critics have been vociferously predicting since long that Apple will enter the price game to protect its eroding market share, which is being steadily eaten away by the likes of Samsung, LG, Xiaomi, One Plus, Lenovo, Huawei and many others.
Finally, they have ammunition to back their claim: $399 is the lowest starting price for an iPhone in the company's history.
Does their claim have any legs to stand on? Maybe not.
To explain that, let me point to Apple way of thinking. As chief executive Tim Cook said in an interview to Bloomberg Businessweek, it is: "To make the very best product in the world that really enrich people's lives …It's not to have the highest market cap, but that's the result of doing the first one well. That's what we are about. And hopefully you can see that in our product and more importantly, feel that in the experience you have using them. That's what we are about."
The bottom line
Apple believes it is a product-centric company. It aspires to design products that will enrich people's lives by delivering a memorable experience when they use them. It is not in Apple's DNA to launch a lower price smartphone to fight competition which is nibbling away its market share.
Then why has it launched iPhone SE at $399? Apple believes that it has designed a great product, which will provide a jaw-dropping experience—and it has also figured out a way to do it a lower cost. It is passing on the benefit to its customers, hoping that many more people will be able to afford an Apple phone and get a genuine Apple experience.
Why is it passing on the cost advantage to its customers and not keeping it in the company? Profit is not what drives it, but its aspiration to make the best products in the world that enrich people's lives. By introducing iPhone SE at this attractive price point, Apple feels it will enrich many more lives.
Updates and corrections: An earlier version of this article listed the official price of iPhone 6S as Rs 40,500 and its online price as Rs 35,000. The online price as on April 3, 2016 is Rs 42,999 for the 16 GB version, and Rs 34,999 for iPhone 6 (16 GB). The error is regretted.
---
Amazon's strategic intent behind opening bricks-and-mortar stores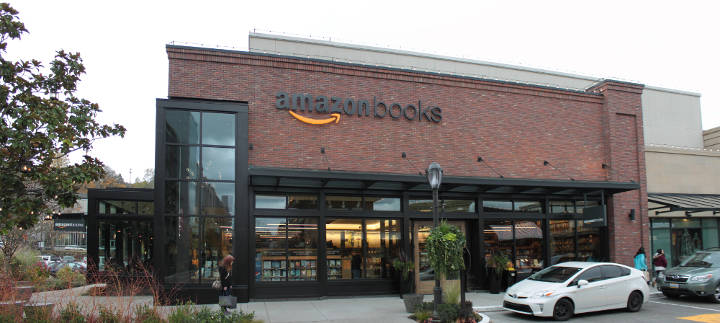 [Amazon Books at U Village by SounderBruce under Creative Commons]
Amazon has announced its decision to open 400 bricks-and-mortar bookstores during the course of this year.
On the face of it, this move looks regressive since Amazon single-handedly disrupted bricks-and-mortar stores two decades back. But if you look at Amazon's basic philosophy of being customer-centric and how customers have evolved since the time it was incorporated in 1994 to shop on multiple channels, it all ties in.
How it is in line with the firm's focus on customers
The company's well-crafted mission statement articulates the reason for its existence: "to be Earth's most customer centric company".
So, for example, at routine internal meetings, one chair is always left vacant—it represents the customers and serves as a reminder that the team has to take decisions that favour them, not Amazon.
Here's an example of its customer focus in action: Amazon encouraged readers to post book reviews that were published unedited on amazon.com. The ones with negative reviews did not sell. Some team members proposed that negative reviews be deleted and only positive reviews be published. After all, they argued, Amazon's purpose is to sell books.
However, chief executive Jeff Bezos rejected the idea outright, arguing that Amazon's purpose is not to sell books, but to help customers make up their minds on which books to buy—having both positive and negative reviews helps them do so.
Armed with this understanding, let us now evaluate its decision to open bricks-and-mortar bookstores.
Changed customer behaviour: The rise of non-linear shoppers
Between 1994 and 2016, its customers have transformed from being "linear" buyers to "non-linear" buyers and an online-only model no longer caters to this new breed.
Three major factors have contributed to this transformation:
launch of smartphones in 2007
easy access to internet connectivity
unprecedented rise of social media
Let me illustrate how this plays out: A person on Facebook sees a friend's post singing praises of a newly bought pair of Nike shoes. She will, as a matter of routine, check out reviews posted by others. If the reviews are positive, the next time she is passing by a Nike store she will step in and try them on for size, fit, look and feel. If she likes the experience, she will pull out her smartphone and go to a price comparison site. Should the site indicate that the shoes are available on Flipkart at a cheaper price, she will place an order, opting for cash on delivery. A few days later the shoe will be delivered to her address and she will pay with cash.
The shopper moved seamlessly in a non-linear manner among various channels, from social media to review sites to bricks-and-mortar stores to price comparison site. Such non-linear shoppers are also called omni-channel shoppers and their numbers are increasing exponentially.
While reviewing its current business model, it would have become apparent to Amazon that it is not favourable to omni-channel shoppers. If it allows this weakness to persist, it will adversely impact its competitive advantage in the long run. Hence the decision to add bricks-and-mortar stores to its business model.
Here's another fact that would have favoured this decision: despite the hype created by online shopping, it constitutes merely 7.5% of retail sales in USA.
Why customers like stores
Bricks-and-mortar stores have a certain charm that draws customers despite the obvious advantages associated with online shopping.
The charm lies in the fact that shoppers can touch, feel and try products before they buy. At a store they can also engage in a conversation with sellers and voice their grievances to a real person.
These advantages are encoded in the DNA of a store and owners leverage it to their advantage. Let's say a shopper spends 10 minutes in a store. During this short time, the retailer deploys a sensory marketing strategy to assault all five senses of a shopper—sight, sound, smell, sample and touch—to create pleasant memories. Result: over time it leads to loyalty towards the store.
Amazon.com is predominantly an online e-commerce platform. It does not provide shoppers an opportunity to touch or sample its products. Through the stores, it is attempting to fill this gap in its current business model.
What shape will the stores take?
Amazon seems to have invested time, energy and resources in re-imaging its customers' journey in its stores. An Amazon bookstore is likely to have the following features:
Product strategy: The store will carry a curated selection. It will stock books that have received favourable reader reviews or have winged their way into the bestsellers list. Books will also be selected to suit local tastes.
Merchandising strategy: Books will be displayed with the cover facing the shoppers to tempt them to browse through them.
Store layout: A free-flowing layout will encourage shoppers to hang out and sample the books, either in hard copy edition or on Kindles placed strategically in the store.
Price: It is the same as online price (read: extremely attractive).
Cross-sell / up-sell: The store will provide an opportunity to cross-sell / up-sell some of its products.
Face-to-face interaction: It will provide Amazon with an opportunity to engage customers face-to-face. For shoppers it will provide a platform to voices their grievances in person to a real person.
Mini fulfilment centre: People can place their order online and collect it offline at their convenience. This will help Amazon attack a weakness in its current online business model—the high cost that it incurs in shipping goods to customers. If this model succeeds, Amazon can replicate it to cut delivery cost significantly.
Personalized experience: Amazon will leverage its expertise in data analytics to deliver personalized experience to every customer in the store. It could help build loyalty towards Amazon.
Can such a strategy work?
Will a re-imagined store prove viable for Amazon? Have other companies or brands re-imagined stores on similar lines and reaped benefits? Yes they have.
The Apple Store for instance was conceptualized by Steve Jobs not to sell Apple products but to build and strengthen relationship with customers and make them fall in love with Apple's products. The store layout and product strategy was designed to encourage people to hang out and play with Apple products. Result: they ended up buying it. This strategy ensured that Apple retail stores chalked up highest dollar sales per square foot in the world.
I can hear many of you saying that Apple is known for pulling off gravity-defying feats, but are there examples of "normal" companies pursuing a similar retail strategy?
Not just one but many companies. Take Warby Parker, an American eyewear company conceived as an internet company. It has opened several stores so that shoppers can experience the brand's in-store experience, as well as choose the channel they desire to shop in.
Or take Birchbox, a New York-based online monthly subscription service that sends its subscribers a box of four to five selected samples of makeup or other beauty-related products. It too has opened stores where it hopes to bring the Brichbox experience to life and therefore get its customers to hang out in the store to soak in the experience.
There are several examples of Indian online companies opening offline stores too:
Flipkart has rolled out 20 such stores.
Pepperfry.com, the furniture and home product e-commerce platform, has set up six stores.
Lenskart, an eyewear e-commerce company, has set up 110 stores. The response it has received it encouraging and it plans to open another 1,000 by 2020.
Zivame, the online lingerie firm, has opened stores and plan to open 100 stores in the next few years.
Firstcry.com, the online kids wear firm, has opened over 130 stores.
These companies are driven by similar reasons as Amazon, plus a few more:
They look upon this as an opportunity to let their customers window-shop.
Many see it as an effective substitute for advertising. In a metro city, a hoarding at a prime location can cost Rs 5-6 lakh a month. At Rs 7-8 lakh, operating a store costs a little more, but a store has manifold advantages over hoarding.
The bottom line
To remain relevant, Amazon wishes to transform itself into a genuine omni-channel retailer to cater to omni-channel shoppers. Opening stores is a step in the right direction.