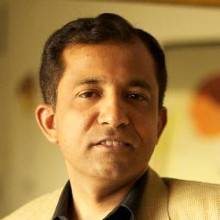 Before setting out to create Gaia Smart Cities, Sumit was President of Reliance Jio Infocomm,
Sumit is a business leader, entrepreneur and best-selling author, having led large, hyper-growth, multinational telecom and consulting companies in US, Australia and India. He is a thought-leader in technology based transformation of companies and is now focused on solutions for Smart Cities and Internet of Things. His global experience has provided depth and breadth of roles to manage people, processes, finances, projects, technology, relationships and governance.

He is an intrapreneur and entrepreneur, owning ideas and converting them into successful businesses. He provides mentoring & funding to entrepreneurs in areas like M2M, Internet of Things, Smart Cities, health-care, mobile internet, and career services. He is serving on the Board of 4 Start-ups. He's been a mentor with NEN, TotalStart, BusinessWorld Accelerate programs. He is part of Mumbai Angels & CIO Angels.

Sumit's education - starting from well balanced Jesuit schooling leading to IIT Kanpur followed by MS and Ph.D from Carnegie Mellon University, has created a foundation for inquisitive problem solving and optimistic goal driven leadership. He has a diploma from Australian Institute of Company Directors.

He is the author of a bestselling career management book, 'Rules of the Game' published by Bloomsbury India that empowers readers to enhance productivity and fast-track their careers. He is represented by the 'Outstanding Speakers Bureau' and speaks in different forums on technology, career and management ideas. His motivational speaker series has been hugely popular with students & professionals. He is also a speaker on several TEDx platforms.

Sumit is an avid painter having had international exhibitions of his paintings. He is also a trained musician. He is an active marathon runner and cyclist having run several full marathons and long distance cycling trips across the world. He is a visiting faculty in business management schools.