[Clockwise from top: International Business Center, Piplod, Surat; milk vendor Rahul Doshi, textile shop clerk Naveen Patel; homemaker-turned-garments peddler Nasreen; vegetable seller Gullubhai Yadav (in blue shirt). Photo credit: International Business Centre by Tarunyadav1989 (CC BY-SA); all other photos by Quipper Research]
"Is my life much better now than it was five years ago?"
Answers to that one question are revealing. They show how the life of an average Indian has changed in recent months. A life that the grim macroeconomic indicators can only hint at.
Ground Realities is a new blog, anchored by the team at Quipper Research, led by its co-founder and CEO Piyul Mukherjee.
It is an attempt to understand what's happening inside people's homes, in their lives. The ups and downs, as reflected in their social and economic world.
At Quipper Research, the all-women team is out in the field meeting and listening to consumers all the time. Across India's towns. Mostly in their homes, sometimes at their workplaces. They meet them individually, in pairs and in focus groups. The team usually meets them on behalf of one of Quipper's clients and their brands.
For Ground Realities, the team stepped out and met the common man and woman, within various towns. And asked is your life much better now than it was five years ago?
As it turned out, there was hardly anybody who strongly agreed with the question about how their lives had changed. All the people the team met, reflected the upheavals that the macro figures tell us. That GDP growth is at a six year low. That core sectors are not growing either. But unemployment is. The Great Indian Slowdown is for real. Yet, not all hope is lost.
Listen in to this on-going conversations with people across different towns, as they unfold over the next few weeks and months. The first pit-stop: Surat.
Despatches from Surat: There's gloom, but no doom here
By Ipsita Bandyopadhyay, Anviti Mohan, Chaithra Hanasoge and Piyul Mukherjee
Surat, the Diamond City of India, is also known as the emporium of India. Being a large trading hub, it has one of the fastest growth rates due to immigration from various parts of Gujarat and other states of India.
It is slated to be the world's fastest growing city from 2019 to 2035 according to a study conducted by Economic Times.
It is also one of the cleanest cities in India.
We deep dive into the lives of four Surat residents: A vegetable vendor from Jharkhand, a homemaker whose husband is an auto rickshaw driver, a textile showroom clerk, and the grandson of a store owner whose family supplies milk and other produce.
A microcosm of the Indian story, perhaps. Industrious, part of the large informal economy. We were struck by the inner optimism of the residents of Surat. All were ready to work hard and work longer. And believed that their own mehnat [hard work] would go a long way in resolving their current problems that are presently leaving them bewildered.
Why customers aren't flocking to Gullubhai's vegetable cart anymore
"Mehnat karne ke liye kaam bhi toh hona chahiye na" (I can put in the hard yards. But where's the work?)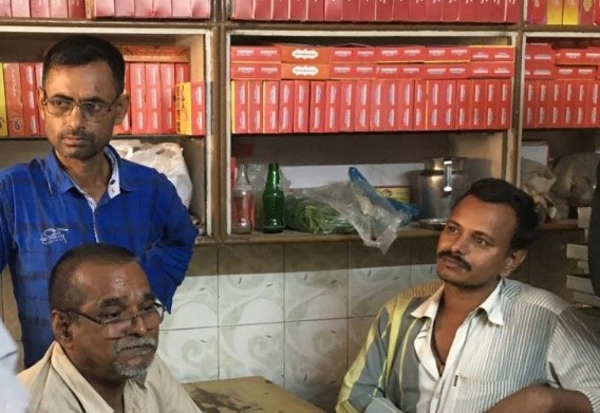 Gullubhai Yadav, age 40 (dressed in blue)
Occupation: Vegetable seller
Residence: A slum near Raja Bazaar, Surat
Place of work: Raja Bazaar, in central Surat
Family: Lives in rented accommodation, where he is trying to avoid the landlord. Sent all four family members back to Sahabganj in Jharkhand three months ago, but wants them to return.
Come 6 pm, the sabzi mandi next to the New Bombay Textile Market would begin to swarm with customers. Staff from the textile stalls and shoppers alike would stop by to buy vegetables on their way home.
But there are no crowds today. "We hardly see any customers in our market. Kisike paas paisa hi nahi hai [No one has any money]," says Gullubhai as he sprinkles water to refresh the vegetables on his thela cart.
He has noticed this slowdown over the past year. Surat is mostly vegetarian, and sales earlier were high—with regular customers purchasing at least Rs 100 worth of vegetables each day.
But now, his purchase price has skyrocketed—everything is Rs 50+ a kilo. The staple and humble onions, for example, are currently available to him at over Rs 70 per kilo.
"People are buying do number ki sabji because that's all they can afford," he says. Do number ki sabzi is the colloquial term for overripe, old vegetables that are sold at a discount to clear inventories.
No one is buying premium vegetables such as green peas and onions, and he has stopped stocking them.
Those who used to visit daily, now only come twice or thrice a week. If they were buying 500g of a vegetable earlier, they are buying 250g now.
"People are buying the least possible."
Gullubhai squarely attributes the slowdown to the introduction of GST in 2017. At the wholesale textile markets, sales of goods have dropped drastically, with minimal offtake by retail shop owners from around India. He patiently explains the slowdown and heartburn within the textile market: "The government has come clamping down on business, the retailers buy only the minimum required, and this leaves the wholesalers with less disposable income. "Bahar se vyapari nahi aa rahe hai [There are no traders coming in from outside]".
He talks about his friend Sanjay who works as a sales assistant in a textile wholesale store. Sanjay, who used to work 12 hours a day, now hardly has work for even 8 hours a day. Some days he is sent home without pay, and has since resigned himself to receiving a monthly wage that is 50% lower than earlier.
While Gullubhai's income has dipped, there is no respite from paying rent to his landlord, and the dues to the hafta waala [protection money collector]. He admits to evading his landlord. He has no money to pay the rent due for the last four months, a total of Rs 12,000.
Besides, municipal employees continue to pick up vegetables for free, without protest from the vendors. "To save the Rs 200 worth of vegetables, I do not want to lose a day's worth of income if he hauls me off to the thana [police station]," he says.
At any point of time, says Gullubhai, he has Rs 10,000 outstanding, among his customers. Once he has weighed and handed out the vegetables, many of his regular customers give him part of the money, saying they will pay the rest later. Never to be seen again.
He shrugs these off as bad loans. "I'm not a baniya to keep a khaata [ledger] of credit."
Back in the village, the family gets benefits via government schemes—that at least keeps them from going hungry. Subsidies aimed at the poor do not reach them in the city as they have no records to show that they are residents of Surat.
Yet, Gullubhai is forced to stay on in the city. "We are three brothers and we have two acres of land. How can we all earn a livelihood within that?" He has been in Surat for over 20 years and considers the city his home.
He's teetering at the brink, but hasn't lost hope. "Aaj mehngai hai par kal nahi hogi. Mausam aata jaata rehta hai [Today prices are high, tomorrow they won't be. Seasons change.]"
His expectations from the government/higher bodies are simple. "Humko kamane do, khane do, aur jeene do. [Let us earn, eat and live.]"
He wants his hard work to bring in the money he would get earlier. In a good month, after all expenses, he could put aside more than Rs 15,000 and dream of building his own home.
Right now, no amount of hard work is able to make up for the lack of work coming in. "Mehnat karne ke liye kaam bhi toh hona chahiye na. [I can put in the hard yards. But where's the work?]"
The unanticipated consequences of new traffic rules are pulling this family into debt
"Yeh sab naye system garib ko aur choosti hain." (All these new systems suck the life blood out of the poor.)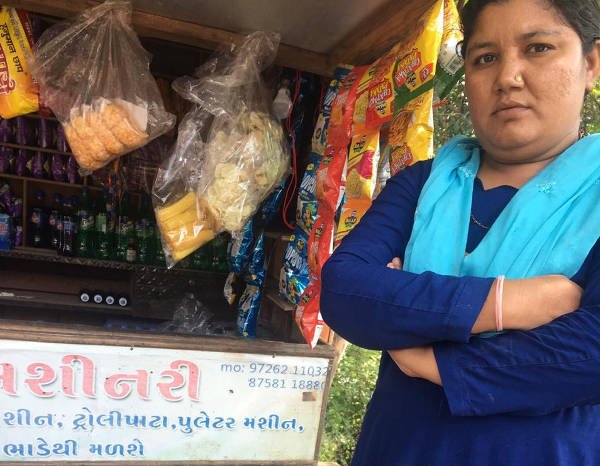 Nasreen*, age 35
Occupation: Homemaker, now a garment peddler
Residence: Kadodara, Surat, a low-income urban slum
Place of work: Kadodara and neighbouring areas
Family: To avoid creditors and to save on rent and utility bills, she and her two sons have moved in with her parents. While her husband, an auto rickshaw driver, makes the rounds of the RTO to retrieve his auto rickshaw that was seized a few months earlier.
*Name changed on request
Kadodara, on the outskirts of Surat, is just 30 minutes by road from the city's main railway station. Yet, in some ways, it is quite distant from Gujarat's sparkling clean city. Raw, stinking garbage flows sluggishly past the walls of homes. Here, brand new toilets have been provided by the administration, but not yet the connecting sewage pipes.
Nasreen (name changed) has recently moved back here to her maika (mother's home).
Her husband Wasim, an auto rickshaw driver, ferries passengers in and around Surat. Their earnings were good, they could dream of a better life. Around 18 months ago, they pooled in what they had and bought an auto rickshaw, with a down payment of Rs 20,000, and monthly instalments of Rs 7,000. In the first few months, they could comfortably pay the instalments, and had enough left over to send both their sons to a local private school. Life was good.
Then, their situation changed drastically. When cameras got installed on the main streets of Surat.
At Rs 15 per passenger the going rate, Wasim needed at least five passengers at a time, in the share-a-ride scheme locals preferred to use, to earn a small profit. He did this by squeezing two passengers beside him on either side of the driver's seat—a common practice in the smaller Indian cities and towns.
But now, the camera took note of any extra passenger beyond three. With locals flatly refusing to pay more than the Rs 15 that was considered a standard rate, his earnings took a hit. Wasim could no longer break even.
In desperation, he tried taking extra passengers. With traffic cameras around the railway station and on the road to Kadodara, Wasim received six parchhis (traffic violation tickets) within a week—he now needed to pay a more than Rs 1,000 for each traffic violation. Unable to make the payment, his rickshaw was seized by the authorities. He has also been unable to pay the last four months of instalments due on his auto rickshaw loan.
In the unregulated and informal sector of auto rickshaw driving, Nasreen and Wasim are helpless as they await a new equilibrium of share-an-auto rates. Nasreen understands the need for traffic rules, but all the changes have taken place suddenly, and with no recourse to a redressal mechanism. "Yeh sab naye systems garib ko aur choosti hain. [All these new systems suck the life blood out of the poor.]"
Wasim needs to queue up all day at the Regional Transport Office (RTO) to retrieve his vehicle. "I haven't got my vehicle back yet, there is no earning. What can I do?" he asks. Nor do they have any idea about the fines that had been levied on them as everything is online. "We don't understand what the fine is or how long we can hold out. Just that we have to pay. But there is no money."
Nasreen has begun selling readymade clothes that she sources from the city, in the local weekly bazaars of adjoining areas. She was always a homemaker; she has begun doing this informal work in the past two months. Her job isn't easy, and it doesn't help that customers have been inclined to buy less nowadays. "There are not as many customers. We have to manage our food in the Rs 200-250 that I earn after being out all day from early morning till night."
Unaffordability has affected other aspects of daily life too. Instead of being able to afford chicken at least twice a week, she now provides a thin khichdi with green chilly chutney to her family, puts on a brave front and wanders every day from one bazaar to the other, trying to make a living.
To avoid the eagle reach of creditors, and to reduce the outgoings on rent and electricity, she has come to live with her parents, along with her children. The boys have been yanked out of the private school and go to the local government school. Here, at least there is a promise of some education till the eighth standard.
Nasreen tells us that the government school is grappling with the sudden rise in students and now runs two shifts for every class. Whereas each class had 25 students, now every shift has 60 per class.
The family has fallen right back below the poverty line. There is no money left to finance the dream of a better life that Wasim and Nasreen had hoped for.
There is no choice. This is her new normal.
Hard times mean austerity, and also a spur to diversify and secure their future
"We used to spend some Rs 7,000-8,000 each month in eating out. I have brought this down to zero. My wife and mother now make all the treats we crave at home."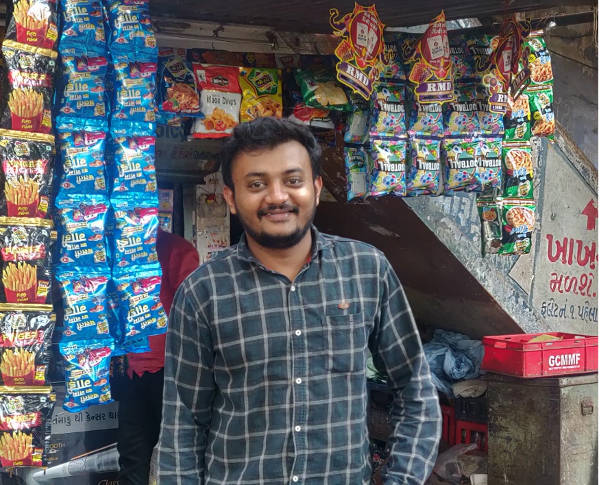 Rahul Doshi*, age 27, a post-graduate
Occupation: Milk vendor
Residence: Varachha, Surat
Family: Recently married, stays with his parents, grandparents and extended family.
*Name changed on request
Last year, on his 26th birthday, Rahul Doshi and his family celebrated with much excitement as they have been for years, with the entire household coming together to cut a birthday cake and have some 'pizz-zza'.
This year, the birthday celebrations are muted, as the family finds itself in an unprecedented financial crisis. Their business of supplying milk, that had stood them in good stead, has been flailing in recent months. There's simply no space for celebration.
"In our family, there's a birthday almost every month. So, I started with my own birthday—I stopped the tradition of cake-cutting," Rahul says. He has set this rule for all 11 family members. Instead of eating out at a fancier fast-food outlet, the celebration is at a South Indian restaurant, with a budget of Rs 1,000 for the entire family. The money is contributed by the elders, a rare example of enforcing 'going Dutch' in an Indian family.
As adversity often does, it's forging this young man's character. Where his voice was heard only softly before, the hard times are pushing him to take charge, set the rules, and shepherd the family's fortunes. Even during our visit, the grandfather, the patriarch, kept a keen eye on what he was telling us, but Rahul held his own, as he's begun doing in many ways around the house.
For one, he noticed that many people in the family ate their meals at different times. And each time, the food was reheated. He made sure that everyone made it a point to shift things around and sync meal-times. Now there's a considerable saving in the monthly cooking gas bill.
Due to become a father soon, Rahul is concerned about savings, something that didn't seem as important even eight-nine months ago. "We used to spend some Rs 7,000-8,000 each month in eating out. I have brought this down to zero," he says. "My wife and mother now make all the treats we crave at home. Masala puri, pizza, Italian… it is all homemade now."
At Diwali, he didn't take a break—no vacation, no special celebration.
Sitting cross-legged on the floor in the second apartment the family purchased early last year after pooling their entire savings, he tells us that he has postponed furnishing the new apartment. "People who used to buy 2 litre of milk at a go now buy only 1 litre or less," he says. "A new wardrobe would cost Rs 75,000. It can wait."
A canny businessman, he had received a tip on the best time to buy gold from a friend in the trade and felt he should take a loan. "We just took a personal loan of Rs 36,000 to buy gold for my brother's upcoming wedding," he explains his decision.
Despite having a master's degree in computer applications, his family business of supplying milk was his first choice. He had not wanted to work at a dead-end job that offered a starting salary of Rs 8,000.
At the back of his mind, like a true enterprising Gujarati, he's on the lookout for a future-safe business proposition.
Since people are now buying one-third the amount of milk, he's thinking of a tech solution to diversify his business to a larger catchment area. He has heard of an app piloted in Pune that runs on a weekly subscription and makes hyper local deliveries of morning essentials including milk. He wants to start something similar in Surat.
Rahul is unfazed by the difficult times the family is going through. He is resilient and expects to be able to make a difference, even if he uses his own labour as fuel.
For his delivery app, he intends to make all the deliveries himself before he can afford staff. He is keeping his ear to the ground for a breakthrough in getting his app off to a flying start—that he hopes to 'catch' by meeting his potential customers.
"Middle class public ko kya chahiye—woh hisaab se kuch app banaunga [What do middle class people want—I'll make an app according to that]," he smiles.
Despite recent speed bumps, this textile shop clerk dares to dream
"Kuch daring karni padegi warna yehi zindagi kaayam ho jaayegi." (I'll have to do something daring, or else our lives will stop here.)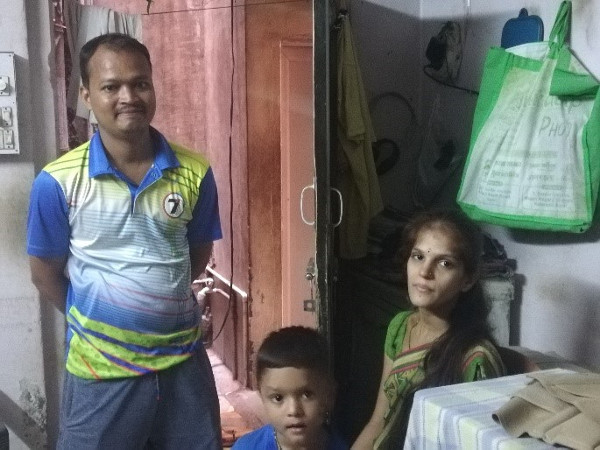 Naveen Patel*, age 32
Occupation: Clerk at a textile showroom
Residence: A one-room house in Mukti Nagar, Surat
Family: Wife, son and aged mother who has recently taken ill and is bedridden.
*Name changed on request
Naveen Patel's home is lit up by his animated four-year-old son Shiv.
With a big smile on his face, Shiv introduces himself in Gujarati and proceeds to give a tour of his 150-square-feet home, approximately the size of a standard bedroom. The house comprises a living room (which is also the family's makeshift bedroom where Naveen's ailing mother is the only one allotted the luxury of a metal cot), a kitchen, and an adjoining multi-purpose utility space to wash dishes and clothes. The bathroom, a common one shared by the entire building, is located right outside the house.
Shiv's excitement belies the gloom that shrouds the house. For Naveen's family, life has always been about simple joys. Working a 12-hour shift as a clerk in a textile shop, he earns about Rs 14,000 a month. Earlier, with this income, his family—wife Sangita, son and mother—led a comfortable life, even managing to save a few thousand rupees each month. Festivals and special occasions such as birthdays were celebrated with new clothes, sweets, family and friends. Occasional indulgences included "luxuries" such as watching a movie at the local theatre or taking Shiv to the local fair.
However, all indulgences have come to a standstill over the last two years.
"I can feel the change. This is since demonetisation. Everything has risen except my income," he says.
Unlike previous times when his salary would be raised every year albeit by a paltry amount, it has remained stagnant over the last two years. Meanwhile, other expenses such as electricity, water, groceries, vegetables and Shiv's school fees have risen. Monthly rent has also increased from Rs 3,000 to Rs 5,000 in two years, but any complaints to the landlord are quickly brushed off with "if you have any complaints, you are free to leave".
With this inflationary pressure, his savings have spiralled down.
To adapt to the recent adversities, the family began making cutbacks wherever they could. The daily quota of milk is now reserved for Shiv, while the rest have stopped drinking tea. Sangita goes to the market a little later in the night than usual, to secure a better negotiation for the last stock of vegetables left. In the last two years, she has not visited her parents who live three hours from Surat, to save on travelling expenses. She had taken up a job of weighing diamonds in a nearby diamond factory for a monthly pay of Rs 9,000, but was suddenly let go after the company shut shop some six months ago.
When Naveen's mother fell ill a year ago, for the first time in his life, he was compelled to take a loan of Rs 1 lakh from a friend to cover the medical expenses and other monthly expenditures.
"I felt bad as I had never asked anyone for money, but I had to do it to handle the rising expenses." Friends and colleagues are the ones first approached.
Because customer footfall is low, the textile shop he works at has taken a longer break of a fortnight, instead of the usual four days. This then has engineered a pay cut for employees, leaving Naveen and his colleagues in a lurch.
In a few months, the family is expecting a second baby.
However, with the pragmatism and entrepreneurial spirit seen across Surat, Naveen has made optimistic plans for the coming days. At the top of his mind is the wish to live in his own house—his name is already on the waiting list of the Pradhan Mantri Awas Yojana. He has also methodically rationalised the mathematics of it.
"The Awas scheme will provide me a house in Rs 4 lakh. What I currently pay for rent, I will end up paying the same as interest in the scheme. The scheme also includes a subsidy which will help me."
He also yearns to take the big leap to entrepreneurship—a step that he is sure will double his income. Putting his work experience and connections to good use, he plans to open his own textile shop and is already in talks with some manufacturers to source the raw materials. He also wants to take computer classes to learn the ropes of modern business administration. "These days, everything runs on computers—GST number, tax, invoice. So, I will have to learn."
Well aware of the significant capital required, he confidently places his trust in the basic goodness of human beings. He is sure his network will help him. He is less confident regarding government schemes like Mudra loans, though: "I will seek the help of my friends and family. Textile manufacturers offer the raw material on credit that I won't have to pay for three-four months. They are nice people and trustworthy. If need be, I will also apply for Mudra loan which has been made for people like us."
Naveen has experienced two long stints of unemployment from lay-offs in the past. The present circumstances have instilled a fiery conviction to do something on his own, to shift his family into better conditions, lest he gets left behind in the rat race.
"Kuch daring karni padegi warna yehi zindagi kaayam ho jaayegi. [I'll have to do something daring, or else our lives will stop here.]"
The Quipper team's next port of call: Indore