[Photo by Mason Kimbarovsky on Unsplash]
Good morning,
In their 1998 classic HBR essay, The Hidden Traps in Decision Making, John S. Hammond, Ralph L. Keeney, and Howard Raiffa, present a number of ways in which we end up making wrong decisions. One of them is the Framing Trap.
They write: "The first step in making a decision is to frame the question. It's also one of the most dangerous steps. The way a problem is framed can profoundly influence the choices you make. In a case involving automobile insurance, for example, framing made a $200 million difference. To reduce insurance costs, two neighbouring states, New Jersey and Pennsylvania, made similar changes in their laws. Each state gave drivers a new option: By accepting a limited right to sue, they could lower their premiums. But the two states framed the choice in very different ways: In New Jersey, you automatically got the limited right to sue unless you specified otherwise; in Pennsylvania, you got the full right to sue unless you specified otherwise. The different frames established different status quos, and, not surprisingly, most consumers defaulted to the status quo. As a result, in New Jersey about 80% of drivers chose the limited right to sue, but in Pennsylvania only 25% chose it. Because of the way it framed the choice, Pennsylvania failed to gain approximately $200 million in expected insurance and litigation savings.
"The framing trap can take many forms, and as the insurance example shows, it is often closely related to other psychological traps. A frame can establish the status quo or introduce an anchor. It can highlight sunk costs or lead you toward confirming evidence. Decision researchers have documented two types of frames that distort decision making with particular frequency."
They suggest a few ways. Here are three.
Try to reframe the problem in various ways and look for distortions caused by the frames.
Try posing problems in ways that combine gains and losses or embraces different reference points.
When others recommend decisions, examine the way they framed the problem.
What are your favourite ways to ensure that you don't frame the problem wrong? Let us know.
In this issue
Toe the line, WhatsApp!
Why you must wear a mask after getting vaccinated
When Haryana meets Silicon Valley
Have a good day.
Toe the line, WhatsApp!
A week after it was evident to the decision makers at WhatsApp that Indian users are furious with its new privacy policies, the company released front page ads across all leading newspapers that attempted to placate.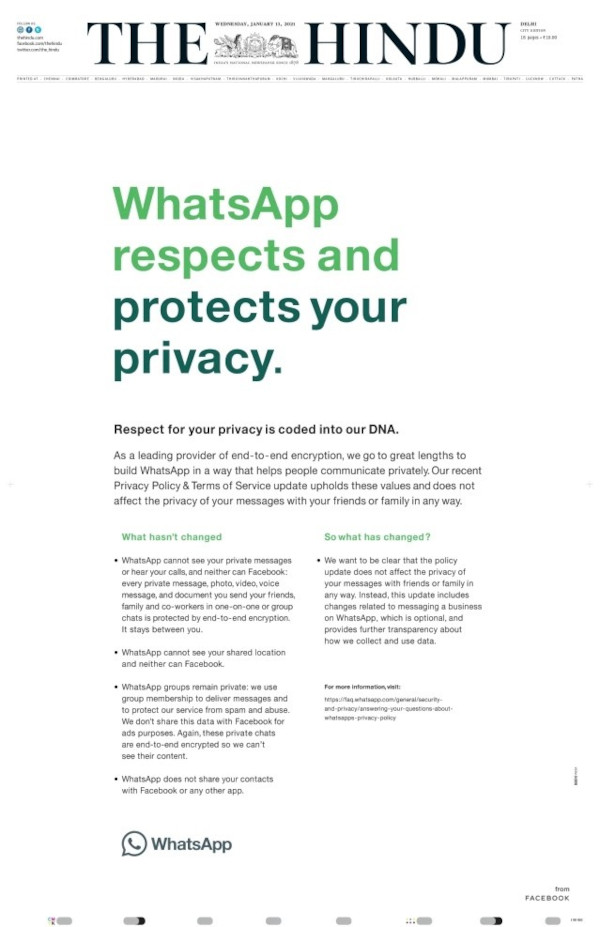 But the damage had been done. At least 400 million Indians who use WhatsApp and comprise the company's largest user base started migrating en masse to other messaging apps such as Telegram and Signal.
And almost as if on cue, earlier this week, the Ministry of Electronics Information and Technology (MeitY) stepped in and wrote to Will Cathcart, the global CEO of WhatsApp, instructing the entity to explain its stance on privacy within seven days. "The Government of India owes a sovereign responsibility to its citizens to ensure their rights are not compromised. Accordingly, you are called upon to explain the changes made to the Privacy Policy and Terms of Service offered to Indian users and respond to the concerns that your changes are prejudicial to the rights and interests of Indian citizens," the letter reads. But is asking WhatsApp to explain their stand enough?
It is time the government steps in to protect individual privacy—that is a theme Nappinai NS, Supreme Court lawyer and founder of Cyber Saathi, tackled in Hindustan Times. "The reaction to what WhatsApp believed it could do with impunity is probably going to be the best thing to happen to Indians, who have patiently waited for the PDP [personal data protection] legislation, which is technically two decades late and certainly languishing for the last three years," Nappinai pointed out.
Dig deeper
Why you should wear a mask even after getting vaccinated
As vaccination rolls out in India, starting with healthcare workers, our timelines are flooded with photos such as these, with people getting vaccinated all masked up.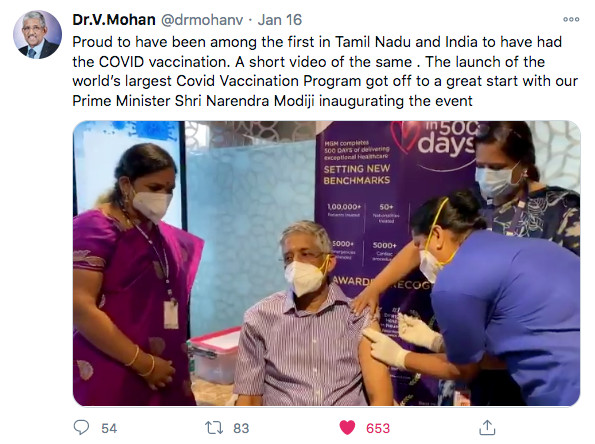 (https://twitter.com/drmohanv/status/1350337219962183685)
Are masks, social distancing, hand hygiene important even after vaccination? NPR has a simple explainer on why we should not let our guard down. In short, two reasons. One, it takes time for us to develop immunity. Two, we might be infecting others (we don't have data on that yet, but best to be prudent).
Two extracts from the explainer:
Why do I have to continue with precautions after I've been vaccinated?
In the short run, it will take some time for the vaccine's effectiveness to build up. (Effectiveness is defined as not getting sick with Covid-19. If 100 vaccinated people are exposed to a virus and 50 of them subsequently develop symptoms, that vaccine is 50% effective.)
How can you spread a virus if you've been vaccinated?
Here's how that might work: Let's say you've been vaccinated and you encounter SARS-CoV-2. You're much less likely to develop symptoms—that's clear. But your immune system may not fight off the virus completely—it might allow some viruses to survive and reproduce and get expelled from your nose or mouth in a breath, cough or sneeze. Remember: No one can be sure yet if this actually happens or if it happens often enough that you'd be emitting enough active virus to sicken someone else.
Dig deeper
Covidindia.org, the best crowdsourced database of Covid-19 information, has also started tracking immunisation in India. Here's their hugely recommended twitter handle: https://twitter.com/covid19indiaorg
When Haryana meets Silicon Valley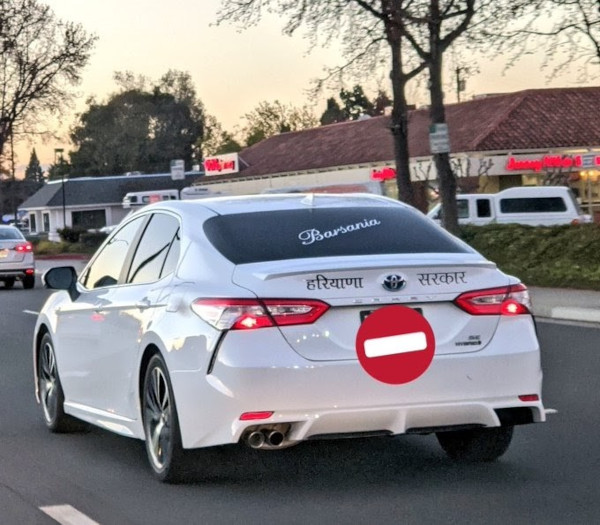 (via Rahul Fernandes (@newspaperwallah) on Twitter)
Tell us what you think and find noteworthy. Head over to our our Slack channel.
And if you missed previous editions of this newsletter, they're all archived here.
Bookmark Founding Fuel's special section on Thriving in Volatile Times. All our stories on how individuals and businesses are responding to the pandemic until now are posted there.
Warm regards,
Team Founding Fuel