[Photo by Christina @ wocintechchat.com on Unsplash]
Good morning,
We are glad to announce the start of Hustle Fuel, a new series by Aparajita Bhattacharyya (Opu to friends).
This series will look at the world of work and entrepreneurship—all male-dominated even now—from a women's lens. Why have we called it 'Hustle Fuel'? Because thriving in the evolving workforce demands having to punch above one's weight to earn a seat at the table—not because you are a woman but because you are the right person for the job.
And, it just so happens that this hustle fuel is precisely the attitude any entrepreneur needs to survive. Whether they are a man, a woman, or belong to an ethnic minority community.
Aparajita is currently based in Seattle, leading product strategy and monetization at Microsoft Azure. In her previous role, she was a management consultant with the Boston Consulting Group in the US. She holds an MBA (with Honors) from The Wharton School, and bachelor's degrees magna cum laude in Mathematics with a focus on Statistics (from Bryn Mawr College and Harvard College) and Linguistics (from Swarthmore College).
Aparajita's series Hustle Fuel seeks to provide inspiration on how women—and men—can put their best foot forward in a show-up-or-shut-up world.
It aims to amplify different portraits of what success can look like. It aims to encapsulate the can-do mindset, wisdom and life hacks from those who have successfully trod the path before—often through career paths that have not been linear, but like a jungle gym with many lateral and even backward moves that can be a learning opportunity to get you to where you want to be. Plus, it provides clues on how to build allies—both men and women—that you need on the journey.
The series will include
A column that will offer a wide-angle view of the changes at the intersection of entrepreneurship, technology, strategy and innovation—and what they mean for women leaders.
And candid conversations with a new generation of women who have 'made it happen' in business and industry in India and occasionally, from the Indian diaspora. Who reflect different career attitudes and behaviours; who celebrate the fact that women lead differently than men; who don't take no for an answer.
In this issue
How to increase the power of your voice
Statistics and stories
[New feature] Music for the day: Naham janami from Ship of Theseus
Have a good day!
How to increase the power of your voice
In her first column in the Hustle Fuel series, Aparajita Bhattacharyya draws from the lessons she learned from Adam Grant, best-selling author and organisational psychologist, as an MBA student in Grant's MGMT 610 (Foundations of Teamwork & Leadership) class at Wharton. And her own professional experience since then.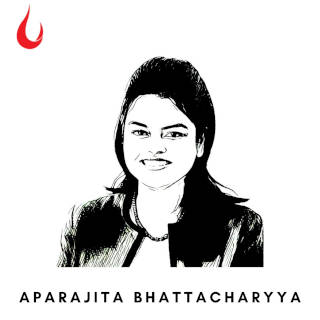 "A growing body of evidence reveals that when women (and minorities) advocate for a seat at the table, they tend to get penalized for being self-serving."
She writes:
"I have been witness to "manologues" happening again and again in every professional context I've been in—whether in the US or India, whether in management consulting, financial services or technology. There is a fine balancing act that's demanded of a woman every time she speaks in a professional setting. Either she's seen more than she's heard or she's labelled as too assertive. When a man asserts himself in a similar manner, he's appreciated for his intellect and confidence. As a result, women often decide that it's better to be a shrinking violet and that saying less is more.
"In order to navigate these situations, women receive and exchange several pointers on how to disagree pleasantly, challenge agreeably, and speak up softly. But maybe it's worth rethinking if that's the best way to be heard. A growing body of evidence reveals that when women (and minorities) advocate for a seat at the table, they tend to get penalized for being self-serving. When men make the same case, they're more likely to get heard. If we 'have a conversation about these conversations', as Adam says in Think Again, men can perhaps use their voices to draw attention to women's contributions instead of drowning them out; so that such conversation can become redundant in the future.
"My executive coach at work gave me an invaluable tip on how to set this into action. She suggested that I identify individuals in my organization whom I respect and who have influence. She recommended that in order to increase the power of my voice, I should let people in power champion me. At meetings, they can emphasize and give credit to the points that I have made. By channelling their (often male) voice, I can ensure that my voice is heard and my contribution becomes part of the conversation."
Dig deeper
Statistics and stories
At the time of writing this newsletter, India's total tally of Covid-19 cases had crossed the 2 crore mark with over 50 lakh infections being recorded in just the last 15 days. While these numbers make it to the global headlines and make for a macabre dataset, it is just that—data. What the data does not capture are the intimately human narratives that lie behind each of these stories.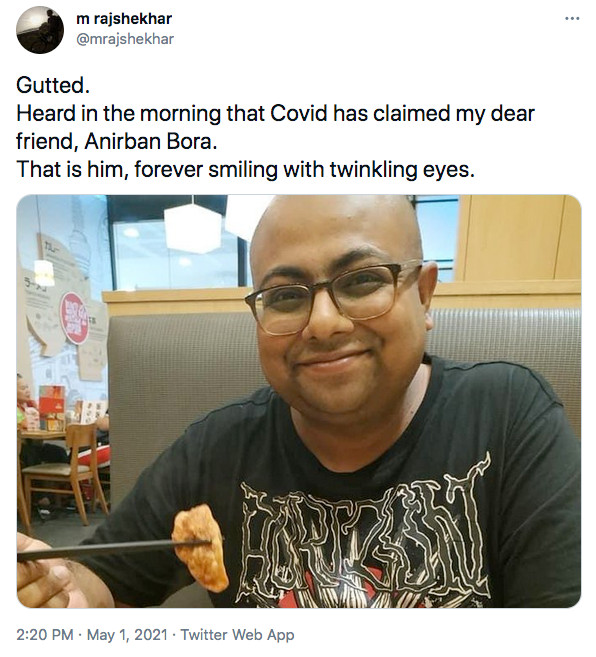 This statistic includes Soli Sorabjee, India's first Attorney General, who succumbed last week. Abhinav Chandrachud who practices at the Bombay High Court wrote a tribute to him in The Indian Express.
"Two episodes in his youth had a vast impact on his life. The first was on January 30, 1948, coincidentally the day Mahatma Gandhi was assassinated. Sorabjee was riding a motorcycle on Marine Drive when he got into an accident in which his left leg was badly injured. The leg never fully healed and never again was Sorabjee able to run or sprint. The second defining episode was the death of his father in 1949, when Sorabjee was only 19. He was summoned to the office of the executor of his father's will and treated quite poorly. Sorabjee decided he wanted to pursue a profession in which he would be his own master. It was for this reason that in 1950, just as a new Constitution came into force in India, Sorabjee found himself studying law at Government Law College in Bombay."
These statistics include stories of people who haven't been in public life, but their narratives made it into the public domain and got our attention. Like lawyer Rahul Matthan for instance, when he spoke about his father succumbing to the virus. "The last time I saw my dad was through the plexiglass porthole on the door of the ambulance that was taking him to hospital." Matthan's intent to go public was to make a case for those who are hesitant or are vaccine sceptics to get vaccinated. "The doctors I spoke to over the past weeks told me that, if anything, this time around more young people are dying than old. Which is why, when the government opens up vaccines for everyone over the age of 18, I sincerely hope the youth will show up in large numbers."
And intensely personal narratives had our attention as well. Such as one by journalist M Rajshekhar who shared a long thread on Anirban Bora, a much-loved designer in The Economic Times newsroom, someone he was close to. Rajsheskar's thread began with these words: "Gutted. Heard in the morning that Covid has claimed my dear friend, Anirban Bora. That is him, forever smiling with twinkling eyes."
Dig deeper
Still curious?
Parmesh Shahani, the head of Godrej India Culture Lab, talks about the secret behind his creative genius and his almost superhuman ability to reach out and forge relationships with a wide range of people, and curate distinctive experiences and conversations. Watch: Personal Journeys with Parmesh Shahani
In this edited extract from his book 'Half a Billion Rising', Anirudha Dutta says, the coming decade will see more educated women entering the workforce and this will have far-reaching socio-economic implications. Men will have to respect and adapt to live with these changes. Read: Resurgent women: The times they are a changin'
A taxi driver, a beautician, and a nurse had many hopes that seemed within their reach in the City of Dreams Mumbai. Now, with another surge in Covid-19 cases, they are fighting hard to not let it all turn into a nightmare, write Piyul Mukherjee and her team at Quipper Research. Read: Teetering on the Edge. Of survival
Song for the day: Naham janami from Ship of Theseus
This haunting Jain hymn is in Prakit, a language spoken in the Middle Indo-Aryan, between 500 BC and 500 AD. The English lyrics are available here. And if you haven't seen the Ship of Theseus—a masterpiece by director Anand Gandhi—please do watch it. (Click here for the full movie) It explores identity, justice, beauty and meaning of life and death through the lives of an experimental Egyptian photographer, an ailing Jain monk and a young stockbroker. It is deeply moving and will make you introspect and reflect on life itself.
~ Indrajit Gupta
What's helping you get through these tough times? Send us the song, poem, quote that is your balm now. And we will share it through this newsletter.
And if you missed previous editions of this newsletter, they're all archived here.
Bookmark Founding Fuel's special section on Thriving in Volatile Times. All our stories on how individuals and businesses are responding to the pandemic until now are posted there.
Warm regards,
Team Founding Fuel