(L to R) Taxi driver Sindhu Dhokhe poses in front of her taxi, Beautician Sumitra Vishwakarma at work, and nurse Sofia Rajesh
Ground Realities is a blog, anchored by the team at Quipper Research, led by its co-founder and CEO, Piyul Mukherjee.
It is an attempt to understand what's happening inside people's homes, in their lives. The ups and downs, as reflected in their social and economic world. You can read the entire series here.
By Himal Belwal, Ishani Ray, Nishtha Jaiswal, Saawani Rajadhyaksha, Sharmistha Adyanthaya and Piyul Mukherjee
As the city hurtles into yet another lockdown, we deep dive into the lives of three women in Mumbai. A female taxi-driver, a nurse from Kerala and a skilled beautician who now works in a factory as a daily wage earner.
These women had arrived in the metropolis, known as Mayanagri, the City of Dreams, and had been at the cusp of a successful trajectory of work, before the pandemic changed everything.
Their stories will at once break your heart, and at the same time, uplift you with their indomitable spirit and never-give-up attitude. The fall has been hard but they are all ready to reset, reinvent and get back on their feet.
The pandemic and subsequent lockdown stripped many women of their aspirations of a life beyond meeting basic needs that they had started believing was finally within their reach.
In India women face daunting challenges to land a spot in the male-dominated workplace, indicated by the abysmally low numbers across surveys. Even as more and more women get better educated and strive to move beyond the confines of the home.
The inability to earn what one is capable of, and the insolvency brought about by the pandemic, are seen as a personal, individual strife. It is striking that the larger system and its failures to take care of the basic needs of its citizens, is never blamed.
Will mere resilience be enough for these women riding out this seesaw of uncertainty, as the finishing line to their future goals keeps moving beyond their reach?
With night and weekend curfews, Sindhutai's life as a cabbie has come full circle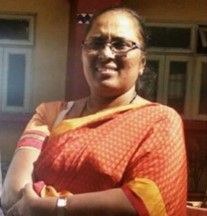 Sindhu Dhondiram Dhokhe, age 55
Occupation: Taxi Driver, does the Mumbai International airport run.
Residence: Kurla East, Mumbai; originally from village Mohol in Maharashtra.
Family: A nuclear family with her 60-year-old retired husband and their two adult children.
Just over a year ago, Sindhutai, as she is called by friends, would zip across the city at night driving weary travellers from the airport's chaotic flurry to their final destination.
Enterprising by nature, she had found a great gig driving through the night. After expenses, she could earn Rs 1,000 – Rs 1,200 by the time she decided to get back home each morning. This allowed her to avoid the city's nightmarish traffic, earn a decent amount, and be at home with her family during daylight hours. It even allowed her to invest in purchasing a taxi on monthly instalments.
While the Mumbai Airport has become operational since the initial lockdown last year, things couldn't be more different for Sindhutai.
With late-night international flights mostly suspended and the dip in overall air travel, the airport taxi business has suffered a severe blow.
Furthermore, it has rendered the services of female taxi-drivers nearly obsolete.
The Covid-19 pandemic ravaged the steady stream of income and stability that Sindhutai had worked three long years to build. Once she made up to eight nightly runs from the airport to Mumbai's furthest corners. She considers herself lucky if she's able to garner two trips now. In a span of eight hours. Her earnings halved to Rs 15,000 a month and this is by staying out for at least 15 hours waiting for customers. This income barely covers the family's monthly rations worth Rs 9,000.
"But at least it was better than nothing," she says.
For now, barely months into a fledgling recovery, the city has gone under a second wave of lockdown, with night and weekend curfews in place.
This has brought Sindhutai back to where she was in March 2020, at the cusp of the first lockdown.
Through the rest of the year 2020, she tried hard to seek other avenues of employment. She was ready to work as an ambulance driver, but saw little success. "Hospitals do not want a female ambulance driver. With so many males also seeking to drive, no one gives us women the time of day. They believe we cannot work day and night, keeping odd hours," she adds.
Oxfam India reported that women employed earlier were 23.5% less likely than men to find employment post-pandemic.
During the initial days of the pandemic, she even drove down to Dharavi to verify the actuality and existence of Covid-19. "I wasn't afraid of the virus then, or now," she declares, her voice shining with gumption. She does not mind driving Covid patient vehicles either, but has no idea where to go to get such a job.
Despite facing nearly a year of unemployment and a dramatic drop in household income, Sindhutai still believes that she is more fortunate than her neighbours. "Others had much more to cry about than I did," she reflects. She feels her troubles pale in comparison to others in her chawl who halved their own portions to be able to feed their children. She recalls one neighbour saying, "I don't eat because I feel guilty for having food while my children cannot fill their stomachs."
Sindhu had thought about selling vada pav, but found no takers there either. Who was to have the snack 'on-the-run' in this city that had come to a grinding halt?
"Women seek any sort of work, you know, thinking let me at least get some minimum wages, of two hundred rupees—kam se kam do sao toh mil raha hai," she states with a shrug. "I have lived in a village under very trying circumstances in the past, I know how to face this famine also."
Her grown up children, who had earlier held salaried jobs much to her pride, as an editor and a yoga instructor, have since lost their steady jobs. They are now working as an insurance agent and a freelance yoga teacher.
All her life, Sindhutai has advocated pragmatism and optimism, even in extreme uncertainties.
The biggest shock came when her three-year-old taxi was taken away after she missed several EMI payments. She had just begun clawing back. By simplifying her meals, she had cut down further on her household consumption. This allowed her to pay back a few of the pending instalments and negotiate to get her taxi back.
Driving, says Sindhutai, is in her blood. She cannot forget the day, a long time ago, when she used to drive a truck delivering Bisleri bottles all over town. A traffic cop halted her, and when he came up to the driver's cabin and saw it was a woman, he stepped right back, clicked his heels and gave her a salute!
At the height of the economic crisis brought on by the Covid-19 pandemic, 122 million Indians have lost their livelihoods. For thousands of such families, job and income loss have obliterated the social mobility they had secured after years of hard work. It has pushed 32 million others like Sindhutai out of the middle class, undoing years of progress and prosperity.
In an earlier Ground Realities blog, we had seen the drive to work amongst workers in Surat. In India, the drive to work hard is higher than ever. Citizens are ready to put in the toil, but jobs are nowhere to be found.
This time around, savings have been used up, and there are no avenues as back-up in spite of the willingness to lead a frugal existence.
Ultimately, Sindhutai refuses to compromise on living a dignified life. As she and her family gear up for the next lockdown, she says, "No matter what happens, I hope that we are strong enough to get two square meals in a day!"
"Ghar mein baithke marein, ussey behtar kaam karte hue marein." (I'd rather die out there working than die sitting idle at home.)
Learning to survive with a smile, for the sake of the children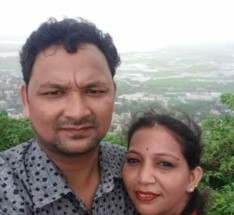 Sumitra Pratap Singh Vishwakarma, age 42 (with her husband)
Occupation: Skilled beautician but now working as a daily wage earner
Residence: One-room-kitchen in a chawl (rent of Rs 5,000 per month) in Vasai, a distant suburb of Mumbai
Place of work: Earning Rs. 400 a day at a factory manufacturing face masks. Till March 2020, her minimum monthly income was Rs. 25,000 at a beauty salon in an upscale Mumbai suburb.
Family: Lives with husband, two daughters (age 11 and 12 years), a son (age 8 years), and her mother-in-law.
Sumitra's life had a set routine. Every morning, she would wake up early, make the tiffin for her family and then travel to her dream job at a beauty parlour in the tony suburb of Powai. Her two-hour-long journey by local train, followed by bus or a shared auto, wasn't an easy one, but it was one Sumitra had gotten accustomed to.
By working 10 hours at the parlour, and with four hours of travelling, she would earn her salary that she was very proud of. Besides, at the beauty salon in Powai, when she would treat her customers to hair spas, manicures, facials, body massages, the liberal tips earned made a significant addition to her income. More so during weekends, on days such as Karva Chauth and during the Diwali and wedding season.
Working closer to home was just not an option for Sumitra. In her own Vasai neighbourhood, if she joined a local salon, she expected to make a fraction of her earnings. There were hardly any tips, nor were the services charged at a premium in this suburb.
With her husband working as a cashier in a large textile and readymade clothing showroom, they were able to send all three children to the local English medium school, something they were both extremely proud of.
Last year, with the city locked down, the family plummeted to a hand to mouth existence overnight. With no earnings whatsoever, the savings kept aside for a rainy day dried up fast. Sumitra had three weeks of rations stored at home along with a small fund saved up for a potential down payment in case their name came up in the government lottery for a low-income home. This had been a dream close to her heart—to be able to own a home.
Next, she was unable to pay the school fees of her children. Even while all schools have remained closed, it is an unfortunate fact that most schools have made no concessions in the payment of fees. A recent survey conducted by Nobel Laureate Kailash Satyarthi showed that the pandemic may increase school dropout rates, with nearly 20% of households considering withdrawing their children from school because of financial constraints.
This was followed by a renegotiation for a delay in the payment of rent.
By June, her salon at Powai re-opened. Her co-workers started going back to work, albeit earning half their pre-pandemic salaries. Sumitra saw this as a glimmer of hope in her dire circumstances. But the fact that she would need to travel via crowded public transport made customers wary about her potential exposure to the virus. She was not called back.
Sumitra did not have the luxury to sit at home for weeks on end waiting for safer times. With her skills honed over two decades, she was a prime candidate to join a leading home and beauty service app that made a significant name for providing parlour services to customers in-home. But she was unable to do so, since the platform sought Rs 18,000 upfront for the servicing person to be kitted out as a traveling beautician.
"It was impossible for me to pay that amount," she recalls. While such gig marketplaces claim to be democratising the market, the barriers to entry for the less privileged remain high. As someone who was unable to pay rent, where was she to acquire Rs 18,000?
"We just kept walking from place to place, my husband and I, looking for work," she says. They wandered around Vasai going to cosmetics factories, handbag manufacturers, and medical factories hoping that someone would hire them. Eventually, they found work at a nearby personal protective equipment (PPE) factory. India had significantly amped up PPE production in 2020. Initially, a net importer of such equipment, by July, India was exporting 23 lakh units of PPE. At the heart of this monumental increase in production were working class people like Sumitra.
She has noted that the workforce at the factory is predominantly male. This is not a surprising revelation. In light of the crippling economic crisis, unemployment has hit families across the board. Millions in the unorganized sector have suffered a significant fall in wages.
At the same time, the economic impact of the pandemic is expected to hit women harder and longer than men.
This muggy factory was a far cry from the upscale air-conditioned beauty salon that Sumitra was used to. The work at the factory has been extremely taxing—with long work hours and no holidays. "If you go on leave for one day, your daily wage is not earned. I don't have the will to work for 10 back-breaking hours every day, for days on end," she sighs, even as she continues to work in such a place.
At the factory, work is not guaranteed on a daily basis either. On some days, her husband would manage to get inside the premises. On luckier days, both were selected to work. Out of the hundreds clamouring to be called inside. Her household income has seen a sharp decline. It barely covers monthly rent and rations. "We somehow manage to get food on the table. We try that none of us should go hungry," she says.
On the days when she is unable to get work at the factory, she makes it appear to her children as if it is a holiday. "I get those small packets of pav, and make a pizza at home for them. They're overjoyed. Or I get packets of popcorn that we get for Rs 10. I can't let them down," she says with a smile.
She is currently hunting for a stable job where she can come home each day. Perhaps that of a security guard. "I just need a job with a decent steady pay. Even if it pays Rs 12,000 or 15,000. I'm ready to work no matter what. I have three children, I have so many expenses."
Despite her life careening out of control during the past year, Sumitra feels she has no choice but to remain resilient.
"Asha nahi chhor sakte, himmat bhi nahi haar sakte. Mere bacche ke liye mein ladti rahoongi, aur himmat hargis nahi haaroongi." (I cannot give up on my hopes and wishes, and I'm working as hard as I can. I won't lose my strength. I'll keep fighting for my children).
The shifting goal post of the future: 'I shall go to Qatar next year'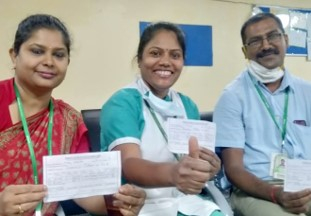 Sofia Rajesh, age 39 (with her colleagues post vaccination)
Occupation: Nurse at a private hospital in Mulund, Mumbai
Residence: A PG in Bandra West, Mumbai. Originally from Kottayam, Kerala.
Family: Married in 2005. Her husband and son live in Kottayam.
April 2021. As Mumbai faces a resurgence in the number of Covid-19 cases, there is a fresh lockdown with curfew at night and through the weekend. Sofia readies herself before the crack of dawn, her shift almost ready to begin.
For Sofia, it is as if an old recurring nightmare is back. "This time last year, the situation in the Covid ward just kept worsening—first it was over the months, then over weeks and later with each passing day. Now it feels like it is happening all over again."
The period between June and October last year would prove to be the toughest for the nurse. Amid PPE kit shortages, the absence of housekeeping staff, and a rush of patients being admitted and discharged daily, most duties fell on the nursing staff in hospitals—from cleaning bedpans to administering emotional sustenance to bewildered patients.
"A bed would be booked before we would discharge a patient, in between which we would do a thorough cleaning of the room. But we also did everything else, from receiving the patients, to giving them food, water, medication, check billing, attending calls… You know, even the doctors were afraid to check in with their patients physically. It was us who connected them to patients via video calls. And for all this, the hospital gave us an extra Rs 200 per day," she remembers.
It was the promise of earning a decent income that had brought Sofia to Mumbai. After working at Kottayam's Mission Hospital for around eight years, a friend who had just moved to Mumbai referred her to the hospital where she has been working for the last two years.
"The pay in Mumbai is good. They pay me Rs 36,000 per month. I have been able to send a little more money back home, after rent. I had heard that the Gulf countries offer even better pay. They have an average salary of 63,000 Qatari Rial per year, which is a little above Rs 12 lakh. I know I can earn that much, and thought Mumbai would be a gateway to honing my skills and going to Qatar," she explains.
Covid-19 has halted her plans to move abroad. "In my first year here, I studied in all my free time and gave my exam while performing extra duty in the ICU. That's the most sought-after skill in Qatar—to become an ICU nurse. The pandemic came from nowhere. I had planned so many things to be able to settle down in my life. But 2020 unfortunately, changed everything. I thought this year would be different. But now there is a second coronavirus rush."
What Sofia dreads most is not contracting the virus, but the difficulty in breathing, or being unable to go to the toilet while treating Covid patients. With heavy PPE kits that need to be worn for longer than eight hours at a stretch, in order to avoid going to the washroom, frontline staff do not eat nor drink water for at least two hours prior to donning the extra layer. This led to dehydration and headaches that progressed into severe ulcers and abdominal pain, especially during menstruation.
"Initially it became difficult to travel, so I'd stay at the hospital itself. It was very hard to get used to this," she recalls. "I felt a constant pricking sensation in the chest that caused sleeplessness and very soon I had a fever. No, it was not Covid. Due to a shortage of PPE kits, sometimes we had no option but to reuse the same kit. The doctor—who incidentally was not coming to the hospital—told me that it was just my anxiety, so I was expected to continue with my shifts daily."
Speaking about her experiences, she admits that the only thing that kept her going through this trying time was her family. "It was extremely painful, physically as well as mentally. I saw my patients and their families, I saw their tears, and I knew that I have to take care of myself, for my family, just as I'm taking care of them for their family."
With newspapers carrying stories of the surge of cases in Mumbai, her family urged her to come back to Kerala. "My husband was very scared, and would keep calling to check up on me. I had to remind him saying, 'hey, don't disturb me during my shift at least!'" she laughs. But there was no question of going back home. Sofia's salary has been an important component of her family's wellbeing back home. Besides, there were no trains.
As the second lockdown comes into effect, Sofia is far more inured to her fate. "The virus is a year old, we've already taken our vaccinations," she adds. At this moment, she is focused on the future of her son. "My son wants to be a pilot, just like my cousin. I dream for him just like I dream for myself. So many people have lost their jobs back home. I'm the only earning member now, I can't give up."
Sofia remains a favourite among her patients as well as her colleagues. "I realized that panicking would bring me nothing. Covid-19 patients are just someone's family members. So many of my patients have sent me thank you cards."
About the future, she believes there is no option but to remain optimistic. "I thought this would be the year when I would at last get to go to Qatar. While it all appears unpredictable, this has to pass at some point of time. I'll go to Qatar next year."