[Bradford Timeline, CC BY-NC 2.0, via Flickr]
Good morning,
In The Prosperity Paradox, Clayton Christensen shares this fascinating detail about the Wright brothers' first flight back in 1903. They weren't the only ones trying to create a manned flying machine, and they weren't even the frontrunners. "At the time others, most notably astronomer, physicist, and inventor Samuel Pierpont Langley, were considered safe bets," Christensen points out.
He writes: "Langley was a professor of mathematics and astronomy, and later became secretary of the Smithsonian Institution. Today, many aircraft facilities, including the NASA Langley Research Center and Langley Air Force Base, are named after him. In his efforts to create the first manned flying machine, Langley spent more than $50,000 (approximately $1.4 million today) of taxpayers' money, and had the resources of the US government at his disposal. He had a clear idea of how he was going to win this race: he was convinced that if he could figure how to generate enough power, he could shoot a plane into the air, causing it to fly like an arrow flung from a bow. After much fanfare, Langley showcased his thinking with two efforts to propel his craft across the Potomac. But each time, his 'aerodrome' plane crashed straight into the water. Humiliated and mocked in Congress, Langley eventually abandoned his quest.
"By contrast, the Wright brothers spent roughly $1,000 on their experiments. Orville and Wilbur were humble bicycle enthusiasts, neither of whom even had a high school diploma. But they did one thing that Langley didn't: they focused on reframing the problem, which led them to ask different questions. While Langley had concentrated on propulsion for his aerodrome to fly, the Wright brothers wanted to understand something else first. Their experience with bicycles had taught them about the importance of balance. Was balance—in relation to both lift and drag—critical in flight, too?"
They were spot on, and the rest, as they say, is history.
In this issue
A new normal in Singapore
Michael Holding on racism
How teachers feel now
Have a great day!
A new normal in Singapore
We've been watching with much interest how the pandemic is being managed in other parts of the world. And one of the most intriguing characters at the centre of it all is Australian Prime Minister Scott Morrison. Even as most parts of the world went into lockdown, citizens of Sydney, the capital of New South Wales, were wondering what the fuss was all about. People were moving around freely because the state was unaffected. All of that changed last weekend as Morrison announced a stringent national lockdown and shut down the country's borders with the world, including the bio bubble with Singapore through which people could transit to other parts of the world.
This was unanticipated and Australian citizens have gone into a funk. It was inevitable then that commentators there start looking at how the pandemic is being managed in other parts of the world, Singapore included. A report by Benedict Brook, a Sydney-based reporter, got our attention because he pointed out that Singapore, which has been one of the world's most successful at combating Covid-19 "will soon fundamentally change how it manages the pandemic."
"The virus will continue to mutate, and thereby survive in our community."
The island nation's government "has stated Covid will be treated like other endemic diseases such as flu. There will be no goals of zero transmission. Quarantine will be dumped for travellers and close contact of cases will not have to isolate. It also plans to no longer announce daily case numbers… Senior Singaporean ministers have said it is the 'new normal' of 'living with Covid'."
Dig deeper
Michael Holding on racism
We can't wait to read Why We Kneel by Michael Holding, now a cricket commentator. In the seventies and eighties, he was one of the most feared pacers the game has ever seen. The book has contributions from other legends such as Usain Bolt, Adam Goodes, Thierry Henry, Michael Johnson, Ibtihaj Muhammad, Makhaya Ntini, Naomi Osaka and Hope Powell. Through its pages, the former cricketer tries to draw a spotlight on racism in sport, an issue he believes that has gone unaddressed. That is why his interaction with the team at The Indian Express had our attention.
"Racism is institutionalised and systemic. That's what we are trying to get rid of."
"The reason that those great athletes, those great names are in the book is to show people, it doesn't matter which background you are from… It doesn't matter how famous you are. It doesn't matter how rich you are. Once your skin is dark, you suffer victimisation, you suffer racism.
"Two people will go to school, a black and a white kid will go to school… In many countries, in England, in Australia… Both of them will have the same academic achievements, but when they leave school, their path would be different depending on the colour of their skin and that is what I am talking about. They go to school and they are the best of buddies. But when they leave school, one goes left and one goes right and that is not their fault. That's the way the system is set up. And that is what I want people to be educated about so that they can put pressure on people who make policy, so that we can have a change in those things."
Dig deeper
Still curious?
How teachers feel now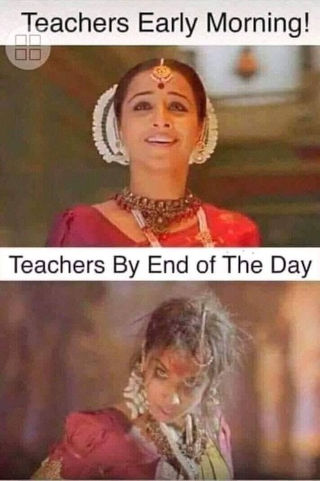 (Via WhatsApp)
Found anything interesting and noteworthy? Send it to us and we will share it through this newsletter.
And if you missed previous editions of this newsletter, they're all archived here.
Bookmark Founding Fuel's special section on Thriving in Volatile Times. All our stories on how individuals and businesses are responding to the pandemic until now are posted there.
Warm regards,
Team Founding Fuel
(Note: Founding Fuel may earn commissions for purchases made through the Amazon affiliate links in this article.)