When a custom-built bicycle landed home on my 50th birthday, to put it bluntly, I was surprised. Bicycles had fallen off my radar after I got into the workforce almost 30 years ago, because there appeared to be "no time" to cycle around randomly. My only relationship with bicycles since was restricted to reading stories of endurance and peak performance from races such as the legendary Tour de France.
In any case, I've been enamoured by motorcycles for as long as I can remember and continued to harbour dreams of getting a superbike. But everyone around me thought it was a bad idea. Perhaps, this bicycle was my brother and sister-in-law's way of weaning me off the motorcycle. I suspect they may have just succeeded.
Now, here's the thing: Just any bicycle may not have made me change my mind. Because every once in a while, I take my older kid's bicycle to ride around and get a workout. It's what most people would call a decent, branded bicycle that you can purchase off-the-shelf at any good store. It had cost me a little over Rs 10,000. While the workout felt good, I must acknowledge, the pleasure was missing. Perhaps, I'd outgrown bicycles is a narrative I got into my head.
Love at first sight
But one look at this bicycle and I knew she was different. I say 'she' after much deliberation and a long conversation with my friend, the motoring journalist Adil Jal Darukhanawala. He insists that while all else can be addressed in the masculine, vehicles that move must be addressed in the feminine and must be treated as such.
There was something about her stance: While I'm one for sobriety, this once, I liked the bold colours on her. Saffron and green. The 'First Principles' emblazoned on the frame and the elements that go to the frame made her look unique.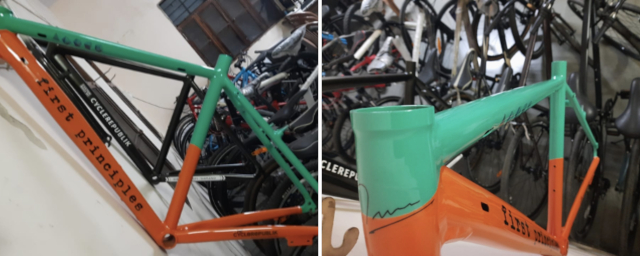 [(Left) The frame after the paint job; The front with my signature on it]
Clearly, this was built only for me and it would take a while to wrap my head around the fact that I am dealing with not just a bicycle, but a work that is both engineering and art that had taken much thinking to create. This isn't available off the shelf, but is built to specification. What has gone in here rivals what goes into high-end motorcycles. But how was I to know all this until I spoke to engineer Praveen Prabhakaran and designer Abhijit Kupate who built it?
Turns out, the brief they had got was that I am the kind of guy who has been drooling over motorcycles. So, what emerges from their workshop must not just ride fast, but look fast even when stationary. And they delivered.
At first look, there was something aggressive about her stance that I couldn't quite put a finger to. And this once, all I wanted to do was ride the bike. Randomly. To wherever. And when I got on the seat that appeared too thin, it was a surprisingly snug fit.
By way of example, the gears she was fitted with. It wasn't anything like I had used in the past. With 21 combinations possible, I figured it would take me a while to get on top of it. But when on the road and riding over steep inclines, I figured I was either moving past or keeping pace with other motorised vehicles with surprising ease.
I thought I could spot some envious looks from others who liked their bicycles. And why not? Because this is the beast I was riding.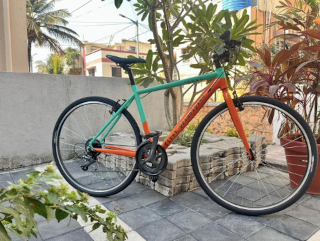 What's special about this?
Customised art and engineering
"Mercedes doesn't make auto rickshaws. In the same way, I don't build bicycles out of low-cost materials. My basic material is cro-moly (chromium molybdenum). This material is used extensively to build rally cars and motocross bikes, for instance. But this is the most affordable material in the series of bikes that I work off," Praveen told me as matter of fact.
What else goes into the bikes? "I build frames in aluminium alloy, titanium alloy, carbon alloy and declassified aerospace grade material. But all this is super-expensive."
So, what does the frame to build my bicycle cost, is a question that occurred right away because until then I wasn't told about it. "The basic ones start at Rs 38,000," Praveen said without batting an eyelid. Add to this the costs of top-of-the-line disc brakes, gears, imported tyres, aerodynamic seat, customised paint job and the cost breaches Rs 1 lakh.
"Unfortunately for us, most people in India don't understand what goes to make a good bicycle," adds Praveen. "Those who run don't think before spending Rs 5-10,000 on a pair of running shoes, but refuse to pay that money for good braking systems or a frame."
The bicycle he rides is built with titanium alloy, has carbon fibre rims and cost Rs 3.25 lakh.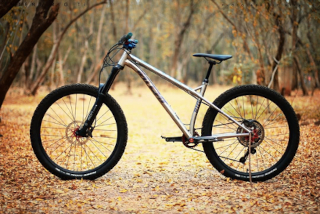 [Praveen Prabhakaran's bicycle]
Then there are connoisseurs who will want the best. The technology that rivals superbikes. The joints are made of aerospace grade stainless steel, the main frame out of carbon fibre, and it has wireless electronic gear transmission. The very least it costs to put on the road is Rs 4 lakh.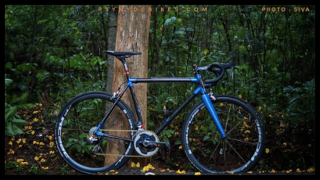 [Bicycle with wireless transmission]
Praveen built his first bike when he was 16. But it wouldn't be until he met another enthusiast, Abhijit Kupate, that the two decided to join hands.
Praveen runs Intent Bikes that manufactures and designs custom made bicycle frames and parts. Abhijit owns Cycle Republik that is a distributor and retailer for mid-range to high-end bicycles and works to customise existing bicycles as well.
An India to travel
Abhijit had cycled solo through all of Europe, could see people adopt it for travel and leisure, and the designer in him often wondered why people didn't cycle across India as well. "Perhaps, the landscape isn't as stunning" is a narrative he carried in his head. And it was reinforced by everyone around him.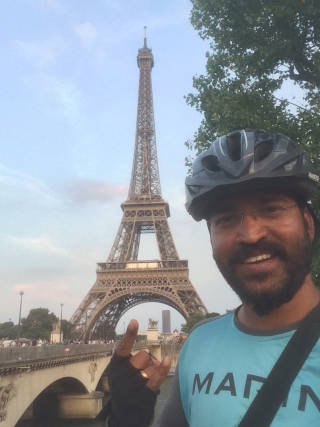 [Abhijeet in Paris]
But all that changed when he started to explore India on a bicycle. There were all kinds of places to see.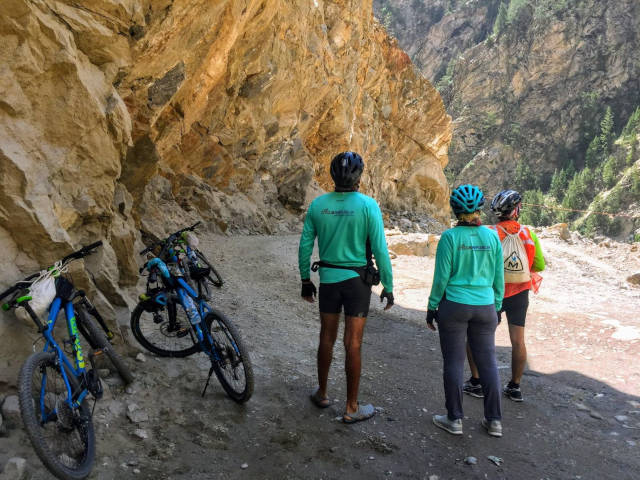 [Spiti Valley]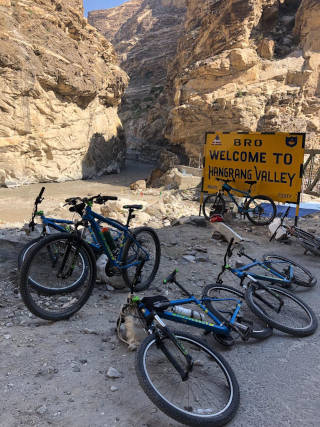 [In Kinnaur]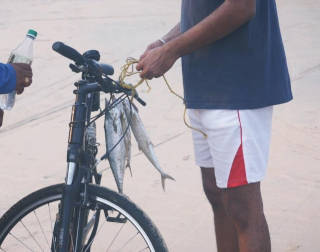 [Goa where he travels to from his hometown Pune]
So why weren't Indians riding bicycles? Because Praveen and Abhijeet discovered good bicycles are difficult to come by in India.
To place that in perspective, they spoke to me about how they went about working on what I ride now. It took some conversations between my brother and the designer to figure out my personality, and with the engineer to understand my body type. By way of examples: Do I have short legs or long ones compared to the torso? Or, am I aggressive or laid back?
After having figured this out, Praveen got down to work on a frame I may take to naturally. "There are different categories of cars. The same applies for bicycles as well. You can have road racers, the BMX kinds, hatchbacks, SUVs, off-roaders, and whatnot." Turns out, he zeroed in on an off-roader for me because he figured I may use it for some commutes and long rides across other kinds of terrain. He was spot-on.
The other thing he figured is that I may want to dismantle the bike like many others do and ship it to where I travel. Now, while the bike is lightweight at just about 7.5 kg, the volume is large. So, it is designed to be dismantled completely by the user and stuffed in a single box.
After Praveen was done with the engineering, Abhijit got in to examine the design elements that came in. "In your case, I need to be sure that you will come back to the bike tomorrow because you haven't ridden for a long time. The seat has to be just right. What do the aerodynamics of the handlebar feel like? This isn't about aesthetics alone. It is about the user experience and that's what I work on," he says.
What's one of the most challenging assignments they've worked on? Turns out my brother and sister-in-law like to travel everywhere together and love the outdoors. They wanted a tandem. These guys built India's only custom-built tandem for them—in time for last Valentine's Day to go on a road trip together.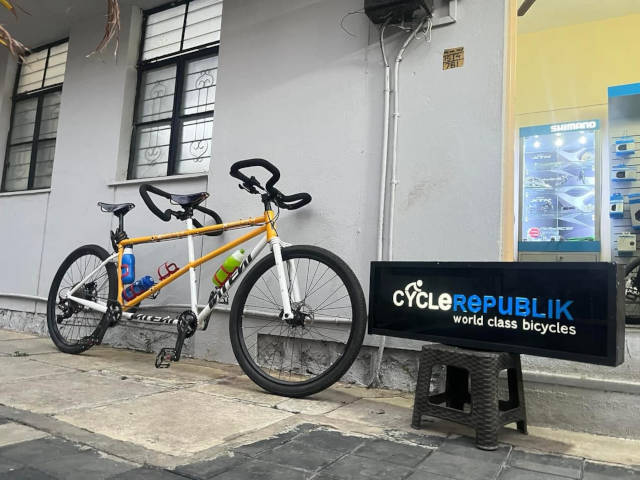 [Custom-built tandem]
Some tips
As for me, I'm hooked. Most days, I take the bicycle and set out. I must admit riding through the roads in Mumbai during peak traffic hours is infuriating because some motor vehicle drivers appear to get perverse joy in trying to run me down. Having said that, I'm re-discovering trails in the forests of Aarey and Borivali National Park. The long distance running bug has bitten me as well and the first run I am at work to do soon this year is a ride from Mumbai to Pune and back. There are a few groups of riders who do such runs and even longer ones. Abhijeet's last ride, for instance, was from Pune to Kerala and back. It will take me a while to do that kind of distance.
A word of caution: Not every expensive bike is a good bike. While most of them have the trappings and labels, the question to think about is, is it for you? That's why the premium you pay is to get a customised bicycle as opposed to a branded one.
And one more thing: With the kind of speed these bikes are capable of picking up, don't think of getting out without a decent helmet. As for attire, good cycling gear is available at Decathlon stores—which is a good place to service these bikes as well.
Resources
Facebook: Cycle Republik
Instagram: https://www.instagram.com/intent_bikes/
Resource: India Cycling Community (Reddit)