[Photo by Victor Rutka on Unsplash]
Good morning,
Some years ago, I was showing my mother and aunt a few things I shot on my digital camera on a trip to Kodaikanal, a hill station in Tamil Nadu. They sat facing my desktop, to which I had transferred the photographs and videos. I sat beside them, clicking through the images and narrating the backstories. At one point, as I was showing a video of my trek, my aunt asked me to skip the videos and show only pictures. My mother, who was so close to her sister that she could finish her sentences, concurred saying that the videos were too shaky and strained their eyes.
We have all seen them. Videos of family functions and fun holidays, shot in digital cameras or increasingly these days, smartphones, the bonhomie captured often in awkward angles and with shaky hands. To be fair, that's part of the charm. But sometimes, it can strain the eyes of the viewers. Almost always we wish we had shot them a little more professionally, without tilts, without shakiness, and without taking the subject out of focus.
Professionals do it better than us because of practice and sometimes because they have better equipment, especially tripods. But, it takes years of practice to get that right, and it's (to put it mildly) inconvenient to carry a tripod. Some cameras adjust for shakiness, but there is only so much they can do.
As Covid-19 cases come down and many of us start to plan our vacations, we might not be giving much importance to taking pictures and videos. We know that we will wing it. Irrespective of how bad we are with cameras, we know that there will always be a few good enough shots to share on social media.
However, if you want to get the videos right and avoid the basic mistakes, there is a way out. Sometime back I discovered, thanks to a friend, Tanuj Bhojwani, that technology can fix this problem. The tech in this case comes in the form of handheld gimbals.
FF Recommends: A Gimbal
Gimbals are mechanical stabilizers on which you can mount your smartphone. The stabilizer makes sure your camera stays stable irrespective of how much your hand moves or shakes. Tripods give stability, but only when you are not moving. Selfie sticks essentially extend the length of your hands, but will remain as shaky as your hands. But gimbals, they are designed to stabilise your cameras. (Gimbals are also available for heavier cameras like DSLRs, but this edition is focussed on Gimbals for smartphones.)
While a mechanical stabilizer is the core of a gimbal, it also comes with an app, which enhances what you can do with a camera. For example, you might want your camera to stay focussed on a subject even as you move from left to right, a fairly popular camera technique used in cinema. You can do that by just pressing a button. You want to run, smartphone in hand, along with your kid learning to cycle or riding a pony on a beach? With a gimbal you will do a much better job.
There are quite a few gimbals available in the market. After doing some research I decided to go for DJI Osmo Mobile 3.
This is the framework I used to decide on my pick.
Portability: I am most likely to use it while going on a trip. The smaller the better.
Battery life: I don't want it sitting inside my bag when it's most needed.
Cost: While I know the advantages of going for the latest device, I am not too stuck up on it. I went for an earlier generation (besides, I bought it on an Amazon sale) even though the latest model promised some additional features. The way to avoid the temptation is to go back and read the reviews when this product was launched and see whether it excites you sufficiently.
Accessories: I went for a combo that included a foldable tripod. It's easy to underestimate the need for tripods, and the huge difference it can make even with a gimbal.
Software: While eliminating the tilts and shakes is the main reason (as they say, hygiene factor), the other options (panorama, timelapse, slow motion, etc) are also important to satiate your amateur creativity.
The negative: DJI is sometimes compared to Apple for its design. However, it took some time for me to get used to it. Here is a YouTube tutorial that helped me through the process.
An Upgrade: Gimbal with Integrated Camera
More recently, during the recent mega sale, I went for a gimbal with integrated camera: DJI Osmo Pocket 3.
The biggest advantage with the standalone gimbal is that you can continue to use it even as you upgrade your smartphone. And smartphone cameras are getting better. However, if you want a smaller gimbal, or don't want to use your camera for shooting videos, DJI Osmo is a pretty good option.
The biggest advantage of a gimbal with an integrated camera is its size. Here's a photograph of the two next to each other.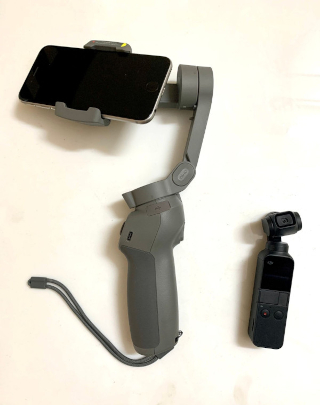 The combination of smaller size and integrated camera takes its utility to a different level. You can literally carry it in your pocket, no need to waste time mounting your phone on the gimbal, and it's almost as easy as a point-and-shoot camera. The one big disadvantage is the small screen size. However, you can always attach your mobile phone to it and use the bigger screen.
The camera is 12MP—less powerful than what you get in a Rs 12,000 range smartphone. Samsung Galaxy M32, for example, comes with four cameras including a 64MP primary camera. However, 12MP is good enough for web videos.
Now, the big question
If you have to choose only one of these two, what should you go for? For me, the ultimate test, I suppose, is how often do I use it? By that metric, I would recommend the gimbal with the integrated camera.