[Photo by World Economic Forum from Cologny, Switzerland (CC BY-SA)]
Dear friend,
When news that Clayton Christensen is dead made it to the public domain over the weekend, all of us in the team felt a sense of deep loss. He was undoubtedly one of the finest thinkers and teachers of our times.
I was first introduced to his work many years ago by our co-founder Indrajit Gupta (IG). Christensen's work opened up an altogether different world—on how to view the world, professionally and personally.
It didn't take too long to understand why the world's finest minds embraced everything he uttered. I wouldn't be overstating it if I asserted, he wielded as much influence as the head of a state.
How could a management teacher possibly wield as much influence?
To answer that, IG reached out to our former colleague and friend Neelima Mahajan, now based in Hong Kong. She had first engaged with Christensen 15 years ago as a young reporter at The Times of India. Reading her tribute to him last night reminded me why I felt a sense of personal loss.
Most teachers teach in classrooms. Then there are a few who stay with you even after they've stepped outside the classroom. They never stop learning and are generous with their learnings. By way of example, around this time last year, he published an essay on what he has learnt from 25 years of studying innovation that marries the professional and the personal.
Not all innovations are created equal.
Data is not the phenomenon
Management can be a noble profession
Don't reserve your best self only for your career
God does not hire accountants
Not everyone can do this. May I urge you to read the essay and celebrate Clayton Christensen's life and times with Neelima's heartfelt tribute?
My very best,
Charles Assisi
For Team Founding Fuel
Featured Stories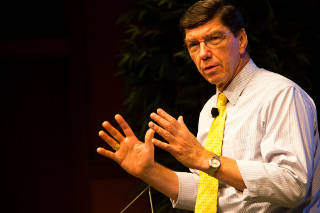 [Photograph by Betsy Weber under Creative Commons]
Remembering the man, his ideas and body of work, through a professional association spanning 15 years. (By Neelima Mahajan. Read Time: 11 mins)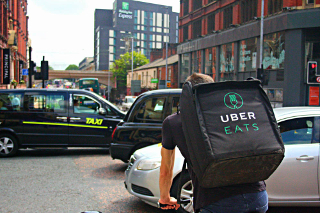 [Photo by www.shopblocks.com, under Creative Commons]
Soon after Zomato announced its acquisition of Uber Eats, Haresh Chawla, Partner at True North, engaged in an AMA (Ask Me Anything) on Twitter to field questions from the team at Founding Fuel on what may the food-tech landscape look like. As always, the conversation with him was rich and sharp insights emerged.
What We Are Reading And Watching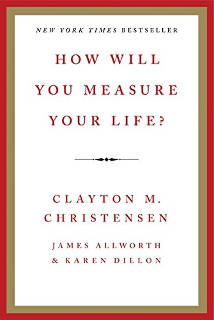 [Book] In 2010, Clayton Christensen delivered a powerful talk to the graduating class at Harvard Business School. This talk morphed into a book that attempts to reflect upon a few questions: How can I be sure that I'll find satisfaction in my career? How can I be sure that my personal relationships become enduring sources of happiness? How can I avoid compromising my integrity?
[Video] While this conversation dates back to February 2012, it continues to be relevant. Media entities across the world continue to be disrupted and the search for viable business models continues. Clayton Christensen makes a case here that the problem lies not because the landscape has changed, but because those at the helm are not asking the right questions.
At the alpine confab, global elites toast capitalism, fret about the climate and party like there's no tomorrow.
From Our Archives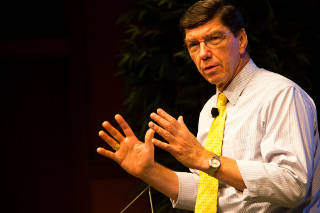 [Photograph by Betsy Weber under Creative Commons]
According to the famed business professor, innovation is about finding the "jobs to be done" in our lives. (By CKGSB Knowledge)