[Image by Free-Photos from Pixabay]
Good morning,
In The Lessons of History, Will Durant and Ariel Durant write, "As the sanity of the individual lies in the continuity of his memories, so the sanity of a group lies in the continuity of its tradition, in either case a break in the chain invites a neurotic reaction, as in the Paris massacres of September, 1792.
"Since wealth is an order and procedure of production and exchange rather than an accumulation of (mostly perishable) goods, and is a trust (the 'credit system') in men and institutions rather than in the intrinsic value of paper money or cheques, violent revolutions do not so much redistribute wealth as destroy it. There may be a redivision of the land, but the natural inequality of men soon re-creates an inequality of possessions and privileges, and raises to power a new minority with essentially the same instincts as in the old. The only real revolution is in the enlightenment of the mind and the improvement of character, the only real emancipation is individual, and the only real revolutionists are philosophers and saints."
The Lessons distils the duo's learnings from their sweeping study of world history, and is especially important when, as a society, we desire changes on so many fronts. There is no doubt that the change is needed. But to effect change in the right direction, we need to be deliberate, thoughtful and do the right thing.
In this issue
How Gen Z'rs are not quite like the millennials
Sunil Gavaskar on how to create a fun and inclusive environment
How to be optimistic
Have a great week ahead!
How Gen Z'rs are not quite like the millennials

In the second episode of a father and son's explorations of intergenerational and intercultural differences and similarities, Harsh Mall, the son, shares the stories of Keith Avery and Jamaal Williams. Keith is a millennial. Jamaal is a Gen Zer.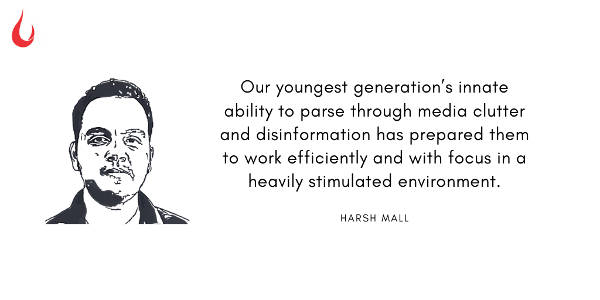 "Having grown up moving seamlessly between online and physical communities, Gen Zers like Jamaal don't distinguish between relationships built online and in the physical world. This ability to communicate effectively through technology provides them with an advantage in the new, virtual corporate environment. Additionally, as occupiers of the lowest rung of the corporate ladder, their need to build rapport is also the greatest and therefore, their creativity with collaboration tools such as Slack, Microsoft Teams, Google Meet and Zoom will provide the rest of us with valuable lessons moving forward."
In response, Damodar Mall, Harsh's dad and CEO of Reliance Retail (Grocery), says there is something amiss in the online world.
In case you missed the first Facebook Live session last Saturday, you can watch the whole thing here on YouTube.
Here are a few real-time comments from the session
Vijay Bhat: Consumers are always yo-yo-ing between 'roots' (anchoring) and 'wings (stretching) ... it'll be interesting to see how things unfold in the future.
Manish Pajan: Periods of high stress make us straddle more levels of Maslow's needs hierarchy more deeply...brands that play to our safety, love, self esteem needs feature more prominently in our basket.
Vallabh Soudagar: Damodarji as always was brilliant, but Harsh you impressed me, way to go! Enjoyed the jugalbandi!!
Sunil Gavaskar on how to create a fun and inclusive environment
On the Breakfast with Champions show, Sunil Gavaskar narrates how he picked up the idea of a Gentleman's Club on Sunday from the Rest of the World tour and used it to good effect when he became the captain of the Indian team.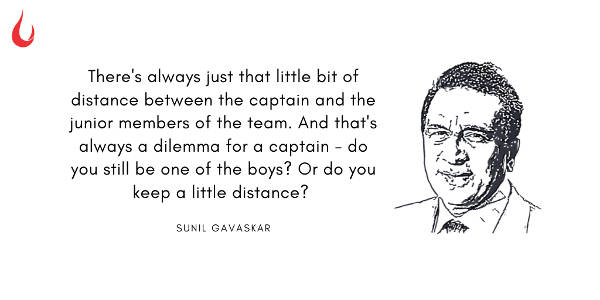 "When we were with the Rest of the World team, some of us had played against each other, but didn't know each other that well. There was an England spinner called Norman Gifford. And he organized a Sunday club. There was a chairman, who was appointed on a Wednesday maybe, and by Friday he had to give you the dress code for the Sunday club on Sunday evening. It was just a fun evening, there was no formality at all. You could do anything and what it did was it just completely melted the ice if there was ever any. So to be able to sit down in the same room along with Garfield Sobers and Rohan Kanhai and to be able to see them as human beings and not the great cricketers they were.
"That is what I took when I became the captain. I brought in the Sunday club. And we had weird uniforms. It was entirely up to the chairman to prescribe the uniform. We once had Sandeep as the chairman and he was absolutely ideal because you know he is such a fun loving guy. You had to come in with a centre parting in your hair, with a white sock in your left hand and a black in your right hand, not on your feet, mind you. You came in with a shirt tied back to front. You wore a tie without a shirt. It was crazy. But the junior most member of the team saw that happening. And he realized that, hang on a minute, these guys might be great players, but they are also same like me—two eyes, two hands, etc. Yeah, so it actually helped wonderfully."
Dig deeper
How to be optimistic
In your view, is this calendar optimistic, realistic or pessimistic?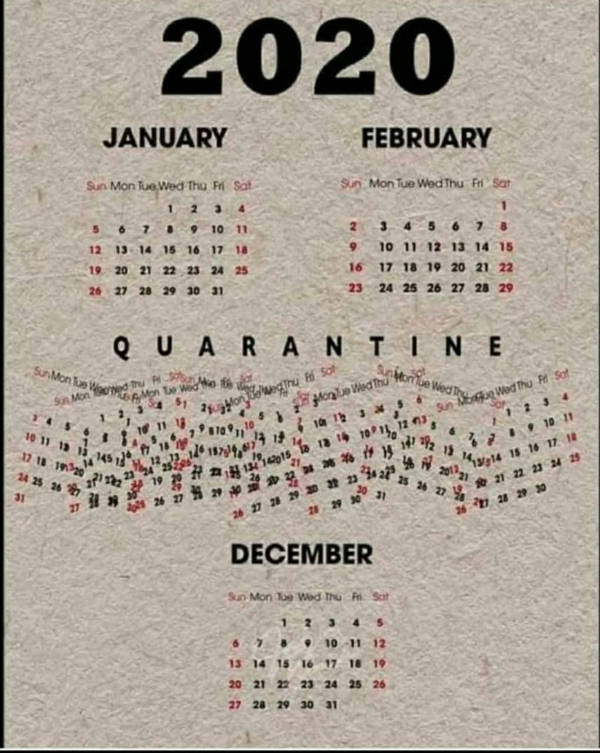 (Via WhatsApp)
How long do you think it will take? Let us know what you think, or share it on Twitter, tagging @foundingf. Or head to our Slack channel.
And if you missed previous editions of this newsletter, they're all archived here.
Bookmark Founding Fuel's special section on Thriving in Volatile Times. All our stories on how individuals and businesses are responding to the pandemic until now are posted there.
Warm regards,
Team Founding Fuel