[Photo by Shinya Suzuki under Creative Commons]
Good morning,
In Open, his fascinating memoir, Andre Agassi describes his first encounter with Boris Becker thus: "At Indian Wells, in February 1988, I blaze my way to the semis, where I meet Boris Becker, from West Germany, the most famous tennis player in the world. He cuts an imposing figure, with a shock of hair the colour of a new penny and legs as wide as my waist. I catch him at the peak of his powers, but win the first set. Then I lose the next two, including a hard, tough third. We walk off the court glowering at each other like rutting bulls. I promise myself I won't lose to him the next time we meet."
But beating Becker was not an easy task. He lost the next two matches too. Then something happened, Agassi won nine of the following 11 matches. How did he do it? Agassi had never seen anyone serve like Becker. So, he spent hours watching Becker serve—tape after tape; he observed him live across the net.
"I started to realize he had this weird tic with his tongue. He would go into his rocking motion... and just as he was about to toss the ball he would stick his tongue out... to the side he was going to serve," Agassi said in an interview.
"The hardest part wasn't returning a serve. The hardest part was not letting him know that I knew this. So I had to resist the temptation of reading his serve for the majority of the match and choose the moment when I was going to use that information on a given point to execute a shot that would allow me to break the match open."
He revealed his discovery to Becker only after he retired.
The takeaway? Agassi says: "Tennis is about problem-solving. You can't problem-solve unless you have the ability or the empathy to perceive all that surrounds you. The more you understand what the problem is through other people's lens the more you can solve for people—in life and in business."
In this issue
The surprising connection between Maggi and Mahabharat
How to get into good trouble
Why WFH is not new
Have a fantastic Tuesday!
The surprising connection between Maggi and Mahabharat
It wouldn't be much of a surprise if you have been following Founding Fuel or this newsletter, but the connection is this. During the pandemic and the lockdown, when there was so much uncertainty around, many people went back to the brands they experienced and loved years ago. Not just products such as Maggi and Britannia biscuits, but also old television shows such as Ramayan and Mahabharat and their favourite cricket and football matches.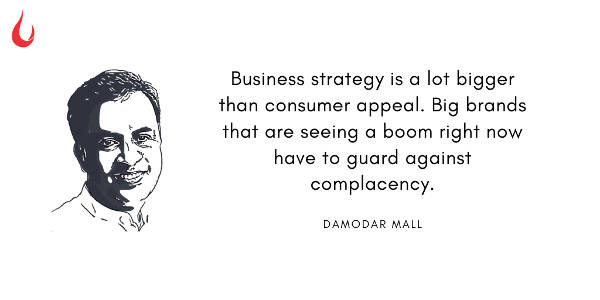 However, here's a big question. What happens next? Will this consumer behaviour stick? Will legacy brands continue to survive and thrive in the future? That's exactly a question posed by Harsh Mall, a millennial, and a digital marketer based in New York, to his dad Damodar Mall, CEO, Grocery, Reliance Retail in the first episode of Founding Fuel's new weekly show, Talkin' 'Bout My Generation.
Here's Damodar's answer: "It's not sufficient just being desired. If you are a good brand, like good people, when you are desired, you have to show up. If you don't show up then this whole duality of desirability and availability comes into play. Brands that get both this duality right will win and the other brands and their brand managers will discover that there is many a slip between good mind share and market share."
Watch the complete Episode 1
Register here to watch Episode 2: https://bit.ly/FFTAMG (You can skip it if you registered for Episode 1)
How to get into good trouble
Last December, David Remnick, editor of The New Yorker and author of The Bridge: The Life and Rise of Barack Obama, shared an insightful nugget about Obama and the man who is synonymous with the Bridge in the title of the book—John Lewis.
In 1965, Lewis led a group of civil-rights protesters in a stand-off against Alabama state troopers at the Edmund Pettus Bridge, a key event in the American civil rights movement.
The nugget goes like this: As Obama left his swearing in, Lewis approached him with a sheet of paper and asked the new President, the first black President, to sign it. And he did. He wrote, "Because of you, John. Barack Obama."
Lewis, who passed away on July 17, 2020, had shared this arrest photo from 1961, saying he smiled because he was on the right side of history. He was arrested for using a restroom labelled white.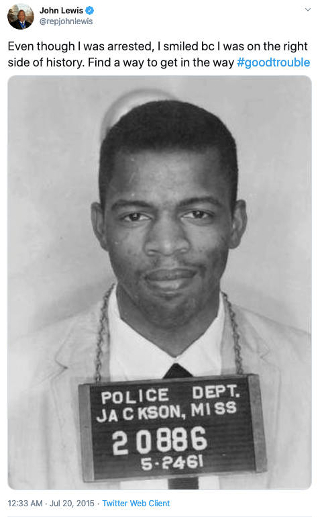 What gave him the confidence that he would win? Here's one of his most famous quotes.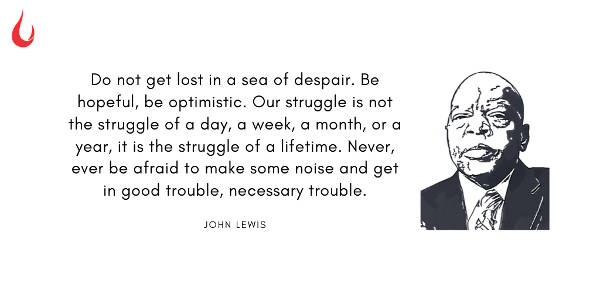 Dig deeper
Why WFH is not new
Here's an Apple print ad from 1987.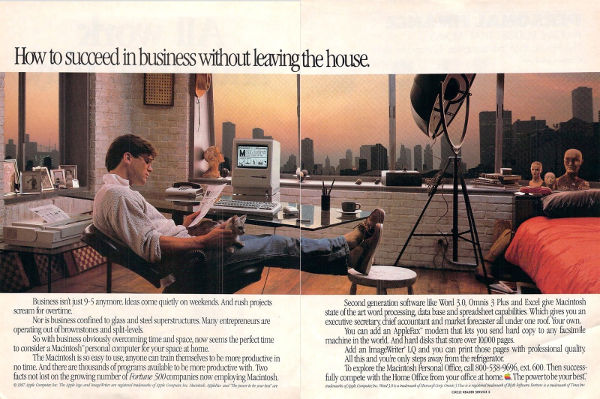 (Via WhatsApp)
When was the first time you worked from home? Tell us about it on email, or share it on Twitter, tagging @foundingf. Or head to our Slack channel.
And if you missed previous editions of this newsletter, they're all archived here.
Bookmark Founding Fuel's special section on Thriving in Volatile Times. All our stories on how individuals and businesses are responding to the pandemic until now are posted there.
Warm regards,
Team Founding Fuel