[Image by Bokskapet from Pixabay]
By Harsh Mall and Damodar Mall.
Note: Join the father-son duo on Facebook Live on Saturday July 25, at 7.30 pm IST, as they chat about the inter-generational and inter-cultural differences and similarities they're observing. (If you had registered for the first show on July 18, you needn't register again.)

Keith Avery recalls with a laugh how he discovered the joys of meeting the rest of his world through his phone screen during the first few weeks of working from home and social isolation. Workplace operations had moved online almost seamlessly. Keith's weekly piano lesson became a FaceTime activity. And his yoga instructor beamed her thrice weekly sessions to the entire class through a well-placed phone in her living room.
But as the weeks roll on, Keith has started tiring of the endless stream of virtual meetings and webinars. Today, he finds his virtual team meetings quite different from when WFH started. Keith and his colleagues no longer turn on their video cameras on Zoom calls and have stopped enquiring about the peculiarities of each other's lives in lockdown.
Not so for Jamaal Williams. He worked with the HR team to turn his team's weekly happy hour into a gaming session. Now, every week his team looks forward to winding down over a session of Drawful or Trivia.
In many ways, Keith and Jamaal represent two generations—separated sometimes by just one year. The differences in the manner in which both have responded to the pandemic is stark and fascinating. To me, they perhaps hold the key to understanding how workplaces of the future might evolve. (Anyone born between 1981 and 1996—ages 23 to 38 in 2019—is a millennial; anyone born from 1997 onward is part of a new generation, according to Pew Research.)
Keith, an account executive in a bank, is a millennial. Jamaal, my colleague at a leading global market research firm, belongs to Gen Z.
Jamaal, who regularly plays League of Legends with his friends online, understands the ability of a shared activity to bring people together, regardless of physical proximity.
The true digital natives
For most, including us millennials, the success of remote working leans heavily on relationships we built in the physical world. In the absence of team lunches, watercooler chats, and happy hours, we've simply tried to copy-paste those informal interactions into Zoom meetings. While my millennial peers have started to dread virtual happy hours, their Gen Z colleagues are optimistic and often take the lead in many such interactions.
Keith's younger colleagues—part of the first wave of Gen Z entering the workforce—are digital natives who grew up in an always-online era. They are setting the precedent for remote working and following their lead will better prepare us for the post-Covid workplace.
Having grown up moving seamlessly between online and physical communities, Gen Zers like Jamaal don't distinguish between relationships built online and in the physical world. This ability to communicate effectively through technology provides them with an advantage in the new, virtual corporate environment. Additionally, as occupiers of the lowest rung of the corporate ladder, their need to build rapport is also the greatest and therefore, their creativity with collaboration tools such as Slack, Microsoft Teams, Google Meet and Zoom will provide the rest of us with valuable lessons moving forward.
That said, comfort with remote working should not be misconstrued as a need for isolation. A Deloitte survey of professional Gen Zers reveals that while our youngest colleagues prefer 'individual tasks over team-based activities', this is due to a preference for independence and not isolation.
That preference for independence is also reflected in how quickly they've adapted to virtual classrooms. (Gen Z makes up the majority of the student community.)
It is revealing that the challenges faced by education institutions, hard hit by the pandemic, are similar regardless of location and resources. My teachers at The Doon School in Dehradun and at NYU Stern in New York City speak about the limitations of technology and inadequate resources in dealing with the transition to online-only classes. Their students, meanwhile, state a preference for in-person classes but have quickly adapted to the virtual classrooms. They mention that a large part of their learning experience—textbooks, assignments, research materials—were already online, so the transition didn't seem drastic.
As a part-time MBA student at NYU, I was often grateful for the ability to view an online recording of a lecture that I had missed due to long hours at work. My peers, all working professionals, often preferred to have group assignment meetings over video chat, as it saved us a couple of train rides to and from the NYU campus.
This flexibility, I believe, is key to the new virtual workplace as well. Giving employees the independence, as Gen Z would call it, to determine their own schedules without compromising the quality or timeliness of the work will help offices better manage a team that is either partially or completely working from home.
Pinning the hope for a better future on the youngest generation entering the workforce may seem clichéd but the research is revealing. My generation, millennials, according to a McKinsey report, is 'more idealistic, more confrontational, and less willing to accept diverse points of view', whereas Gen Zers believe in 'the efficacy of dialogue to solve conflicts'.
Social media offers us a compelling case study. As it exists today, social media is shaped in the identity of the generation that built it: millennials. At the start of the decade, I would help my clients find organic growth on Facebook and YouTube, focusing on the content that would catch the attention of eyeballs and algorithms, and perhaps go viral. Today, social media strategy is simply ad planning—moving campaign levers in an attempt to optimize engagement and reach. The early promise of social media—that it would be a tool for building community—never materialized. As platforms like Facebook and YouTube turned up incentives for engagement, individuals, particularly millennials, started behaving like advertisers, broadcasting curated images and carefully edited highlight reels of their lives.
Gen Z, on the other hand, rejects the glossy permanence of Facebook and opts instead for the ephemeral nonchalance of Snapchat. They are comfortable presenting themselves online, unfiltered and unedited, which is how we were forced to see each other once we were restricted to the confines of our homes.
When live events and traveling suddenly disappeared, so did the influencers from our social media feeds. Our youngest generation's innate ability to parse through media clutter and disinformation has prepared them to work efficiently and with focus in a heavily stimulated environment.
For me, Jamaal's virtual game sessions became a highlight of my week. It allowed me to feel connected to my colleagues in a way that didn't feel forced like some other virtual corporate events, often hosted by my millennial peers over in HR, did. The pandemic and consequent lockdown has created a tectonic shift in the way technology will govern our lives. It might take us a while to adapt to the new situation, but there's no escaping the fact that now, we have to give Gen Z a seat at the table.
Damodar Mall: "When 'hangout', 'meet' become brands rather than verbs, something important is lost"
Listen to Damodar's take on the new online rituals.
Also Watch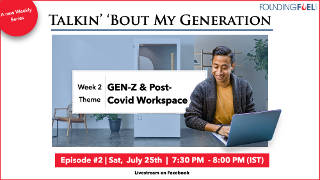 Adapting to the post-Covid workplace
It's Advantage Gen Z in the all-digital workplace of the future. But the old hands have a skill or two to pass on to them. In Episode 2 of Talkin' 'Bout My Generation, father-and-son duo Damodar and Harsh Mall talk about what each generation can learn from the other
Still Curious? Read Harsh Mall's inaugural column in the new series, Talkin' 'Bout My Generation, where he talks about a return to comfort brands. Damodar Mall adds his perspective on what he is observing. This series, led by the father-son duo, explores inter-generational and inter-cultural trends in consumption, work, entertainment, and more.
Watch the first show based on the column livestreamed on Facebook Live on July 18.