[Photo by Krzysztof Kowalik on Unsplash]
The small business challenge
Welcome to the seventh edition of The Growth Factor Fortnightly (TGF Fortnightly). The newsletter explores some of the biggest questions around small businesses through the stories of MSME owners, bankers, investors, customers, employees and technologists. It will reach your inbox every fortnight on a Friday at 5:00 PM IST.
Our regular readers will notice three big changes in this edition.
The sections are short, newsy and wide-ranging. The idea is not only to cover more ground but also to highlight the connections. To answer the biggest questions facing small businesses, we need to know what's happening on the ground right now, and how the issues are interconnected. That brings us to the second big change.
Each section ends with a few big questions, and a request to you to share your views. We would love to hear your views on these issues. We are working on a discussion platform—and we will let you know soon on how to join it. Meanwhile, we don't want to lose out on anything you might want to share. We will also feature some of the comments in the coming edition.
It's a fortnightly. This will give us enough time to discuss and deliberate on the questions.
If you have any questions, please do drop me a mail, by hitting the reply button.
Happy reading!
Warm regards,
NS Ramnath
How to get the workers back to factories
A garment factory in Tirupur tried to lure workers by promising them liquor twice a day (but the owner got into trouble for that). Mint reports that some companies, facing huge shortages, are promising workers free air tickets and housing.
This shouldn't surprise us. Even back in April, in a Founding Fuel conversation, Gayathri Vasudevan, co-founder of LabourNet, alerted us that this was going to be the case. Getting migrant workers back to factories will be a challenge, she said.
Eventually, workers will come back, because of our skewed development. An FT report quotes a migrant worker who went back home: "It would be wonderful if I can stay home and wouldn't have to work in the city. At least we can breathe fresh air here," he said. "But the farm work is not reliable…  We are poor, we don't choose. We just live life as it comes."
But there are big questions
What should we do today to push reforms in the sector?
Given how closely knit the labour economy is—many don't take into account the role of domestic labour in sustaining lives of those who work in factories, farms and construction sites—how should we think about this at a systemic level?
The problem with co-opetition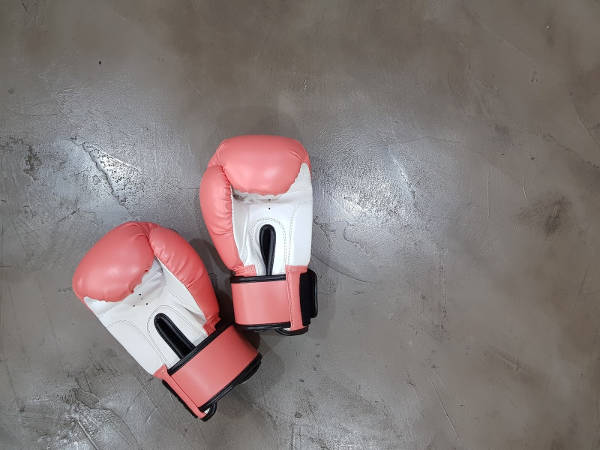 [Photo by Arisa Chattasa on Unsplash]
Businesses these days are expected to be cool with the idea that another business can be both your competitor and collaborator and that it's good for the overall system. As a result, when ecommerce platforms say they are there to help small businesses, many take them at their word. In recent days we have seen this narrative playing out—with Reliance Jio, Amazon and Flipkart-Walmart deal.
However, it's a tough path to tread. A similar conflict plays out in corporate venture funding. WSJ has a story on Amazon's Alexa Fund. This quote captures the angst faced by some startups that dealt with Amazon: "They find technology they think is extremely valuable and seduce people to engage with them, and then cut off all communication after initial sessions with an inventor or company," Mr. Fabricant said. "Years later, lo and behold, the technology is in an Amazon device."
The big question
How should a small business think about selling its products on ecommerce platforms knowing that the platforms themselves can be (or already are) competitors?
We already have some checks and balances. But are they enough?
How to turn COVID-headwind into a COVID-tailwind
Indian marriages are a source of income for many small businesses. Here's a chart that gives a breakdown of expenses. However, these days they have shrunk in size.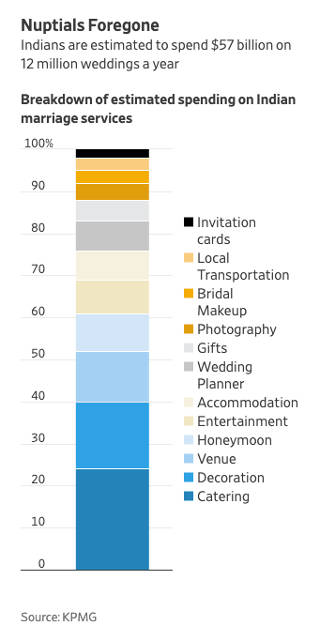 But, that hasn't stopped people from innovating. A small businessman in Udumalpet converted his truck into a mobile wedding set, and has already won four contracts. Here's a report from The Hindu, and a video from The News Minute.
The big questions
What are some of the interesting innovations you have noticed around you?
How do we support the innovative spirit to keep it alive?
Chart of the week | Amazon's big exports push
By Vasisht Balaji Srinivasan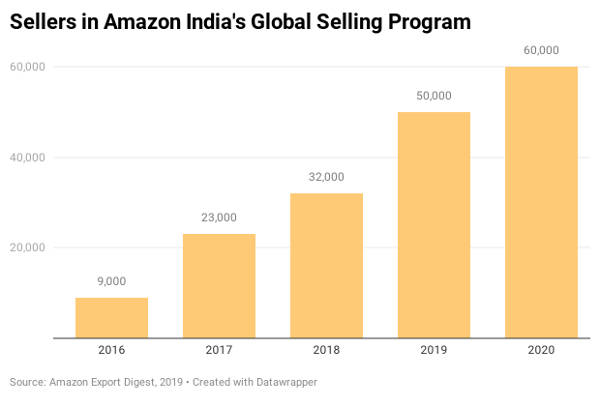 Amazon launched its Global Selling Program to promote "Made in India" products in 2015. Earlier this week, the company released its Export Digest 2020, where they disclosed that exports from Indian MSMEs since 2015 have touched a cumulative total of $2 billion, or Rs 30,000 crore.
Amazon India hopes to increase the figure to $10 billion by 2025. In the past five years, the number of sellers has grown from 9,000 to 60,000, a CAGR of close to 61%. The number of paid Prime customers accessed by this program increased tenfold over the same time, from 15 million to 150 million. Amazon says it also offered training on various compliances required for exports.
The exports span a range of products including bed linens, handicrafts, accessories and consumables such as herbal beauty products. Many of them are handcrafted and created by small artisans.
The big questions
Do you think ecommerce platforms such as Amazon will play a major role in boosting exports from MSMEs?
Have you had an opportunity to work with any of them? Can you share your experience?
This fortnightly newsletter is curated by Founding Fuel's senior writer NS Ramnath, who is researching industrial clusters in Tamil Nadu on a Bharat Inclusion Fellowship. Bharat Inclusion Fellowship, an initiative of CIIE.CO of IIM, Ahmedabad, is aimed at addressing the knowledge gaps that prevent entrepreneurs from developing effective solutions for the underserved.
TGF Fortnightly will share insights from his research and reporting. The newsletter is a part of the conversation we will have with our community—on our website, over video conferences, webinars and a Discourse platform we are setting up. We will keep you posted.
Please do share this newsletter with friends and colleagues who might be interested in this theme. If you received this as a forward, you can subscribe here. Thanks for being a part of what promises to be an incredible journey of learning and insights.