(Image by PublicDomainPictures from Pixabay)
Welcome to the third edition of The Growth Factor Weekly (TGF Weekly). The newsletter explores some of the biggest questions around small businesses through the stories of MSME owners, bankers, investors, customers, employees and technologists. It will reach your inbox every Friday at 5:00 PM IST.
It is curated by Founding Fuel's senior writer NS Ramnath, who is researching industrial clusters in Tamil Nadu on a Bharat Inclusion Fellowship. Bharat Inclusion Fellowship, an initiative of CIIE.CO of IIM, Ahmedabad, is aimed at addressing the knowledge gaps that prevent entrepreneurs from developing effective solutions for the underserved.
TGF Weekly will share insights from his research and reporting. The newsletter is a part of the conversation we will have with our community—on our website, over video conferences, webinars and a Discourse platform we are setting up. We will keep you posted.
Please do share this newsletter with friends and colleagues who might be interested in this theme. Thanks for being a part of what promises to be an incredible journey of learning and insights.
In this issue:
Why you should invite your competitors to dinner
The inventory dilemma
In MSME financing, do women fare better than male entrepreneurs?
Happy reading!
The ties that bind | Why you should invite your competitors to dinner
About 15 years ago, when I was working with The Economic Times in Chennai, my colleague and I spent a couple of days visiting the factories in the textile hub Tiruppur. We had an appointment with the managing director (MD) of a knitwear company. He promptly invited us to his cabin on time, but said he will be distracted for the next 30 minutes or so. As if by cue, his secretary, a man in his 20s, peeped inside the room, and said a certain gentleman was on line.
From the conversation, which was in distinct Coimbatore slang, we understood that he had organised a dinner, and he wanted to personally invite the person on the other side with his family members. The man on the other side had already received the invitation, and told him he need not have taken the trouble to invite him again on the phone. The MD responded that it was his duty to personally invite him. Over the next 30 to 40 minutes we saw a repeat of the same thing—his secretary would peep in to give the name, and MD would make a call, and reassure the person at the other end that it was his duty to invite him personally.
After the last call, he asked his secretary if they had covered the entire list. The young man confirmed. MD relaxed after that, and went on to speak about demand in Tiruppur, government policies and so on.
For us, it also demonstrated how businessmen there nurture and strengthen their social ties. They matter. If there's a problem, they don't rush to a banker or a consultant, but reach out to their peer group. They can trust them to give the right advice, because their relationship is strengthened by rituals such as the one we witnessed.
Is there any evidence that such social ties work?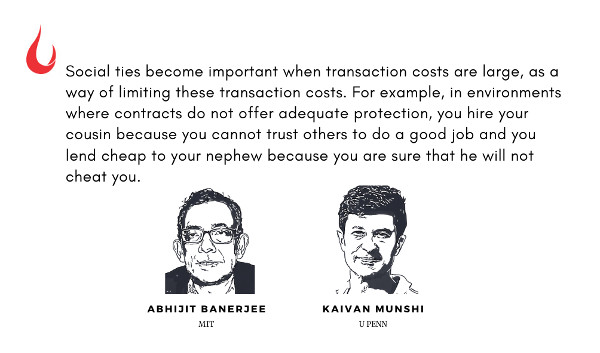 MIT's Abhijit Banerjee (who won the economics Nobel last year) and University of Pennsylvania's Kaivan Munshi answered exactly this question in a paper they published in 2000. That period was important because, as they explained in their paper, the industry was dominated by entrepreneurs from one community, Gounders, and it was from the late 1980s that entrepreneurs from other parts of India entered the cluster in a larger number to set up businesses. Banerjee and Munshi looked at the difference in patterns of investment to see if social ties mattered. In short, their conclusion was, yes, they do.
The Bottomline: When people design tech to make a business process efficient, they tend to slice and dice, map each activity, focus on nodes, connections, and measure their success in the time and effort saved. Often, the problems and solutions lie outside the domain of technology. And that's one of the reasons why many businessmen tend to dismiss all technology solutions.
Dept of delayed feedback | The inventory dilemma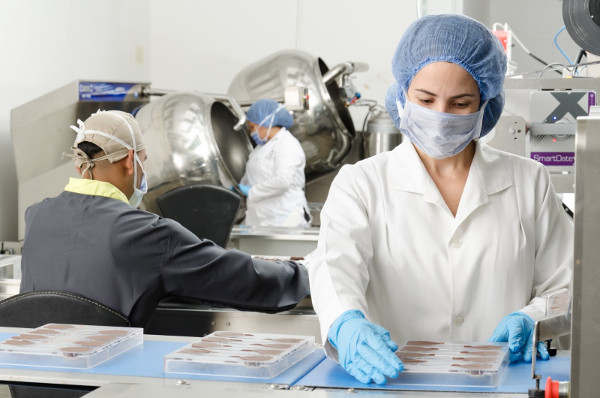 (Photo by Walter Otto on Unsplash)
The Times of India reports that the prices of personal protective equipment have crashed by 70% in some markets because there is too much supply. For many textiles businesses across the country, the PPE opportunity came at a time when exports to Europe and the US literally stopped, and domestic demand crashed—all due to the coronavirus lockdowns. A government of India report said PPE was a Rs 7,000 crore market, and businessmen received calls from bureaucrats nudging them to open their factories to make the products. Industry responded. However, now they feel demand has dried up in India, and the government, which had banned export of PPE, must now open up that market. Absent that, companies are slowing down their production.
How much inventory should a business hold in anticipation of future demand is one of the tougher problems faced by businesses. One month's worth?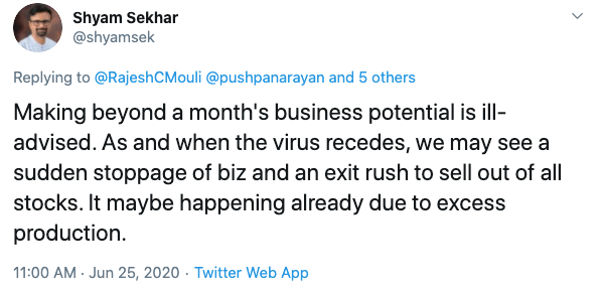 Or should it be more given that the virus seems to show no respite?
Chart of the week | In MSME financing, do women fare better than male entrepreneurs?
By Vasisht Balaji Srinivasan
In 2019, IFC published a report entitled Financial Inclusion for Woman-Owned MSMEs in India. As a part of exercise, it surveyed 727 entrepreneurs (605 women, 122 men) through six states in India, with more than 50% being from rural areas.
Men tend to be more successful than women in raising finance from the most important source of financing for many entrepreneurs—friends and family.
The report also highlighted some pertinent differences in financial inclusion.
Women entrepreneurs took, on average, four or five visits to the bank in order to complete the loan application and processing, compared to men, more than half of whom needed only two visits. The stated reason: women lacked the financial literacy to create their own business proposal and/or loan applications. Public banks in these areas did not invest much effort into helping these women do so, since they lacked the resources. They also said, third parties may be able to assist them better. An interesting business opportunity? However, here's an interesting contradiction: More applications from male entrepreneurs were denied due to poor documentation as opposed to female entrepreneurs (40% as opposed to 9%).
Women entrepreneurs had more success in getting loans from private banks than men surveyed in this report. This brings up another interesting question: do private banks have the resources to assist women entrepreneurs?
Despite the widespread belief that the informal sector provides a lot of credit financing in rural, and even urban areas, the survey shows that outside of friends and family, most entrepreneurs, irrespective of gender don't manage to get financing from informal sources.
If you run an MSME, what has been your experience? How do you finance your enterprise? Please let us know.