Note: Welcome to the latest avatar of Disruptive Tech. While it retains some of its earlier characteristics—especially the focus on the intersection between tech and society—there are also a few changes. It has moved home to Mailchimp, which also hosts Founding Fuel's other newsletters, Working From Home Daily, and the soon-to-be-launched Growth Factor Weekly. You will also notice the design has changed. And now, it will hit your inbox every Wednesday sharp at 7 AM. If you like it, please do share it with your friends and colleagues. If you have any feedback or comments, please add to the Comments section below. If you haven't subscribed already, you can subscribe here.
Why building a platform at scale is quite different from scaling up an app
Jio Platforms hit the media headlines for attracting Rs 97,886 crore of investments during the coronavirus pandemic. It started with a whopping Rs 43,578 crore from Facebook for a 9.9% stake in April and was followed by seven rounds by other investors.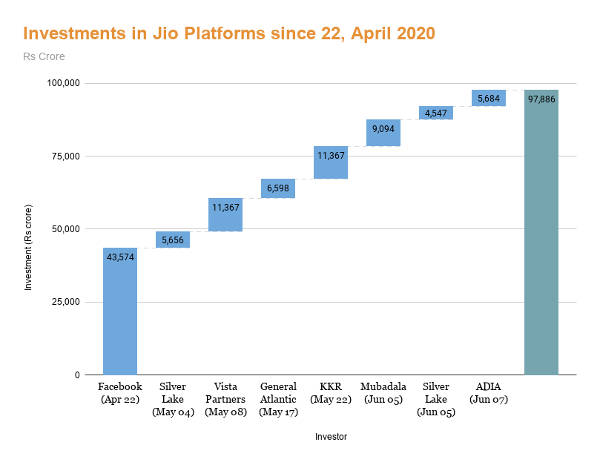 During its most recent earnings call, Pankaj Pawar, a top executive from Reliance/Jio, indicated why there is a huge interest in the company. This chart captures the scale of its ambition.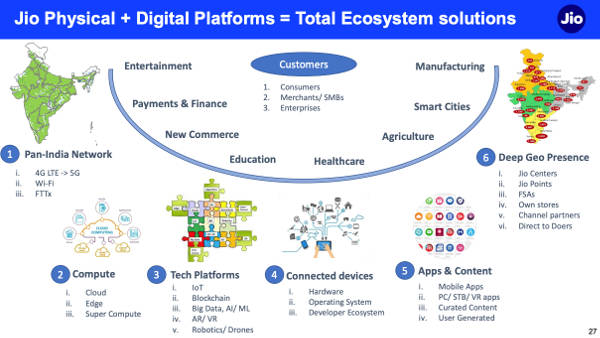 Pawar said its consumer business was "truly a physical and digital company in an integrated manner", and the competencies they had built allowed it to offer "whether it's an entertainment, payment, commerce, education, healthcare, agriculture and manufacturing."
At least some part of its ambition rests on building apps on this platform. One of the apps it launched during the lockdown is Jio POS-lite which lets agents recharge Jio phones. It had to be launched because small shops from where customers bought their recharges were shut down. Jio onboarded a million associates who could do it on their mobile phone. It's more than that. Pawar explained, "Tomorrow they have an ability to do multiple interactions for our commerce business, and this is a way to innovate the entire entrepreneurship at the micro-market level. So it's a completely new paradigm getting created over here. It's not about only the recharges actually." Yet another, even better-covered example he gave was JioConnect, a competitor to Zoom.
The big question is whether Jio can bet on its huge customer base to push these apps. It has 338 million customers, whose usage of the phone has only increased during the pandemic. The average usage is now 5 hours a day.
Yet, building an app is different from building an underlying infrastructure for at least three reasons.
Building infrastructure is an engineering problem, whereas building an app is a marketing problem, which means you spend a lot of time in design, agonising over which colours to have, which features to drop. It's not just functionality. Instagram allowed you to shoot and share short videos, but it's Tiktok that became a phenomenon in that format.
Taking on the network effect is hard. For example, Zoom is already a verb. Jio's own earlier efforts to create a WhatsApp competitor wasn't successful.
Failure rates are high. No one has figured out a scientific way to tell which will scale up, and which won't. It's a reason why VCs fund multiple companies.
Ultimately, Jio might find some success in apps, but that's more likely to have come from an acquisition or partnership, than from its large user base.
The art of thinking outside the box
Attempts to use computer programmes to convert a rough sketch of a face into an image that looks like a photograph have typically failed in the past.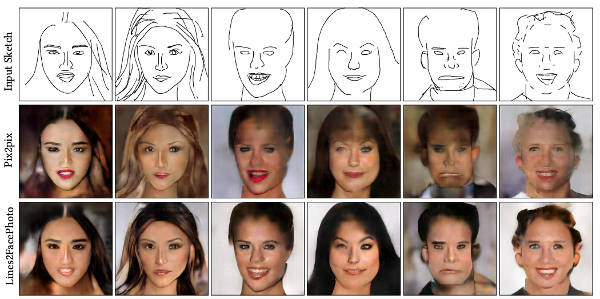 A recent attempt by a bunch of researchers appears to be giving much better results.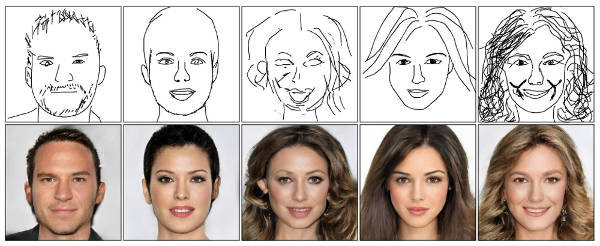 What did they do differently? The researchers, led by Shu-Yu Chen of the Institute of Computing Technology, CAS and University of Chinese Academy of Sciences, explain that "the existing solutions tend to overfit to sketches, thus requiring professional sketches or even edge maps as input." Instead of trying to overfit the sketches, they used them "as soft constraints".
Their method is yet to be tested/vetted but has an intuitive appeal. As the old Nine Dots puzzle teaches us, we need to think outside the box to connect the dots.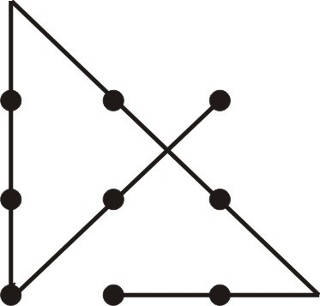 The limits of automation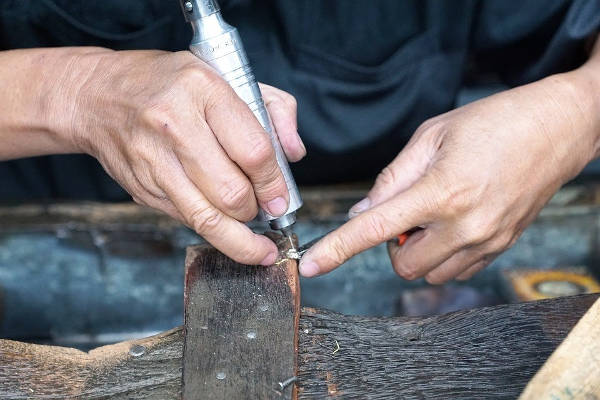 Apple Insider has a fascinating story about a robotics lab that Apple set up in 2012 with the aim of helping companies bring down the number of workers in its production line by half.
"It didn't work. Typical problems that arose include how Apple's use of glue required precision the machinery couldn't reliably match. And the tiny screws needed required the automation to correctly pick and position them but that same automation couldn't detect problems the way a human hand could."