[Image by Pexels from Pixabay]
Note: The column brings to you interesting stories that highlight a new development or offer an interesting perspective on technology and society. Plus, a curated set of links to understand how technology is shaping the future, here in India and across the world. If you want to get it delivered to your inbox every week, subscribe here.
Why food delivery will see a lot of action on the restaurants front
Food delivery businesses are in a strange place. Everyone seems to be convinced that the potential is huge. According to one estimate, apps such as Swiggy and Zomato took over one billion orders last year in India, up three times from 2018. Customers seem to love the choice and convenience.
The issue, however, is in the path to profitability—even as they face multiple constraints. Restaurants complain about high commissions and the strain on kitchens during peak hours. Customers love choice and convenience, but they are disloyal and have to be lured with discounts.
While the rewards seem to be big, the sector demands hard work and patience, a reason why Uber Eats decided to exit the market in India. It's a 'race to the bottom' scenario. If you want to go up, get ready to go down.
It essentially left Swiggy and Zomato competing with each other. It's unlikely either of them will cut discounts, leave alone charge a premium. It would mean losing market share. In effect, they have no choice but to work even more closely with restaurants, and figure out ways to keep the partnerships going.
Swiggy Access, first launched in 2017, allowed restaurants to expand to new geographies using cloud kitchens. Last week, Swiggy announced another initiative called Brandworks, essentially partnering with restaurants to create delivery-only brands, while using the existing infrastructure. Swiggy will help restaurants come up with exclusive menus for delivery, using the data it has collected on food ordering habits. From what we know, it doesn't exactly solve the peak hour problem that both kitchens and the delivery infrastructure face. But, it could well solve the problem of ensuring the deals with restaurants remain exclusive.
Dig deeper

The great unbundling
Human societies have always had serious questions about the nature of products and limits of ownership. Such problems were captured in the little stories that were passed on from one generation to the next. One such story is about an innkeeper who dragged a poor man to a judge, the wise Nasreddin Hodja, saying he had enjoyed the aroma of soup in the inn's kitchen, and therefore had to pay for it. Hodja immediately saw what was going on. "You have a case. But why trouble the poor man? I will pay for the smell of soup myself…," Hodja said, pausing to jingle some coins in his pocket, "…with the sound of money."
In December last year, a man bought a 2017 Tesla Model S from a third-party dealer, who in turn had bought the car at an auction held by Tesla in November. The car came with Enhanced Autopilot and Full Self Driving Capability. When the dealer sold the car to the man, he said as much. However, the man discovered that Tesla had remotely disabled the features from the car, saying he didn't pay for it. If he wants the features he must shell out $8000 to Tesla. It's safe to assume he probably felt like the poor man who was asked to pay for the smell of the soup.
We have long moved to a world where some of the underlying assumptions about the things we buy have changed. We are now governed by the rules of bits, not the rules of atoms. Consider books. Kindle editions offer huge convenience. You can read it on your mobile, and continue on your desktop from where you left. But, you don't exactly own your book the way you own a physical copy. You can't lend it, or resell it. In fact, much like what Tesla did, back in 2009, Amazon deleted ebook versions of George Orwell's Animal Farm and Nineteen Eighty-Four from customer devices without warning. Amazon reimbursed the customers. However, the 2009 episode was a clear message that customers are losing more control to companies in the digital world.
Tesla has now reinforced the message.
Dig deeper

Can meditation save us from technology?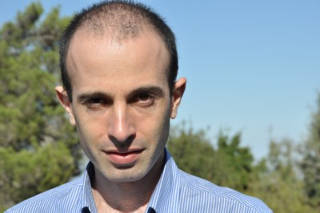 [By Yuval Noah Harari / CC BY]
In 2018, The New York Times published a profile of Yuval Noah Harari as he toured the Silicon Valley. The strapline of the profile read, "The futurist philosopher Yuval Noah Harari thinks Silicon Valley is an engine of dystopian ruin. So why do the digital elite adore him so?" Neither Harari nor the writer Nellie Bowles had any definite answers, but they speculated on a few. One of those was Harari's practice of meditation. He meditates for two hours every day, besides spending two months every year at a Vipassana retreat. "Silicon Valley was already kind of a hotbed for meditation and yoga and all these things. And one of the things that made me kind of more popular and palatable is that I also have this bedrock," Harari told The New York Times.
In fact, he believes meditation is an antidote to some of the negative consequences of technology. "The aspect of a technological dystopia that most preoccupies him—losing mental autonomy to A.I.—can be at least partly countered, in his view, by citizens cultivating greater mindfulness," Ian Parker writes in his recent The New Yorker profile of Harari. Parker's deep dive gives a sense of how Harari formed his unique and influential perspective of the world and the big changes under our feet. However, for me, the most insightful lines in the essay were these.
"In a drive with Yahav and Harari from their home to Jerusalem, I asked if it was fair to think of 'Sapiens' as an attempt to transmit Buddhist principles, not just through its references to meditation—and to the possibility of finding serenity in self-knowledge—but through its narrative shape. The story of 'Sapiens' echoes the Buddha's 'basic realities': constant change; no enduring essence; the inevitability of suffering."
While meditation, yoga and Buddhist philosophy might somewhat explain Harari's appeal, he is, in fact, a part of a bigger trend, a broader realisation that the answers to some of the toughest problems facing the world today lie in both technology and philosophy. The world needs techies and fuzzies.
Dig deeper
Bookmarks