[Image by kai kalhh from Pixabay]
Note: This Week in Disruptive Tech brings to you five interesting stories that highlight a new development or offer an interesting perspective on technology and society. Plus, a curated set of links to understand how technology is shaping the future, here in India and across the world. If you want to get it delivered to your inbox every week, subscribe here.
How to increase cobra population
Give people money to kill them. "Legend has it that a British government officer in Delhi wanted to address what he perceived to be the menace of cobras in India's capital, so he announced a bounty for every dead snake that was presented to authorities. Initially, this produced good results. However, a few enterprising individuals soon realised that it was easier to farm a cobra and produce its head than to catch one in the wild. When the government recognised that this was going on, the scheme was cancelled. In response, the cobra farmers, who now had no possible use for the snakes, freed them. The result was an increase in Delhi's cobra population."
This is one of the many insightful stories that Kartik Hosanagar uses in his new book A Human's Guide to Machine Intelligence to make crucial points about what machine intelligence can do, and what we should do about it. Hosanagar is the John C. Hower Professor of Technology and Digital Business and a professor of marketing at the Wharton School of the University of Pennsylvania. He is also an entrepreneur, an advisor to startups, an investor, a colourful raconteur and short-films maker. This background gives him a unique view on how technology is impacting markets and society.
Hosanagar was in Bengaluru on June 7 and 8, and I had a chance to interview him on a number of issues that he explores in the book, and in his lectures. Look out for the full interview shortly on Founding Fuel. Till then, here is a curated reading/watching list.
Dig Deeper
Watch Hosanagar's lecture on his book at The Buena Vista Library in Burbank, California.
Listen to his interview with Ben Lorica on O'Reilly Data Show Podcast.
Watch his short film Timewarp
How to raise funds without ceding power
Do it like Zuck: In February 2018, Wired carried on its cover a photograph of Mark Zuckerberg in which he looked beaten up and battle-torn. The story chronicled several problems faced by the company over the previous two years. It ranged from Russian operatives rigging US elections to "fake news", and data scandals. It described how Zuckerberg was putting in a valiant effort to fix them.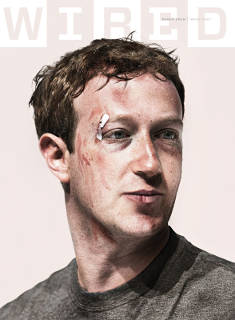 Just when you think it can't get worse, it does. Soon after the story appeared a host of new scandals broke—including the Cambridge Analytica episode which convinced many that Zuckerberg neither had the intent, nor the capacity to do the right thing for Facebook users. The title of Wired's follow-up story evocatively captured the goings on: "15 Months of Fresh Hell Inside Facebook".
Given all these, if you are wondering why Facebook shareholders are sitting quiet, they aren't. Last year, 51% of Facebook shareholders voted for Zuckerberg's wings to be clipped. This year, more shareholders—nearly 70%—joined the chorus demanding an independent chairman. Only, they couldn't move an inch. Thanks to dual class shareholding, Zuckerberg controls 60% of voting power.
When Nasper filed for IPO recently, it took the idea even further giving one class of shareholders voting power that's 1000 times more than the others. It's not exactly a tech industry idea. It was borrowed from newspapers (The New York Times also has a similar structure) and they justified the system saying it gave them much needed independence.
The big question today is whether they have too much power and too little accountability.
Dig Deeper
Where is the best place to fix stuff?
At the source. There's an old joke about a surgeon and his mechanic. After fixing a problem in the car, the mechanic asks the surgeon, "We both do the same kind of work. Something goes wrong with the machine. We open it up. Fix it. And the customer is happy. How come I get paid so little and you get paid so much?" The surgeon replies, "Try fixing the engine when it's running."
There's another difference too. A mechanic can take a component out of the car, repair it, and put it back into the system. Imagine a surgeon doing that to a heart or kidney. The risks multiply several fold.
So far, in gene editing, scientists have been working more like mechanics. It was risky. Now, a Harvard scientist has figured out how to edit stem cells when they are still inside a body.
"When you take stem cells out of the body, you take them out of the very complex environment that nourishes and sustains them, and they kind of go into shock. Isolating cells changes them. Transplanting cells changes them. Making genetic changes without having to do that would preserve the regulatory interactions of the cells—that's what we wanted to do," Amy Wagers told Harvard Gazette.
Dig Deeper
Editing genes at the sources | Harvard Gazette
Powerful CRISPR upgrade uses 'jumping genes' to directly insert DNA | New Scientist
Gene Hackers: The Young Biotech Entrepreneurs Looking to Make Billions by Editing Life Itself | Forbes
And what is good, Phaedrus, and what is not good—need we ask anyone to tell us these things?
When it comes to AI, may be yes. But we really don't know who they really are. It might not be ethics experts. A study found that while ethics professors had stringent views on ethics, they were no more ethical than the rest when it came to action. Even those who seem to be most interested in ethics give no hope. "Ethics books are 50-150% more likely to be stolen than non-ethics books." The big gap between theory and practice indicates that we might be looking at the wrong places to understand ethics.
If ethics experts are bad at the job—in the sense that they set standards they themselves can't practice—do businesses and governments offer us greater hope? Google's attempts at forming ethics committee for AI have failed so far. More recently, China, whose leaders don't seem to differ a lot in their views on ethics from the rest of the world, came up with its own principles for AI. It promises to generate more heat than light.
The question raised by Robert Pirsig (the title of this section) remains unanswered.
Dig Deeper
Why does Beijing suddenly care about AI ethics? | MIT Tech Review
A tech challenge? Fear not, many AI issues boil down to ethics | FT
The best way to pick a thorn...
Is to use a thorn. A couple of years ago I asked a senior IAS officer if there's anything about his job that he found frustrating to explain. He said it was the idea of "minimum government and maximum governance". Many people, he said, take this to mean we have to invest less in government. But to reach that stage you have to first strengthen the government, invest more on capacity enhancers such as technology. Some get it intuitively. But, those who don't get it intuitively, assume the opposite, and it can be frustrating to explain to them. Government is the bridge to provide the services that are best provided by the market, or at least some form of market, he said.
The idea is not unique to government. Consider this from The New York Times story on Michael Bloomberg's green energy push. "Natural gas has been referred to as a 'bridge fuel'. The idea is that it should be used to reduce dependence on dirtier energy like coal and heating oil on an interim basis while the costs of renewables like wind and solar fall.
"[Carl Pope, an adviser to Bloomberg] said the campaign was prepared for a 'major communication challenge' to persuade people that the bridge has been crossed."
Now here's a question for you: What are your bridge ideas? How do you know you have crossed the bridge?
Dig Deeper