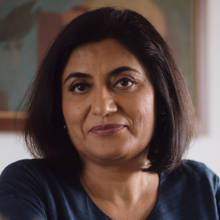 Apurva Purohit is the President of the Jagran Group, one of India's largest multimedia conglomerates. With over three decades of experience in the media and entertainment industry, she leads digital, print, radio and outdoor in the group.
She was responsible for creating Lodestar, which is today one of the largest media buying agencies in the country, and envisioning Times of India's entry strategy into television, and has also worked on famed turnarounds like Zee TV.
In her tenure at Jagran, Apurva has pivoted the group from a deep-rooted reliance on its traditional print businesses to a focus on new age emerging businesses. The strategies adopted under her tutelage and her emphasis on excellence in implementation have increased both the scale and the profitability of these businesses manifold.
Under Apurva's leadership, Music Broadcast Ltd, the company which runs the Radio City FM network, recently acquired Reliance Broadcast Network Ltd (Big FM), making the combined FM network the largest in the country. Radio City has also consistently been ranked 5th in India and 6th in Asia in the Great Places to Work survey. Aside from this, Radio City has also been recognised as one of the Best Places to Work for women in 2019, a list curated by Outlook Business magazine.
Apurva is also on the board of several for-profit and not-for-profit organisations like Mindtree, Midday Infomedia Ltd and Music Broadcast Ltd, and an advisor to private equity fund Amicus Capital and BD Foundation.
Over the years, Apurva has won multiple business awards and has been named as one of the Most Powerful Women in Business as per Fortune India in 2018 and 2019 and India Today Group (2016, 2018, and 2019).