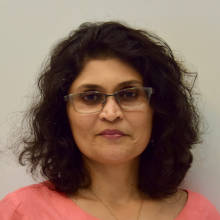 Deepa Soman
Managing Director
Lumiere Business Solutions
An Economics major from St. Xavier's College, Mumbai, with a degree in Business Management from S.P. Jain Institute of Management & Research, Deepa has been an entrepreneur for two decades. She was selected on campus as management trainee, Hindustan Lever Limited. She worked in sales and marketing research. Deepa took a career break when her son was born and moved to Kingston, Jamaica with her family. She discovered that she was not cut to be a stay-at-home mum and started work with a marketing research firm J. A Young Research. She was a visiting faculty for Marketing Research at the University of West Indies. Deepa started Lumiere Consultancy Services in Jamaica.
Deepa's life and the Lumiere journey is profiled in Rashmi Bansal's 2013 book, Follow Every Rainbow, on 25 women entrepreneurs. Deepa founded Lumiere Business Solutions in 1996 as a social enterprise. The purpose is to enable women professionals to get back to work (www.lumieresolutions.com). It's a solutions firm with experience in research, consulting and design.
Lumiere is taught as a case study (available on hbr.org) in many educational institutes as an early adopter of the Cloud.
Deepa is invited to speak at educational institutions, corporates, chambers of commerce, club and community events on women and work, entrepreneurship, and consumer-centric innovation. She serves as leadership coach to professionals, entrepreneurs and trade bodies, small and medium enterprises, startups and non-profits. Continuous improvement, design thinking, balanced development and sustainability are her areas of interest.
A people collector and connector, Deepa is fascinated by the idea of purpose, positive intent and the interconnectedness of things. Inspired by ideas, she loves reading and writing. Deepa's vision is to be a tool to collaborate and connect to unlock potential towards building a better world.