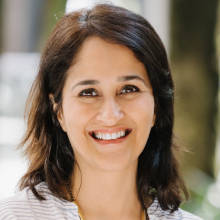 Kiran Bir Sethi is a designer who became a teacher, a principal who grew into an education reformer and subsequently morphed into a social entrepreneur.
A trained graphic designer, she comfortably uses the language of design—iteration, prototype, design specs—to develop not only curriculum innovation, but also community-based social programmes.
After graduating from the National Institute of Design, Ahmedabad (India) in 1989, Kiran successfully ran her own graphic design firm for over a decade. She moved into education when she founded The Riverside School in Ahmedabad in 2001, which is now viewed as a laboratory to prototype "design processes" that enable "transformative" student learning experiences.
Kiran is also the founder of 'aProCh'—an initiative to make our cities more child friendly, for which she was awarded the Ashoka Fellow in 2008. In 2009, she received the "Call to Conscience Award" by the King Centre at Stanford. In 2009, Kiran launched "Design for Change" which uses a simple four-step design framework—FIDS (Feel, Imagine, Do, Share) to cultivate the I CAN mind-set in all children. Today, DFC is the world's largest movement of change—of and by children, and is in 60+ countries, impacting over 2.2 million children and 65,000 teachers.
Over the years, Kiran, Riverside and Design for Change have won several accolades and awards. Some of the most recent ones are:
In 2017, Kiran met the Pope in the Vatican to sign an agreement whereby DFC is being introduced in over 460,000 Catholic schools across the Globe.
In 2017, DFC was recognised as one of the 100 most innovative educational programmes in the world by HundRED.org (based in Finland).
In 2018, Kiran was awarded the "Light of Freedom" Award, at the Vital Voices, U.S.A., Global Leadership Awards.
In 2018 Edutopia covered The Riverside School for best practices.
In January 2019, she has been honoured with the Lexus Design Award for 2019, in Pune.
In March 2019, she was invited for one week to the Harvard Graduate School of Education, as a Chen Yidan Visiting Global Fellow, to conduct classes and workshops for their post-grad students.
In June, 2019, she was the keynote speaker at the OIEC International Congress in New York.
In October, 2019, she was awarded the Earth Prize in Luino, Italy.
In November, 2019, Design for Change conceptualised and helped host the first ever All Faith - I CAN Children's Global Summit at the Vatican in Rome from 27th to 30th November, with participation of over 2,500 children from across 40 countries, who were blessed by the Pope.
Kiran resides in Ahmedabad with her Husband Geet Sethi and two wonderful children, their son Raag and daughter Jazz. She loves listening to music, watching movies, singing, dancing and has an insane love for fruit-filled dark chocolate.