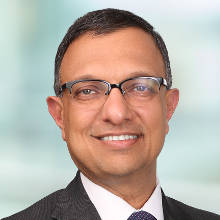 Nachiket Mor has a PhD in Economics from the University of Pennsylvania. His current work is principally focused on the design of national and regional health systems.
He was a member of the Planning Commission's High-Level Expert Group on Universal Health Care, the Primary Care Task Force of the Ministry of Health and Family Welfare, the Health Commission for the State of Himachal Pradesh, and the Task Force on Global Health at the Academy of Medicine in Washington DC. He helped create a new model for comprehensive primary care, pioneered by SughaVazhvu Healthcare in remote rural parts of Tamil Nadu, and offers a seminar on Health Systems Design at the Chennai based Banyan Academy of Leadership in Mental Health.
From September 2015 – May 2019, he was India Country Director at Bill & Melinda Gates Foundation. He has also served as a member of several Reserve Bank of India boards, including the Board for Financial Supervision.