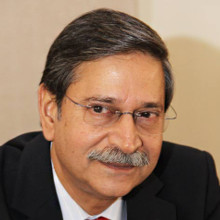 Satish Pradhan is a former advisor to Tata Sons and is based in Pune.
He is currently on the boards of the National Payments Corporation of India and Tal Manufacturing Solutions Ltd.
He has worked extensively in all the areas of Human Resources and held Senior and Executive responsibilities for the last two decades in India and the UK. He worked in depth in the areas of global leadership development and leadership teams.
His previous assignment was as Chief Group Human Resources, Tata Sons, where he headed the Tata Group HR function. In the last twelve years, he built on the legacy of the two (50 year old) institutions of Tata Administrative Services and Tata Management Training Centre and created a unique HR function in the Group.
He has been a speaker at various Universities, Business Schools and Conferences in India and globally.
Satish is on the Board of Tata Institute of Social Sciences and Tata AutoComp Systems Limited among institutions.