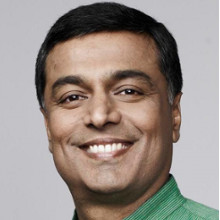 Vijay Bhat
Founder-Director
Roots & Wings Consulting Services
As a Transitions Coach, Vijay helps his clients to navigate through major life transitions: personal, professional and organisational.
For corporates, Vijay focuses on strategic consulting, leadership development, group training and individual/ team coaching. In education, Vijay is engaged in a project to impart leadership and life-skills to school-children from Grade 8 upwards.
Vijay's passion however is to work with individuals, particularly those recovering from serious illness or those who find themselves at difficult crossroads in life.
A brush with serious illness (cancer) sparked his interest and commitment to Holistic Health and Personal Growth, also serving as an impetus to re-order his own priorities.
Vijay has qualified in some of the latest tools, such as The Art Of Coaching, NLP, Family Constellation Therapy and The Enneagram, among others.
Vijay has recently been named as an 'AOL Guru' on their portal, to deliver an ongoing series on 'Workplace Effectiveness'. He also serves on the Advisory Board of Sophia Polytechnic's Social Communications Media program.
Previously, Vijay spent 21 years with Ogilvy & Mather in various leadership positions. He has lived in Mumbai, Bangalore, Singapore, London, and Hong Kong, working with major corporations around the world. In his last role, he served on Ogilvy's Asia-Pacific Board as Regional Strategy Director, overseeing Corporate Strategy, Account Planning and Talent Development for 20 countries across Asia.
Vijay has a BA in Economics and Political Science, followed by post-graduate qualifications in Advertising and in Marketing Management from St Xavier's College Mumbai.