With several millennials taking the plunge, starting up has gone mainstream. But how does the older generation view this trend? And what does an entrepreneur's journey look like when examined through a family's lens that does not have an entrepreneurial background?
Santosh Desai, CEO, Futurebrands and daughter Pallavi Desai, Founder, Creatures of Habit, in Episode #4 of Talkin' 'Bout My Generation, surface the many twists and turns in Pallavi's entrepreneurial journey; they explore their intergenerational differences on how they look at entrepreneurship; and the likely impact of COVID on Pallavi's new venture.
How Santosh saw the world
Fundamentally, the father, Santosh Desai agrees that the ecosystem now values creators more than managers.
Once upon a time, for people of his generation, the pinnacle of ambition was to be a professional manager—which in turn insisted they go to a good management school, earn a degree and get settled for life. At its core, business worked off a premise—optimise and manage resources under constraints.
Today, Santosh points out, business is focused on creation. This insists looking for new ideas and finding ways to convert them into successful businesses. It is inevitable then young people emerge in a short period of time and find themselves drawn towards entrepreneurship.
In the larger scheme of things, this shift is necessary as well for a country such as India because it requires job creators and not just job seekers.
Why was he sceptical?
In spite of understanding these shifts, Santosh admits, it was not easy to accept the situation when it came closer home.
There were three reasons behind his scepticism as a father:
While he was accustomed to the idea of young people starting internet firms, Pallavi wanted to get into textiles, a very traditional space, dominated by old world behemoths. He feared for his daughter and co-founder, both of whom were newbies
He was unsure if their plan was robust enough, if it was well thought through and had asked hard questions around issues such as funding, branding and execution
And he was used to seeing too many young people going through motions of starting up because it was a fad. Not because they had an original, credible and sustainable business idea that solved real customer problems
Having said that, he admits many of his anxieties may have surfaced because of the times his generation grew up in—when stable jobs were valued over all else.
Several months of conversations between the father-daughter duo happened where they would discuss every detail of the idea. These conversations led to iterative improvements, the plan grew stronger, and offered Santosh some confidence. The conversion from sceptic to a believer happened when Santosh received the first shirt.
How Pallavi saw the world
Pallavi's conviction in the plan surfaced from her personal experiences. She is not someone who is too much into fashion. What she could see when she went shopping was that while there were many options, no brand offered high-quality, everyday clothing. That's when it occurred to her, that an opportunity exists.
"While one could get thousands of black polos if they searched online, what was that one single brand people can reliably turn to every time they want to shop everyday rich-fabric clothing?" she asks. "That's the genesis of the idea of Creatures of Habit"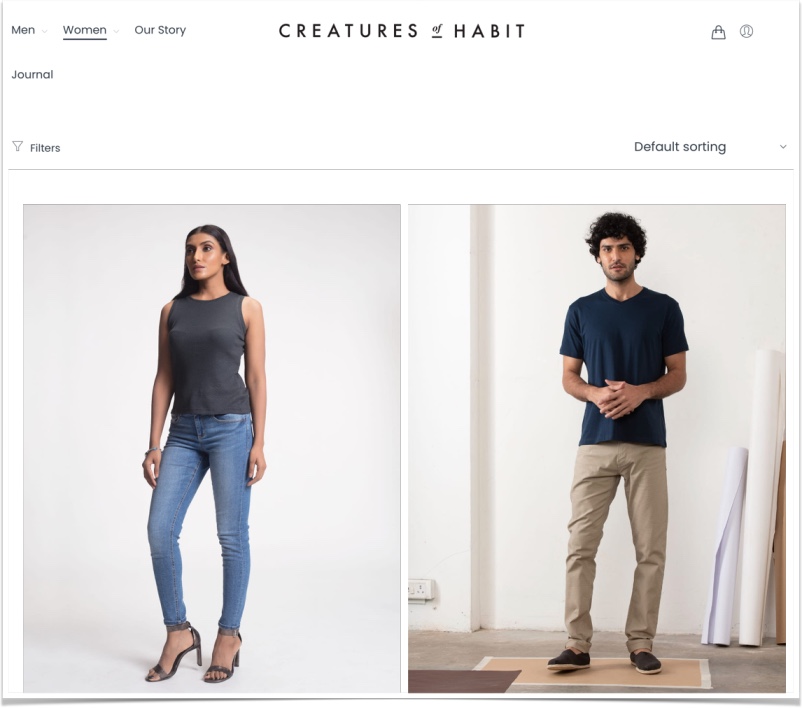 [Snapshots of Apparel Products on Creatures of Habit Website]
Why was she optimistic?
Being an outsider and newbie to the fashion industry, gave her an advantage is what she likes to believe.
"I think it's very helpful actually to be clueless. The one thing that helped me the most is not being from a textile background. Because then you don't learn to take no for an answer. Because when I was told that it's not possible, I just went to another mill. I didn't even realize why one should not go ahead with it."
"…my dad set up a lot of these meetings, which I was not at all grateful for then. I questioned why do I have to meet all these new people? I'm going to make a fool of myself. But now I know, making a fool of myself was very important. And that's how I got a lot of knowledge really fast. I would just learn from other people's experiences as much as possible, than to actually make the mistake and then find out."
What if the idea failed?
Santosh grew up at a time where starting up was unheard of and the risks were significant if a venture failed. The entire ecosystem was yet to warm up to the idea, access to capital, talent and the kind of distribution internet allows did not exist. "Entrepreneurship never once crossed my mind", he says. He hadn't heard of many people taking this path either.
Pallavi, on the other hand, has seen many role models—including Mark Zuckerberg and Justin Bieber. She is unfazed by risk. In fact, she believes if she fails, other firms will place a premium on the experience she gained and may actually land up with a fairly lucrative job.
Much thought later, Santosh hears the merit in her thinking. In his current role, he says he sees the value in hiring people with diverse experience, who have fire in the belly and a point to prove.
Why not later?
"In hindsight, don't you feel there is a correlation between age and competency? And that if you waited a few more years, say five, you would be in a better position to start-up?"
This is one question that comes up when Santosh and Pallavi are in conversation.
Pallavi disagrees. She believes timing is a critical factor when starting up and every idea has its moment.
"The second you have an idea that works, you should just go for it. Because if you wait for five years, that idea won't work anymore. You'll need another one then."
"I think when you're at a certain age, you're more open as well. If I'd had a career for five years, I would be a very different person. At that stage, I won't be doing the things that I'm doing today. Being a founder, I think, as long as you have your basics in place, you don't really need to know everything."
The value of an MBA
In hindsight, she believes that her Dad's scepticism which drove her to pursue an MBA in Barcelona is standing her in good stead now. It was there that she got exposed to diverse people and ideas. In turn, that widened her perspective and opened up her horizons. A formal education in business helped her understand much that now comes in handy in running the business every day.
What has the pandemic done?
Pallavi doesn't duck the question: "It has been extremely challenging. But over time you get used to the drill and build resilience."
When she launched in February, she had never thought that 40 days into the venture, a lockdown would happen and all e-commerce deliveries would pause. For the next two months, they had zero sales, but had to incur all expenses. That was quite challenging.
However, since then growth has picked up and they have grown 2.5x over the last two months. Pallavi attributes this growth to a renewed interest in high-quality basics, thanks to COVID induced work from home. In addition, the lockdown has also resulted in online apparel sales taking off because many people who used to otherwise shop at stores, have now turned online.
Would they swap places?
Santosh: "That's an interesting question. And the answer, actually would have to be 'No' (Laughs). I'm happy to vicariously participate but it's too much of pain...In some ways, I am an entrepreneur in my current assignment. But I don't think in the same way and I suspect that that's not my thing."
Pallavi: "Swapping places? Yeah, definitely not"
Still Curious?