[Clockwise from top: Rajwada palace, Indore (photo by Anupams123 / CC BY-SA); hospitality management trainee Sagar Singh Chauhan with his sister; retired courier delivery person Radheshyam Dusane (in brown half-sweater) with some members from his joint family; and chocolate factory machine operator Gopal Chouhan with his wife]
"Is my life much better now than it was five years ago?"
Answers to that one question have been revealing. They show how the life of an average Indian has changed in recent months. A life that the macroeconomic indicators can only hint at.
Ground Realities is a new blog, anchored by the team at Quipper Research, led by its co-founder and CEO Piyul Mukherjee.
It is an attempt to understand what's happening inside people's homes, in their lives. The ups and downs, as reflected in their social and economic world.
At Quipper Research, the all-women team is out in the field meeting and listening to consumers all the time. Across India's towns. Mostly in their homes, sometimes at their workplaces. They meet them individually, in pairs and in focus groups. The team usually meets them on behalf of one of Quipper's clients and their brands.
For Ground Realities, the team stepped out and met the common man, within various towns. And asked, is your life much better now than it was five years ago?
Life has changed for sure. No different for the people that the team met in Indore, this change is a continual pursuit for a 'better life'—be it the desire to move from the informal to the formal sector, or the struggle for a decent and respectable livelihood amid the Great Indian Slowdown.
Listen in to the on-going conversations with people across different walks of life, as they unfold over the next few weeks and months. Last month, we were in Surat. This is our second pit-stop: Indore.
Next month, we shall speak to a few women in Mumbai, sharing their unique perspective.
DESPATCHES FROM INDORE: THE QUEST TO GO FORMAL
By Nishita Thaker, Chaithra Hanasoge and Piyul Mukherjee
Indore, one of the largest and most populous cities located in central India, wears many feathers in its hat. It is one of the first cities to be a part of India's smart cities mission. It has also been ranked as the cleanest city in India for the fourth consecutive time in the Swachh Survekshan League 2020.
Today, it as an educational hub. It houses branches of the most respected educational institutes in the country—the Indian Institute of Technology and the Indian Institute of Management. It also has a host of other reputed institutes such as Devi Ahilya University, Indore Institute of Science and Technology, and Aurobindo Institute of Medical Sciences. In parallel, it is also famous for its street food scene, especially the markets of Sarafa Bazaar and Chappan Dukan.
Indore also boasts a great cultural and historical significance—the exploits of the Hindu Maratha Empire that ruled the city for centuries, and the many temples that dot the city and its nearby towns.
Here, we deep dive into the lives of three Indore residents: Hospitality management trainee Sagar Singh Chauhan from Gugalwada village in Madhya Pradesh, retired courier delivery person Radheshyam Dusane, and chocolate manufacturing machine operator Gopal Chouhan.
The informal sector in India employs almost 93% of the total workforce. Amid this, the struggle to find a decent and respectable livelihood, the need to be able to afford a few simple pleasures, and the optimism that drives the pursuit of employment in the formal sector is heart-warming.
A permanent job in the formal sector is an increasingly rare blessing
"Earlier, we (he and his workmates) used to be a big gang and hang around even after work. These days, I have trouble remembering other's names."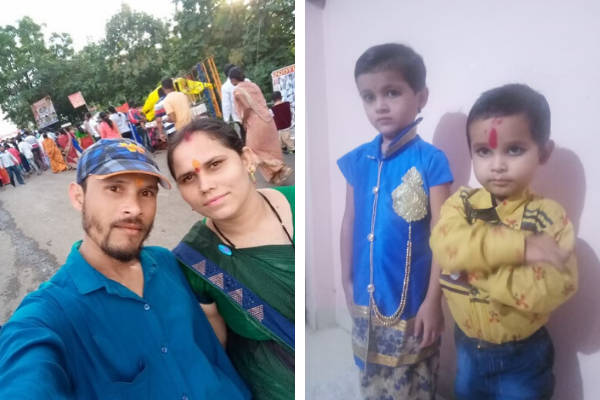 [Left: Gopal with his wife Sarita; their third daughter poses with her brother, who's the youngest]
Gopal Chouhan*, age 32
Occupation: Machine operator at a chocolate factory
Residence: A rented accommodation at Ujjain Road, Indore, at Rs 5,000 per month
Place of work: A chocolate factory
Family: Wife and four kids (three daughters and a son)
*Names changed
Every day, Gopal arrives at his workplace at 9 in the morning. As the aroma of chocolate wafts through the factory, Gopal, along with his friends, punches in to begin his 10-hour shift as machine operator.
He counts his blessings for having a permanent job, especially in these hard times.
Gopal has been working at the factory for the last 8-10 years. When he began working, his salary was Rs 8,000 per month. Today, he earns Rs 20,000 per month.
Being in a permanent job, he is also gets benefits such as provident fund, insurance and paid leave.
"My salary has been increasing over the years. In these days, it is a privilege!"
For a family of six, Rs 20,000 just about covers his monthly expenses. Just the school fees for his three daughters and the youngest, a son, adds up to Rs 35,000 a year. Aside from fixed monthly expense (house rent of Rs 5,000, groceries and utility bills of about Rs 9,000), there are ad-hoc expenses: schoolbooks, stationery, sudden illnesses and fulfilling their small, everyday demands.
"Chal jata hai gujara [We are able to survive]", says Gopal.
He credits his wife Sarita with meticulously managing the household. Every month, with the salary that Gopal hands over, Sarita carefully draws up her small account notebook from the kitchen cabinet to do the monthly hisaab kitab [accounting]. At the end of each month, she manages to save Rs 2,000 - 3,000, which she hands back to Gopal to deposit in the bank.
"I know it is a small saving, but I will keep doing it. Someday, if I hope to fund my children's education and wedding, I must have something," says Gopal.
He evades the subject of family planning. And we do not speak of the societal beliefs that led this couple to keep trying for a son.
Education is a priority for Gopal. He wants all his children to be well educated. Especially because he could not complete his BCom graduation owing to circumstances at home.
He had always dreamt of becoming a teacher. He had even applied to the Samvida Shikshak Bharti programme, the Madhya Pradesh state government programme that employs teachers for government schools through an entrance exam.
Unfortunately, Gopal had to face several rejections owing to the lack of a graduate degree.
"The family circumstances were not such that I could complete my education," Gopal shrugs. "There was no question of trying again for any government jobs."
Securing a government job is the ultimate job for every aam aadmi in India. Being in a government job means many things—job security, assured periodic salary appraisals, and respect in society.
Is he worried that someday, the chocolate factory could shut down?
Gopal has never even considered such an eventuality. Instead, he believes that his future at the company depends on his own efforts.
"Private company mein jab tak achcha kaam nikaal ke doonga, tab tak rakhenge [In a private company, they will keep me as long as I work well]", he believes.
Nevertheless, as he savours his humble lunch of roti sabji that Sarita packs in his dabba, he has noticed that his lunchmates change every few months. "Workload in the company has increased four times in the last ten years," he says. More machines have been installed. But the company no longer hires permanent employees, to cut back on costs.
Instead, workers are now hired on a temporary basis on longer shifts for about 7-8 months on a need basis.
And then let go.
"Earlier, we used to be a big gang and hang around even after work. These days, I have trouble remembering other's names," says Gopal.
His regular shift is for 10 hours. He clocks in a few extra hours to cope with the additional workload, for which he is compensated with overtime payment. He has no complaints.
"I get Sunday off. What more do I want?" he says. His friends in the informal sector need to work round the clock every single day of the week. Sunday is the day he cherishes being at home with his kids, especially his son.
Gopal is thankful for not being a part of the unemployed mass that he encounters in his neighbourhood. Referring to his own lack of education, he says "Yeh berozgar ko kaam toh mil raha hai, aur kya chahiye? [This unemployed person is at least getting some work. What else can I ask for?]"
"Where are the jobs in the formal sector?" this grandfather demands to know
"There is a rush towards education, but without jobs, where will all my grandchildren go?"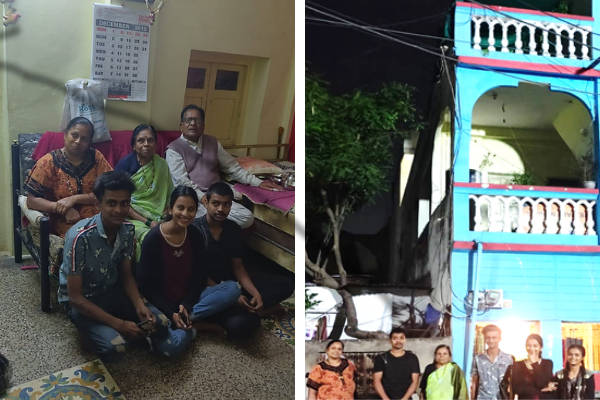 [Left: Radheshyam Dusane (in brown sweater) with his wife and daughter, and grandkids seated on the floor; some of the 14-member family pose in front of their home]
Radheshyam Dusane*, age 75
Occupation: Worked with D&H Secheron Electrodes as courier delivery person for 30 years; took voluntary retirement at age 57
Residence: A four-storey home in south Tukoganj. The façade is well maintained
Family: Fourteen members including his wife and 95-year-old mother. He has constructed separate floors upstairs for his three sons. His married daughter lives with him. He has six grandchildren.
*Name changed
Late in the evening, Radheshyam sends one of his grandchildren across to the neighbour's home to borrow their copy of the eveninger, Dainik Agniban.
The newspaper has several pages of classified ads and jobs listings within Indore.
"There are no office wale naukri any longer," says Radheshyam as he peruses the employment pages. By "office wale naukri", he refers to work in the formal sector, with clearly defined timings and a steady monthly income.
Apart from his youngest son, none work in the formal sector. His eldest son is a tailor and runs a small shop nearby. With buyers moving away from customised hand-stitched apparel and towards readymade garments, he finds himself at a loose end. Dejected by the downturn in business, this son has turned to alcohol.
"Mandi ke samay mein tailor nahi ke barabar hai [In the time of recession, being a tailor is equivalent to being nothing]", feels Radheshyam. "And why would anyone give Rs 200 for tailoring when readymade shirts are available for Rs 150?"
The second son works as a salesman in a mobile telephony store. The job is on contract basis, and there are no additional benefits. With his meagre salary of Rs 10,000, it is turning out to be increasingly difficult to afford his growing children's education.
Education is a significant investment in this household. Each child's school or college fees totals up to a minimum of Rs 13,000 to Rs 14,000 a year.
Then there is the additional pressure to admit the child to the locally famous Mohit sir's coaching classes for subjects like mathematics and physics, for which he charges Rs 500 per month per child. Plus, the additional expenses for paraphernalia such as books and stationery.
The desire for a good education is such a big drive in the household that even the teenagers save money gifts from visiting relatives to pay 'Mohit sir', to ease the pressure on their parents.
Radheshyam's daughter, who has now come back to stay with her parents, receives Rs 7,000 from her husband every month. He earns Rs 12,000 a month ferrying goods in his commercial auto rickshaw.
His earnings were just not enough to cover mounting expenses including house rent of Rs 5,000 and the education of two children, necessitating cutbacks.
So, while her husband now shares accommodation with his friends, she has moved back to her parents' home to save on rent.
Three of the women in the Dusane household step out to supplement their husbands' incomes.
Their source of livelihood? Students living in the city.
Indore as a key educational hub, is a temporary home to youth from nearby towns and villages seeking a good education. Many of them take apartments on rent. Cooks are then hired to make their daily meals.
The Dusane women each step out for about 10 hours a day. Hopping from one apartment to the next. Cooking for four or five students per home at a time. At Rs 500 per student, they manage to earn around Rs 10,000 per month, each.
"They are doing all this for their children's education, but where are the jobs? Without jobs, where will the children go?" asks a harried Radheshyam, shaking his head.
He reminisces about his heydays, when he held a permanent job in the formal sector. With his savings, he could afford to build his house for the entire family to live together, under one roof.
In 2002, when D&H Secheron Electrodes began to offer a voluntary retirement scheme (VRS), many of his co-workers opted to retire. With banks offering 12% interest rate on fixed deposits, it seemed to be a viable option to live off decent earnings from future fixed deposit payouts.
Radheshyam was hesitant to opt for VRS at first. But the increasing workload caused by the exit of his colleagues nudged him to take that option.
But then bank FD rates dropped dramatically to 6% in the second year of his retirement. Slashing his earnings from savings by half.
Family expenses began eating into his principal amount, pushing him to look for another job at the age of 60.
"Today, if I had the option to retire early or work for 14 hours a day in a permanent job, I would choose the latter."
Looking for a job turned out to be much tougher than he had imagined. "Many employment agencies promise to offer a job, but there is always an initial fee of at least Rs 500." He points towards the ads in the newspaper—they are mainly from such agencies rather than actual jobs.
The other option is to approach a thekedar, a middleman, who offers low-ranking jobs, with odd working hours. There is no heed paid to the applicant's qualifications. The middleman earns a commission, besides pocketing the first month's salary. Radheshyam could only get a job as a security guard with a 12-hour shift.
The success story of this household is the third son. Working as a 'software engineer' at a bank, he earns the princely sum of Rs 25,000 a month. His four-year-old son is the privileged grandchild of the household who attends kindergarten at the locally reputed Holy Cross School. In addition to an annual fee of Rs 30,000, the family willingly paid a donation of Rs 1 lakh.
Rearrangements in this joint family's dynamics signals the disparate financial trajectories of the family members. Each floor now functions as a separate unit, with a separate kitchen, and each family unit is responsible for its own expenses.
In pursuit of a better job and lifestyle, and perhaps to get away from the flailing fortunes of the extended family, the younger son has expressed his intentions to move to Mumbai.
Radheshyam fails to understand this. "Does he know how expensive it is out there? Even with an increased salary of Rs 60,000, he'll be unable to save anything."
But Radheshyam is well aware of the circumstances back home. Food inflation, including the recent bizarre onion price hikes (Rs 90/kg), has caught the family on the raw. "Earlier, Rs 10 would fetch one kilogram of almost about anything. Now, with the same amount, you only get a quarter of that quantity."
When cellular network provider Reliance Jio increased its prices of the basic pack from Rs 199 to Rs 250 a month, Radheshyam was riled. "Jio provided us with free services at the start. However, rates have now risen by 40% and are expected to increase further. The company is extremely cunning, and customers are now trapped by habit."
He is also disillusioned by government declarations like the much-publicized gas subsidy scheme. "The government offers a gas subsidy of Rs 160 after increasing the original rate by Rs 200. Invariably we are paying more. So where is the subsidy?"
Pointing towards the evening newspaper, Radheshyam sums up the sorry state of jobs in the market. "Providing education like these agencies and employment such as Mohit sirs has become the best business today. I think I should have pursued this business."
"The other young men of Sagar's village are envious of his steady job in the formal sector," says his father
"Budhape mein sahare ke liye aur bete hone chahiye, unhone sab kaha tha" [To be taken care of in your old age, you need more sons, everyone had said.]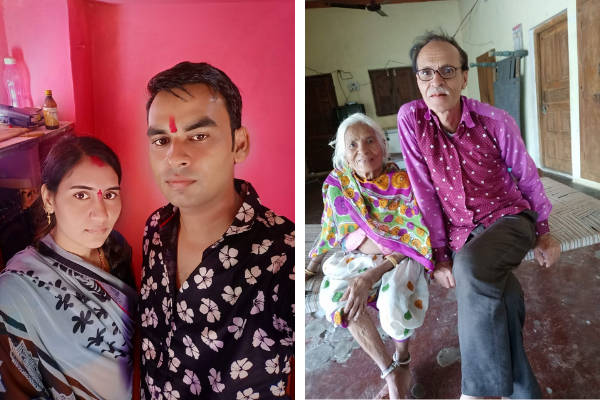 [Left: Sagar with his married sister Roshni, during Bhai Dooj. Of the three siblings, she's the only one who's not hearing-impaired. Right: Sagar's father Dinendra, and his grandmother, at their village Gugalwada, in Raisen district, Madhya Pradesh.]
Sagar Singh Chauhan, age 23
Occupation: Hospitality management trainee
Permanent residence: Gugalwada village, Raisen district, Madhya Pradesh
Place of work: Lemon Tree Hotels, Indore
Family: His father, mother and grandmother reside in the village; he has two older sisters Roshni and Rashmi; Roshni, the younger of the two, is married
When Sagar set out for Indore from Raisen district, three months back, his father Dinendra bought him an Oppo smartphone for Rs 10,500.
This was Sagar's first phone ever. Dinendra himself uses an old Nokia handset.
Whenever Sagar wants to communicate with his father, he calls up his sister Roshni on her smartphone. After getting a video update, Roshni, who is married and lives in a different village, in turn calls her dad to keep him informed about Sagar.
Sagar is speech and hearing impaired, you see. Since birth.
Just like his other sister Rashmi.
A few months back, through his school Asha Niketan, Sagar was recruited by a hotel chain that provides employment opportunities to the 'opportunity-deprived', as a key part of the workforce.
Earlier, despite an ITI diploma, Sagar had been unable to get any work and had resigned himself to helping his father on his six-acre farm. "What were my chances anyway?" thought Sagar. There were so many educated, young men without jobs in Gugalwada, working on their modest acres of land, with no opportunity in towns or cities.
Dinendra, his father, just did not want that.
"This year's crop of rice is already lost. There was an outbreak of rou (a pest) due to unseasonal rains. Farming has no future here," he tell us over the telephone.
Dinendra is curious and eager to know what Sagar is doing in Indore. And hastily adds, "Please tell Sagar we can take care of ourselves. He should not send any money to us or worry about us. Let him just do well in whatever he is doing."
At the hotel he works in, Sagar assists in all the divisions of hospitality—as concierge, in the kitchen, and in housekeeping.
His main delight, he articulates animatedly, is in getting to meet new people all the time.
He shares a rented room with two other boys paying Rs 1,500 a month at Hanuman road.
After a quick bite of puri-bhaji or poha with jalebi, Sagar bicycles half an hour to work.
Always jalebi. Sagar loves jalebi and is happy that he can purchase it with his own money every day.
He usually reaches long before 8 am, greeting guests with a beaming smile.
He has already managed to save more than 50% of his salary over the last three months. With his family refusing to accept any money, he intends to purchase a Scooty for himself. With a down payment of Rs 22,000 and easy EMIs over the next two years.
There is so much to see in this beautiful city, Sagar signals with a smile.
This would leave him with money to buy sarees for his grandmother, mother and two sisters during Holi. Without in anyway needing to reign in his spending. He intends to purchase a few soft blankets from the fancy supermarkets in Indore, to take home to Gugalwada.
Next, by Diwali, he would like to gift some good silver jewellery to his handicapped sister Rashmi. "She is not married but deserves to wear jewellery too," he feels.
It is a matter of pride for him that he can take care of his parents and family.
Dinendra was in tears when he heard of Sagar's plans to buy gifts for his family. "Sagar is my only son. I still recall those days when he was born. Everyone commiserated with me," he remembers.
"Budhape mein sahare ke liye aur bete hone chahiye, unhone sab kaha tha [To be taken care of in your old age, you need more sons, everyone had said.]"
But Dinendra had decided to give the best possible education to his only son. He sent Sagar to Bhopal to Asha Niketan, a school for the hearing-impaired. And later, sent him for a technical education diploma course. But Sagar did not get any job as a technical apprentice despite trying for over a year, and came back home to Gugalwada.
As per CMIE, the unemployment rate for those between 20 and 24 years of age has doubled from 17% in May-August 2017 to 37% in September-December 2019. Graduates in this age group report a much higher unemployment rate of 63%.
Today, as scores of young men in the village remain unemployed and frustrated, Dinendra cannot get over the fact that everyone is so proud of Sagar.
"Gugalwada gaanv ka gaurav hai mera beta [My son is the pride and joy of Gugalwada village.]"
The Quipper team's next port of call: Mumbai