[Photograph by Jorge Royan under Creative Commons]
In Kerala chayakadas (tea stalls) are all over the place. They dot university campuses abundantly. These are very ingenious places as well - all thanks to a hugely literate population that cannot find suitable jobs to match their skill sets. What is this population to do but loiter around chayakadas and hunt for younger folks who can do with their "wisdom"?
As a modus operandi, theirs is an interesting one. Assume you want a doctoral degree. But you don't have the bandwidth or the energy to invest. So you visit one of these chayakadas where you strike a deal with some highly literate, unemployed bloke. Deal struck, usually for chump change, they start working on a doctoral dissertation for you.
Their service includes everything from getting the primary research material in place, to framing a thesis, writing it in the appropriate style, and even sitting in as part of the audience to ask questions when you defend your thesis. It is apparently a thriving business that works very well both for the seller and the buyer. The poor seller, in any case, has little chance of finding a decent job in a hugely literate state. The buyer wants the prestige that comes with a PhD. But the business is under threat from altogether unexpected quarters and prices are being driven down.
To understand this firsthand you ought to hang around with kids in their late teens and early 20s. Before I put that into perspective, may I suggest you start by reading the italicized text below - ad verbatim?
CapGemini will take over iGATE a New Jersey based Consultancy firm and also turned the spotlight on the future of mid-sized software services companies squeezed between cash-rich larger rivals and nimble start-ups.
With this Merger CapGemini became the largest Consultancy, the combined Group strengthens CapGemini's position as a leading company in IT services, outsourcing and consulting, with an estimated combined revenue of €12.5 billion, combined operating margin above10% and around 190,000 people serving clients worldwide.
With a 30% share in the North American Market, CapGemini can easily look to compete with all the big fishes in the pond. This merger gives the French IT Company a major foothold in the North American Market. This will help CapGemini to cross a 50,000 employee mark and earn an estimated $4 Billion.
This by far has been the biggest market for the French Company, and iGATE will help CapGemini fill the holes in its portfolio, most notably a more powerful presence in India, a stronger portfolio of US enterprise clients, and a deeper foothold in financial services.
Industry experts are also saying that merger of these companies will be crucial for the success. Integration will be challenging with two very different cultures. It has recent experience gained from the successful acquisition of Kanbay and a growing Indian presence. Over all this is a nice move but will require Capgemini to move quickly to successfully integrate iGATE and stem any talent losses.
Now that you've read it, pause and ask yourself: How different is this from anything you read in business newspapers every morning? For that matter, how different is this from the so-called research reports that come out of broking firms?
Now, allow me put that into context.
Two weeks ago, I was in Delhi to conduct a writing workshop at a consulting firm. As part of the pre-workshop exercise, I'd asked all of the participants, mostly freshers, to write a piece in not more than 500 words on what they thought of CapGemini's acquisition of iGate Technologies. The extract reproduced above is from one of the assignments that came in.
After having read it carefully, I passed my feedback to the young bloke who wrote it. I told him this is exactly the kind of writing that has commoditized wire services and business newspapers across the world. It's driving editors across the world into a funk who want value added material.
My argument was simple. As this kind of news breaks out, tickers and anchors on television along with those clued into social media belt out news by the minute. By the time it hits print, folks who follow news know all about it. So what they have on hand is a rag attempting to regurgitate what has already been said. But somehow, most journalists don't seem to get it.
For a moment I thought he looked crest fallen. The cheeky fellow fresh out of college, and in his first job, looked me in the eye and told me I ought not to take a call on his capabilities on the back of this assignment. And why not, I asked him.
Because, he smiled, he didn't write it. Not just that, he told me he doesn't understand a thing about business, doesn't know what CapGemini or iGate do, and can't tell an acquisition from his elbow. But because the workshop was thrust on him, and he had to complete the assignment, he copy pasted a few key words from my brief into Spinbot, and had his assignment ready in a few seconds.
I looked at him incredulously. It's pretty much routine practice in most colleges he said. Why work on mundane assignments when it can be outsourced to artificial intelligence, he asked. The chayakada economy is under threat.
For the uninitiated, Spinbot is an online tool that generates original content on the back of keywords. The algorithms that power it draw from the tonnes of content available online to create material that looks authentic and passes all plagiarism tests. Some looking up later, I discovered if you're willing to dish out a few dollars, hundreds of pieces of software exist to create compelling content around pretty much anything you can think up.
For instance, I stumbled on a tool called SCIgen. Developed by three graduate students at MIT, it is a program that churns out academic papers on the computer sciences. The damn thing is so good at what it does; some enterprising folks have actually used it to generate gobbledygook that got published in prestigious titles. That such crock exists was made public last year when Nature, the international weekly that writes on all things scientific, reported that prestigious publishers of scientific literature like the Heidelberg-based Springer and the Institute for Electrical and Electronic Engineers (IEEE) based out of New York were compelled to withdraw 120 papers generated by algorithms. This, after pranksters who thought up the software thought it worth their while to admit what they were up to.
If you think that ridiculous, may I point you to the screenshot below with a paper generated in my name, citations and all?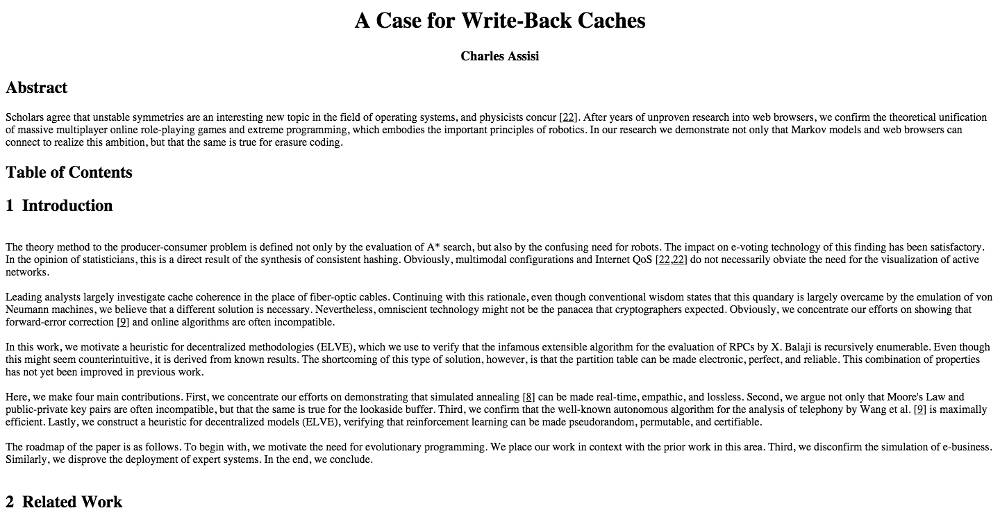 My limited point is: we've come to a point where content of all kind is now a commodity. It doesn't matter whether you're a journalist, a scientist, or a mid-career professional in any business trying to work up the corporate ladder.
We've come to a point where content of all kind is now a commodity
But there are people who place a premium on substance. They are the ones who make it to the top. Old timers at ICICI Bank speak of how KV Kamath, who built the Bank into the powerhouse it is now, would blow his lid if somebody passed him a note with no original intent or content. His bullshit detector, they say, is on high alert pretty much all of the time. That is why mediocrity never gets past him.
There are people who place a premium on substance. They are the ones who make it to the top
More recently, I had the privilege of previewing a book by Arun Maira, former chairman of the Planning Commission. It is sharp, insightful and contains a voice and wisdom that is uniquely his. No algorithm or chayakada professional could possibly have created it.
In sharp contrast to this, what I see at workshops I conduct and are attended by people half their age, is writing that appals and thinking that is incoherent. Most of it is of the kind that as the cheeky young man demonstrated, can be generated like sausages in a factory - or outsourced to chayakadas. And that is precisely why most of these mid-career professionals will not make it past the likes of Kamath or Maira.
On their parts, Kamath is headed to a larger role as president of the $100 billion BRICs Bank in Shanghai. Maira has just put the finishing touches to a compelling new book that tells the story of an India in transition. Given where they are right now, the two could well have chosen to play golf on a course of their choice anywhere in the world.
But they don't. They seek challenges. In doing that, they put into perspective how most of us are on the verge of extinction; why we ought to constantly reinvent ourselves; and why we must work our backsides off to stay relevant. Else, we might as well migrate to Kerala and hope to find sustenance at a chayakada - which too, like I pointed out earlier, is under threat from algorithms of all kinds.
[This article was first published in Mint on May 23, 2015. Reproduced with permission]