[Image by Pexels from Pixabay]
Good morning,
Last week, Krishna Jha, a fintech entrepreneur based in Bengaluru, shared his reading list and passionately argued that all of us must invest time reading up on biology because it helps connect dots across domains. That is how we got around spending the weekend reading Edward O. Wilson on The Origins of Creativity. This bit on why we tell stories and when is a good time to do so, had our attention.
"Why are there humans in the first place?… The answer, at least a few anthropologists have come to believe, is actually in full sight. It has already been provided by the hunter-gatherer societies still among us around the world. The forming of campsite and control of fire brings the group together tightly in the long evening hours before sleep. They neither hunt nor gather, nor have any reason to venture out into the surrounding darkness. They draw close and communicate where there are no other devices. This period in the daily cycle is the time to tell stories, raise status, tighten alliances, and settle scores. The fire is the life-giver. It warms and feeds people. It creates a sanctuary of light, around which nocturnal predators circle but dare not enter…
"For our present self-understanding, it is of consuming importance to estimate what the ancestral humans said and did in the firelight."
Wilson then shares evidence anthropologists found on the differences between daytime talk and firelight talk. "Daytime talk is focused on practical aspects of travel and the search for food and water. People working together talk about the food they seek. They also gossip back and forth in a manner that helps to stabilize their social networks. The subject matter is highly personal… The conversation is also practical. It doesn't stray far, or play on the imagination and fantasies that are possible in periods of leisure.
"In the evening the mood relaxes. In the chiaroscuro firelight the talk turns to storytelling, which drifts easily into singing, dancing and religious ceremonies. Storytelling, especially among the men, turns frequently to successful hunts and epic adventures, their dominant daytime activity…
"Storytelling, including especially recorded tales of successful hunts and epic adventures, consumed 6% of the overall recorded time during the day, but they consumed 81% of the evening. The overall effect was to convey the big picture of the group's existence. It united them into a rule-based community with a single-culture."
Have a good day!
In this issue
Sindhutai's life as a cabbie
What the media won't tell you about the media
It's a brutal world
Sindhutai's life as a cabbie
In the latest edition of Ground Realities, the team at Quipper Research consisting of Himal Belwal, Ishani Ray, Nishtha Jaiswal, Saawani Rajadhyaksha and Sharmistha Adyanthaya, led by its co-founder and CEO Piyul Mukherjee, profile the lives of three women—a taxi driver, a beautician, and a nurse—even as they experienced the pandemic nightmare in the city of dreams, Mumbai.
Ground Realities is an attempt to understand what's happening inside people's homes, in their lives. The ups and downs, as reflected in their social and economic world.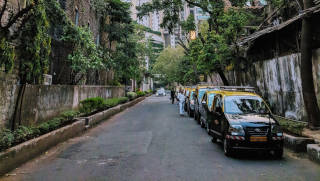 Here's an extract from the profile of 55-year-old Sindhu Dhondiram Dhokhe, a taxi driver who does the Mumbai International airport run.
The Quipper team writes: "Despite facing nearly a year of unemployment and a dramatic drop in household income, Sindhutai still believes that she is more fortunate than her neighbours. 'Others had much more to cry about than I did,' she reflects. She feels her troubles pale in comparison to others in her chawl who halved their own portions to be able to feed their children. She recalls one neighbour saying, 'I don't eat because I feel guilty for having food while my children cannot fill their stomachs.'
"Sindhu had thought about selling vada pav, but found no takers there either. Who was to have the snack 'on-the-run' in this city that had come to a grinding halt?
"'Women seek any sort of work, you know, thinking let me at least get some minimum wages, of two hundred rupees—kam se kam do sao toh mil raha hai,' she states with a shrug. 'I have lived in a village under very trying circumstances in the past, I know how to face this famine also.'
"Her grown up children, who had earlier held salaried jobs much to her pride, as an editor and a yoga instructor, have since lost their steady jobs. They are now working as an insurance agent and a freelance yoga teacher.
"All her life, Sindhutai has advocated pragmatism and optimism, even in extreme uncertainties.
"The biggest shock came when her three-year-old taxi was taken away after she missed several EMI payments. She had just begun clawing back. By simplifying her meals, she had cut down further on her household consumption. This allowed her to pay back a few of the pending instalments and negotiate to get her taxi back.
"Driving, says Sindhutai, is in her blood. She cannot forget the day, a long time ago, when she used to drive a truck delivering Bisleri bottles all over town. A traffic cop halted her, and when he came up to the driver's cabin and saw it was a woman, he stepped right back, clicked his heels and gave her a salute!"
Dig deeper
What the media won't tell you about the media
On April 8, Founding Fuel held a discussion on the media and entertainment industry on the increasingly popular social audio app Clubhouse (since it's only on iOS, we also live streamed it on YouTube). We had a superb panel of speakers and an amazing audience, many of whom pitched in with their perspectives and questions. Amol Telang, who listened in, shared his takeaways in a thread on Twitter.

We present the first five tweets and urge you to read the full thread, and make some time to listen to the full conversation.
1. Print news publishers have moved to digital platforms thanks to Covid-19. However, online initiatives are completely different from physical newspapers. The NYT and other foreign publishers are developing cohesive communities that can be monetised.
2. The power of vernacular will lead to a growth in print ad revenue. Vernacular newspaper circulation has gone back to pre-Covid levels in most parts of India.
3. There is a fundamental shift in consumer behaviour, resulting in a digital market. If most consumers are on digital platforms, there will be a limit to money being invested in traditional platforms.
4. Every time a new medium comes along, everyone predicts the death and demise of the old one. But everything survives and continues to co-exist. It's not an either-or world.
5. Currently, all sectors are skewed towards ad revenue. The growth of SVOD [subscription video on demand ] is heartening and shows that people are willing to pay to consume. Covid-19 has shown that ad revenue is the first to drop. However, people continue to pay for services.
Dig deeper
Still curious?
Dig into the archives of Ground Realities to get a glimpse of life in India's small towns—Surat and Indore. Read Ground Realities
TikTok is no longer available in India, but the factors that drove its success persist. In his multimedia story, Anmol Shrivastava asks if it's a passing fad or if it's here to stay. Read: TikTok: More than 15-seconds of fame?
How do we craft sharp, yet authentic digital personas? That's a necessary skill since so much of what we do has moved online—how we learn, meet friends, work, and apply for jobs. Haresh Chawla and his son Shiv debate that all-important question in Talkin' 'Bout My Generation. Watch: Learning to live a digital life
It's a brutal world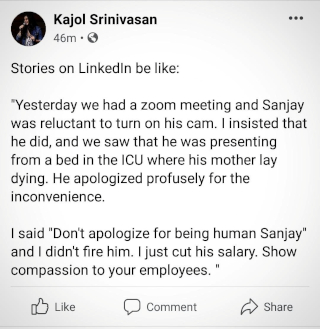 (Via LinkedIn)
Tell us what you think and find noteworthy.
And if you missed previous editions of this newsletter, they're all archived here.
Bookmark Founding Fuel's special section on Thriving in Volatile Times. All our stories on how individuals and businesses are responding to the pandemic until now are posted there.
Warm regards,
Team Founding Fuel
(Note: Founding Fuel may earn commissions for purchases made through the Amazon affiliate links in this article.)