[Photo by Brian McGowan on Unsplash]
Good morning,
In How Will You Measure Your Life? Clayton M. Christensen talks about the difficulty of identifying people with the "right stuff", referring to the approach used by American space agency Nasa to recruit its astronauts.
He shares some interesting findings from a survey he once conducted. He writes:
"Several years ago, in a major executive education program for over a thousand senior leaders from a variety of companies, I asked by survey this question: 'Of all of the people that you hired or promoted into positions of (defined) responsibility in your company since you've had your current responsibility, what percentage of them turned out to be a superb choice? What percentage is performing adequately? And what percentage turned out to have been the wrong person for the job they were hired or promoted to do?' By their own reckoning, about a third were superb choices; 40 percent were adequate choices; and about 25 percent turned out to be mistakes. In other words, a typical manager gets it wrong a lot. They may strive for zero-defect quality in manufacturing or services, but a 25-percent 'defect' rate in picking the right people—what many consider their most important responsibility—is somehow considered acceptable. So if a 'right stuff' screen doesn't predict future success, what does?"
While Christensen goes on to talk about the work of Morgan McCall, a professor at the University of Southern California, let's pause right here, and introspect on how we make people-decisions. What are our metrics? How have they turned out over the years? What lessons have you drawn from them?
Let us know.
In this issue
What parents, students and schools must think about
The empire of Telegram
Cafe Terrace at Night by Vincent van Gogh
What parents, students and teachers must think about
Ten days ago, the Founding Fuel community got on Clubhouse to engage with Meeta Sengupta and Piyul Mukherjee. This conversation was triggered after Sengupta, founder of the Centre for Education Strategy, had to confront a question on choosing between an MBA and work during the pandemic. And Mukherjee, co-founder of Quipper Research, and her team had come back with a ground report on how unplanned online education is shortchanging our children. There was much to ask of them.
Class X and Class XII exams have been cancelled. Students are confused. Parents are lost. What are the best options for a student right now?
There are many boards and different schools implementing different systems. It is confusing for everybody. How do we decode it all?
Talking about boards such as CBSE and ICSE that call the shots, are they past their expiry date?
When it comes to pursuing higher education, how do you weigh the pros and cons of pursuing an education abroad and one at a premier Indian institute?
There's this beast that is online education. What are Meeta and Piyul witnessing? How are teachers and institutions coping?
And if every institution continues to offer education digitally, how do we differentiate between what is premier and what isn't? After all, everyone has access to the same technology and the same information.
Conventional wisdom has it that too much screen time is bad. But the way things are, all education has moved online. And all downtime is spent online as well. Is it time to revisit old assumptions on screen time?
And finally, where are the new ideas in education going to come from?
There was much they offered to think about.
Dig deeper
The empire of Telegram
Even as the face-off between the Indian government and technology companies such as Twitter and WhatsApp continues to simmer, a story in the German magazine Der Spiegel had our attention. Because this is the kind of narrative that places in perspective the characters, complexity, upside and downside that goes into creating laws to regulate technology. To place this in perspective, since the time WhatsApp has come under the scanner of regulatory bodies across the world, the messaging app Telegram has grown exponentially. But who created Telegram? And how does it work?
On investigating, the magazine discovered it is backed by Pavel Durov. "Little is known about the Russian billionaire, who is considered to be the richest person in his adopted home of Dubai.
"To this day, we have disclosed 0 bytes of user data to third parties, including governments."
"Telegram is home to almost every imaginable infraction that can be committed on the internet. Arms dealers are on the channel, as are people offering counterfeit money and hacked data. Some groups focused on manipulating financial markets have membership rolls in the six figures on the channel. Because of the numerous drug groups on Telegram, the Berlin police established a team specifically to address the messenger-group narcotics trade and have since identified more than 100 dealer rings in Berlin alone, some of them with more than 20,000 members. In contrast to the Darknet, where buyers have to know specific black-market addresses, banned offerings are extremely easy to find on Telegram.
"With the general election in Germany approaching this autumn, officials here are concerned that the platform could become a significant source of misinformation that reaches huge numbers of people." This is where the dichotomy lies as well. As the writers point out, "in repressive countries, the same app is often one of the most effective weapons available to pro-democracy movements, such as those in Hong Kong, Iran and Belarus."
Dig deeper
Still curious?
Cafe Terrace at Night by Vincent van Gogh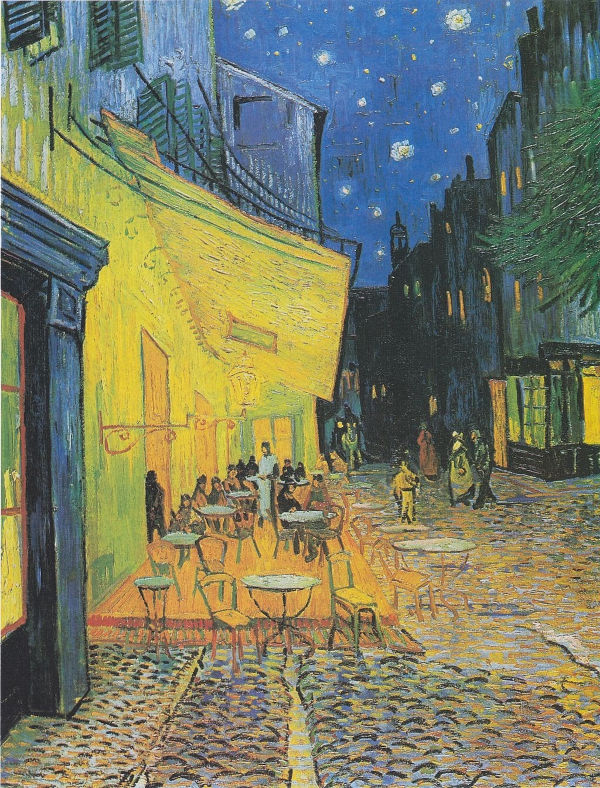 What's helping you get through these tough times? Send us the song, poem, quote that is your balm now. And we will share it through this newsletter.
And if you missed previous editions of this newsletter, they're all archived here.
Bookmark Founding Fuel's special section on Thriving in Volatile Times. All our stories on how individuals and businesses are responding to the pandemic until now are posted there.
Warm regards,
Team Founding Fuel
(Note: Founding Fuel may earn commissions for purchases made through the Amazon affiliate links in this article.)