[Image: Begum Samru's Household]
I think I'm reasonably intelligent, good looking and articulate. Now don't get me wrong. I'm not a narcissist. That said, it had been bothering me for a while that in spite of possessing these traits, I just had 2,150-odd people who followed me on Twitter. I said that in as many words to my good friend Amar Mudliar, who runs Web India Online, an e-commerce consulting firm. That he works out of a messy cubbyhole is altogether inconsequential to this column.
Mudliar, resourceful as he always is, told me I ought not to worry and that my concerns can be addressed overnight for a few hundred rupees. There are sweatshops all over the place that can get me as many followers as I want to. Quick on the draw, he punched "buy Twitter followers India" on Google and looked up the results. The first that popped up was that of Social King. It contained contact details and I asked him to call the number right away and record the conversation.
The gentleman at the other end, who was discreet, polite to a fault, said he is based out of Delhi, and offered a list of his services. I don't intend to write about the details of the conversation. Instead, may I urge you to listen to the audio clips below that culminated in my striking a deal to acquire 1,000 followers on Twitter for Rs400? I think it is important you do if all of what follows has to make sense.
First Conversation with Social King
Second Conversation with Social King
Soon after these conversations were done with, the gentleman emailed Mudliar with the quotes (see below).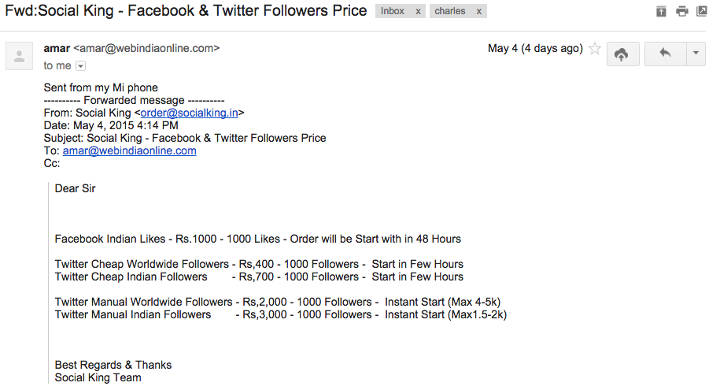 The sum and substance of the conversation was that if I paid up Rs400, he would get me 1,000 "cheap" followers. That means he cannot guarantee they will stay on as followers. And if I paid as much as Rs3,000, he could get me 1,000 followers with Indian handles. They would be created manually. And I suspect out of sweatshops because Mudliar told them the last time he had tried to buy followers, all of them turned out to be from Bangladesh.
As a spokesperson for Twitter India told me, the firm's algorithms routinely cull out what it thinks are fake followers. But there is little it can do when subverted by manually generated fake email addresses and profiles that latch on as followers. But it takes effort and is more expensive to create what the algorithm cannot identify as fake.
Anyway, soon after the Rs400 hit Social King's account, on 4 May, my follower count started moving up. In just a few hours, it crossed the 3,000 followers mark.
To investigate further, I looked up two global agencies. There is no way I can tell which part of the world they actually originate from. Socialshop was offering 1,000 followers for $5.89 and Devumi for $12. I paid up on the same day and sure as hell, random people from all over the world started to follow me.
Both of these agencies had various packages on offer. For instance, retweeting my tweets, replying to what I post, and everything else in between—all at a price, of course. As things stand, I have in excess of 6,000 followers now, all within a space of 48 hours. I suspect what's happening is because my follower count has gone up, more real people think I am actually more influential than I really am and want to latch on to me. It's a nice, self-fulfilling cycle.
So, is there a way of telling fake followers from the real ones? Turns out there is something called Twitter Audit! So, I took the most five most popular politicians and businessmen each and subjected of their handles to an audit.
The methodology, as described by the site, is this: "Each audit takes a random sample of 5,000 Twitter followers for a user and calculates a score for each follower. This score is based on the number of tweets, date of the last tweet and ratio of followers to friends. We use these scores to determine whether any given user is real or fake. Of course, this scoring method is not perfect but it is a good way to tell if someone with lots of followers is likely to have increased their follower count by inorganic, fraudulent or dishonest means." The lower the score, the worse off you are.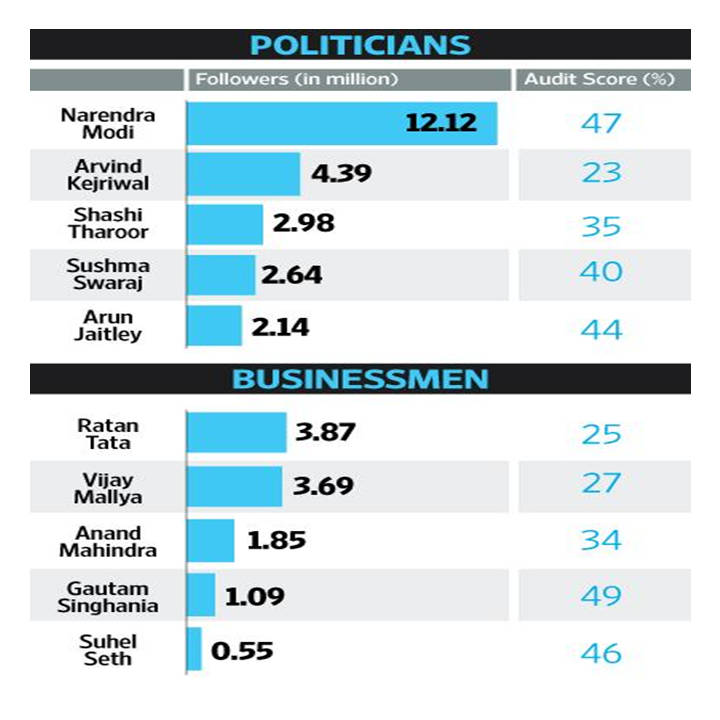 Graphic by Yatish Asthana/Mint
But there is no way we will know for sure whether or not any of these individuals have paid to gain followers. It is entirely possible that the more popular a Twitter handle gets, automated bots latch on to it.
A case in point is R. Sukumar (popularly called Suku), the editor of Mint. When I pitched this piece to him, he asked me if I had checked what his ratings are like. I have known him for a few years now and he possesses a reputation for being as straight as an arrow. He's not the kind who would pay a penny to boost his followers and told me that in as many words. His score, though, was an awful 29%, marginally better than Arvind Kejriwal, Ratan Tata and Vijay Mallya.
That said, I must also add, of the five businessmen listed above, one actually had his public relations team call senior journalists to ask that they follow him, retweet his tweets, and write that he has taken to the micro-blogging platform.
Which begs another question. Are there bulletproof ways to figure out whether or not people boost their following? Short answer. No. But social media experts claim there are some giveaways that ought to raise eyebrows. For instance, when you witness spikes in followers for no tangible reason, you ought to wonder why. Consider data culled from Twitter Counter on Prime Minister Narendra Modi's Twitter handle @narendramodi.
Between 6 and 7 April, he acquired in excess of 280,000 followers—way off what he acquires on any given day. The numbers did raise a few eyebrows because there is nothing to suggest he said anything spectacular on the day. The chart below shows just that.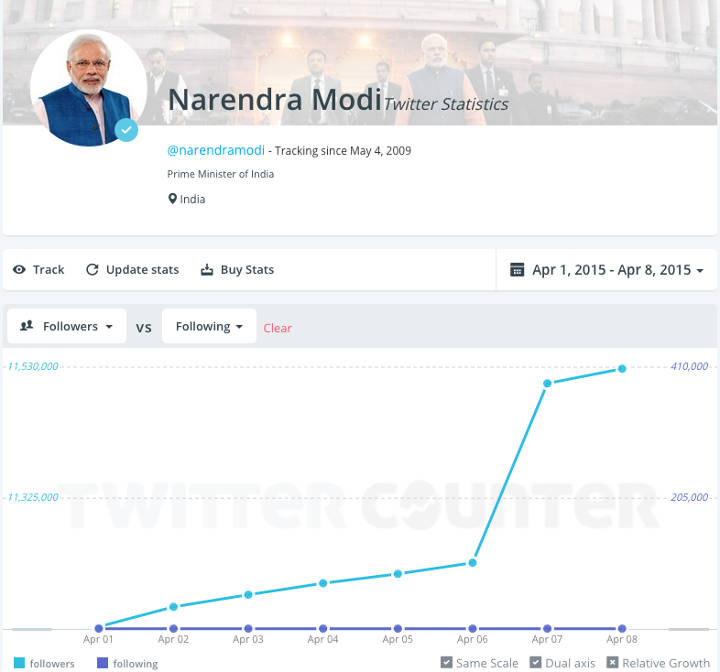 This is the kind of spike that my Twitter handle witnessed when put through the wringer on the dates I paid to acquire followers.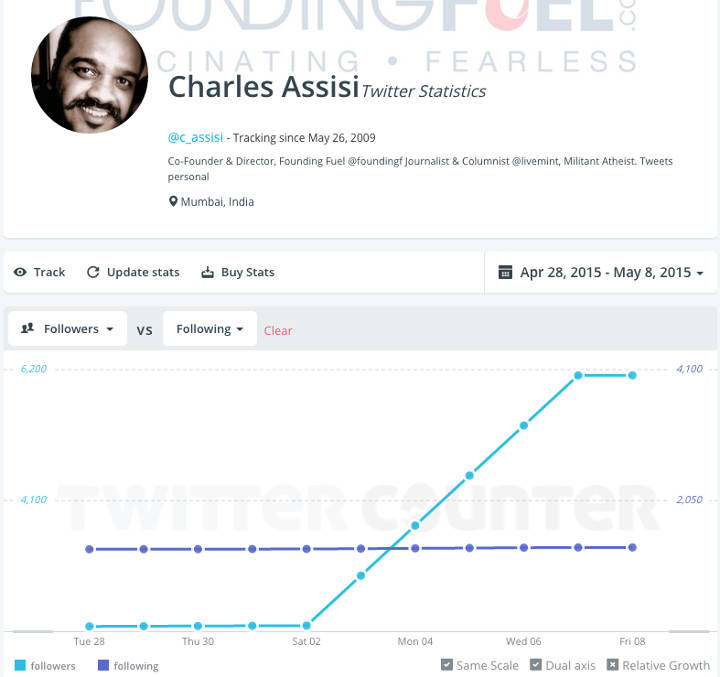 Twitter India clarified though that the spike in Modi's followers on that day was because that his offline followers—those who follow him via text on mobile phones only—were added to his online following.
Be that as it may, even as I prepare to send this piece out to the desk at Mint, my follower count is growing. I have bought friends and am now seen as an influencer of some consequence.
[This article appeared first in Mint on 10th May 2105. Reproduced with permission]