[From Unsplash]
For the last one year, Raj Bowen says he has seen a sharp uptick in the number of leaders he coaches who want to know how to build their personal brand. The former CEO of Dale Carnegie Training in India and a veteran leadership coach says he typically throws the question back to his coachees: why do you want to build a personal brand? Most leaders are stumped, he says. Bowen says he prefers to help the leaders focus on and think through the 'why'. "I also tell them that I don't know the 'how'. There may be far better people to help you craft a personal brand," he says.
Bowen's isn't an isolated experience. By all accounts, the interest in personal branding is clearly gaining ground, not just in India but around the world.
The Harvard Business Review has been gospel for top leaders around the world over the years. Its latest cover story in the May-June edition was provocatively and invitingly titled: Build Your Personal Brand: How to Communicate Your Value to the World. The decision to choose this theme on the cover for one of the six print editions HBR puts out in a year offers a glimpse into what 21st century managers seem to be interested in.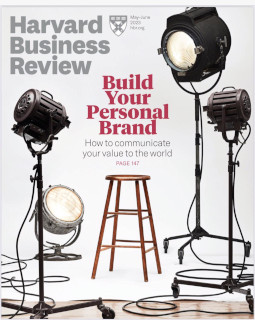 [The cover story in HBR's May-June edition offers a glimpse into what 21st century managers seem to be interested in]
The HBR cover story by Jill Avery, a branding thought leader and Rachel Greenwald, a professional match-maker and a dating coach, offers the raison-d-etre right up front: "Much of professional and personal success depends on persuading others to recognise your value. You can have to do this when you apply for jobs, ask for promotions, vie for leadership positions, or write your dating profile. For better or worse, in today's world, everyone is a brand, and you need to develop yours and get comfortable marketing it."
(Although I'd still encourage people to read it, the experience of reading the piece, which was a step-by-step playbook, was somewhat underwhelming.)
A recent story earlier this month in The Economist claims that the most popular courses at Stanford aren't about learning hard lessons in accounting, finance or computer modelling. In fact, the top three courses require no number-crunching. "Instead, they aim to cultivate in students a capacity for hardheadedness, introspection and diplomacy, respectively. It is these attributes, that students appear to be saying, rather than any technical expertise, that will determine success."
Let me be upfront. I've remained ambivalent about the role of a strong personal brand and the need for deliberately and consciously building it. More than three decades ago and two years after graduating from business school, I chucked up a career in advertising at India's best known agency, to take the plunge into the unchartered waters of business journalism. Since then, personal branding to me has been more about discovering a purpose, building substance and being authentic, and less about honing branding and communications and finding my voice on social media.
Thus, it would be fair to label me as a sceptic. So to avoid succumbing to my own biases, the next thing I did was to have a set of freewheeling conversations with three people—Kavi Arasu, Raj Bowen and D Shivakumar—whose views I respect.
Here are some of the insights from what emerged:
"Figuring out who you are and what you stand for takes focus and attention. A good coach can play a key role"
Start by working on yourself: Finding a social media expert who can teach you how to build your profile on LinkedIn, Twitter or Instagram is the easy part. Figuring out who you are and what you stand for takes focus and attention. A good coach can play a key role. Don't try winging it yourself, especially if you can afford to employ a good coach. Yet, many leaders have misconceptions about the process of coaching. Coaches don't provide answers. They ask good questions that make you think harder. If you're looking for expertise of some sort, find a mentor instead.
Remember, you are unique: During this process of self-discovery, there is a cardinal rule where many senior executives tend to trip up: they aspire to model themselves on a set of well-known personalities. Bowen says he sees this syndrome quite often. Nothing wrong with that, except that it sometimes does not reflect who they really are at their core. Don't construct a purpose in the pursuit of building a brand and aim to live up to the brand values. That is simply not sustainable, says Arasu.
"The true test of a leader is whether he is able to retain his signature when the chips are down"
Try living your values: Pundits from the world of branding, marketing and advertising will nudge you to look at yourself as a brand and define a purpose that consistently reflects the so-called brand values. This is where you need to think again. After all, as Arasu points out, we aren't a bag of cookies that can be baked into a mould, but living, breathing individuals with our own set of values and hopefully, a consistent signature in the way we live and behave. That consistency shines through, in both good times and bad. That's, in fact, the true test of a leader whether he is able to retain his signature, especially when the chips are down.
Be your authentic self: By now, there are so many so-called influential leaders who have burnished their reputations and created carefully curated identities on social media. Make no mistake, building an online presence is important, in case someone decides to look you up, but make sure that you don't put on a mask. If you pretend to be someone you are not and you eventually get found out, your porcelain like reputation could be smashed to smithereens in a couple of hours. Authenticity in the way you come across and how you deal with others is key. Also, the concept of a perfect human being is flawed. Unlike a branded product, we are in perpetual beta.
"If you have to relentlessly build your profile, there might actually be something amiss"
Play the long game: It is relatively easy to be able to have short, quick easy wins with crafted messages and relentless 'artificial personal brand' effort, says Arasu. However, the rules of marketing apply: if the product belies expectations, it flops. Hence, build the right expectation. Life is not a short race. It is certainly not a marketing campaign. In fact, if you have to relentlessly build your profile, there might actually be something amiss.
Occasionally, you may spot a former colleague or a batchmate rise up the corporate ladder, even though you know they are faking it. Rest assured, they invariably get found out—and land with a thud.
Substance over style: Some years ago, Arasu says he brought up the name of a high-flying senior HR leader from India during his conversations with other delegates at a conference in Europe. This HR leader had built an immensely powerful identity on social media. Yet a couple of Scandinavian delegates who had worked with this leader from India almost retreated in horror when Arasu mentioned his name. We'd like nothing to do with him. So if you're friends with him, we'd prefer not to associate with you, they said. Arasu says he couldn't believe his ears. Clearly, the man's colleagues had seen through his charade.
"Dissonance between your actual public persona and your projected personal brand will get picked up"
If you're a high profile leader, remember that your every move will be watched and scrutinised by your employees, colleagues and your partners. If there is any dissonance between your actual public persona and your projected personal brand, those signals will get picked up. For instance, when a smart headhunter looks to do background checks on your candidature for a senior leadership role, they will speak to a range of folks who know you. Your carefully scrubbed LinkedIn profile may not save you, but might actually create dissonance with your potential employer.
Don't get carried away by social media metrics: Whatever you do to communicate your special brand, do not overdo it. Subtlety is a lost art in personal brand building exercises, says Arasu.
A well-known CEO who recently stepped down at the helm of a leading multinational became larger than life, overshadowing the organisation he represented. D Shivakumar says that this is a clear and present danger of becoming obsessive about one's personal brand. The CEO would dominate the front pages of the leading pink papers on a regular basis by actively courting journalists. Towards the end of his tenure, he even made an aborted bid to be nominated for a Padma award by asking all the chambers of commerce to lobby for him. In the end, nothing much came of it. But it gave people who knew him an opportunity to snigger behind his back.
Don't get obsessed with tracking likes, comments, followers—and the dopamine rush that comes with it. It's so easy to mistake social media numbers for real value. If more than a hundred people have liked your comment on LinkedIn, it really doesn't mean much. Likes, follows and engagement online are a chimaera. You are an adult. Not a kid counting the number of friends who turned up for your birthday party!
Dig Deeper:
1. Good coaches listen deeply, question hard and challenge status quo by Kavi Arasu in Founding Fuel
2. The search for higher purpose by Indrajit Gupta in Business Standard
3. A two-part series by Subroto Bagchi in Forbes India:
Part One: Why Do Overachievers Go Down The Path of Self-Destruction
Part Two: What Overachievers can do to save themselves
(A shorter version of this Strategic Intent column was first published in Business Standard.)