[Photo by Livingston / CC BY-SA]
Welcome to the sixth edition of The Growth Factor Weekly (TGF Weekly). The newsletter explores some of the biggest questions around small businesses through the stories of MSME owners, bankers, investors, customers, employees and technologists. It will reach your inbox every Friday at 5:00 PM IST.
In this issue:
How to brand a humble piece of white cloth
How the pandemic is making exclusion worse
Khadi: Sales are up, but what about employment?
Happy reading!
Dept of path dependence | How to brand a humble piece of white cloth
In October last year, when Indian Prime Minister Narendra Modi met Chinese President Xi Jinping at the shore temple in Mahabalipuram, he was clad in a veshti.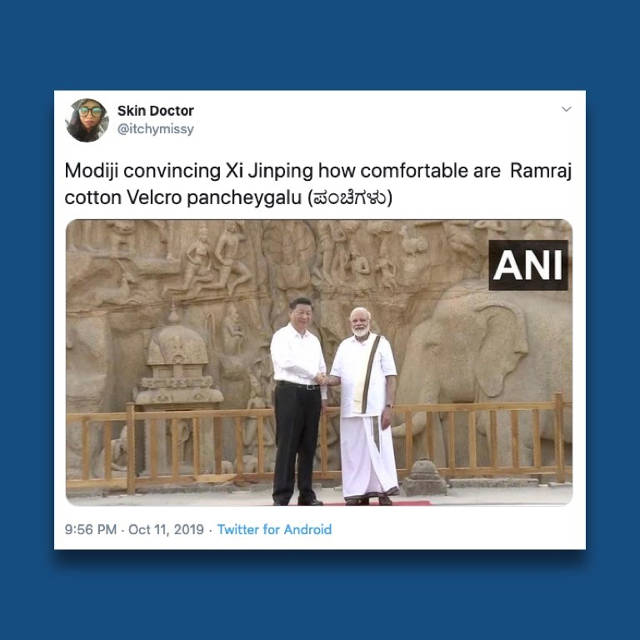 Among the many memes that the photographs of the event generated, at least one had a reference to a specific brand of veshti, with a specific functionality. Ramraj veshtis with velcro to hold it to the waist. The brand is so famous in the south that when people see a powerful man wearing a veshti, they will likely associate it with Ramraj.
How did this happen? One of the best explanations came from Damodar Mall, CEO, Grocery, Reliance Retail. In February last year, Mall shared on Twitter his photograph where he is flanked by two friends, all of them clad in veshtis.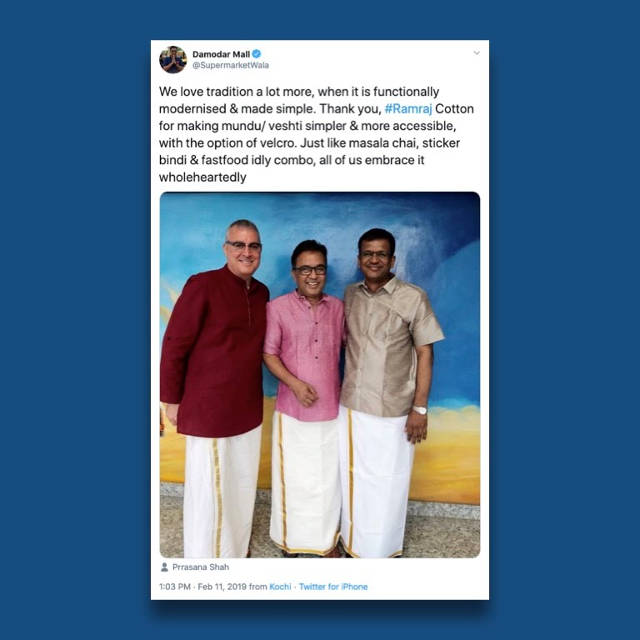 Mall wrote: "We love tradition a lot more when it is functionally modernized & made simple. Thank you, #Ramraj Cotton for making mundu/veshti simpler & more accessible, with the option of velcro. Just like masala chai, sticker bindi & fast food idly combo, all of us embrace it wholeheartedly"
The lesson is very clear. Find a pain point—and the tendency of a dhoti to slip is high, if you are not adept at wearing it—solve it, and people will not only beat the streets to buy it, they will also endorse it.
Here's one more question. Veshtis have been around for ages and velcro has been around for decades. How is it that no one thought of combining the two?
Why did it take so long? Because a whole new group of customers began to try veshtis not just when they were at home, but also on social occasions. And part of it is because of the huge advertising push led by Ramraj, but followed up by several other brands.
Why did Ramraj decide to push veshtis in the first place? After all, veshti brands have been around for a long time. The founder of Ramraj Cotton, R Nagarajan, knows the exact moment when he decided to step up advertising. Once he and his friends had come to Chennai to attend a wedding in the family of a mill owner. The wedding took place in a 5-star hotel in the city. As his group (everyone dressed in Western clothes, save Nagarajan who was in his dhoti and shirt) entered the hotel, the security guard denied him entry. He convinced his friends to go ahead, and spent the next couple of hours in the hotel garden, thinking about what happened to him. He concluded that unless the perception of veshti changes, he would never be able to build a business.
The television advertisement that Ramraj launched was essentially everything that he experienced in his life, except with a positive spin. The model gets down from a Benz car (not a cycle), the security guard bows to him (doesn't deny him entry), he is ushered into a board room where rich and powerful people are waiting for him (he is not made to wait, as Nagarajan was made to wait in some places), he talks on equal terms with government officials, a young girl gives him a rose (Nagarajan faced resistance from his own family members), musicians pause when he passes by (their job requires intense concentration), and even an elephant (many believe the animal gets agitated by white clothes) bows to him. Salute Ramrajuku Salute, became one of the most popular jingles at that time.
Why did Nagarajan enter a space that faced a huge perception problem? He set up Ramraj Cotton in the 80s in Tirupur. That's when exports really started booming. Everyone discouraged him from getting into the veshti business, because they saw no future in veshtis. But, before Nagarajan set up his own business, he was working as a marketing executive for a textiles firm. He spent 15 days in a month travelling, mostly in Andhra Pradesh (and he knew there was a market for good veshtis) and the other 15 days in Tirupur, where he had a chance to interact closely with weavers who came to deposit their goods and collect cash (it used to be about Rs 2 per meter) from his employer. He was moved by their poverty. When he set up the business, he decided to pay them enough (so they can at least have good food and afford a shirt). That means he had to double the price he paid them. He had a tough time selling goods to the merchants. But, when he told the story of how he wanted to pay more to weavers, they gladly took his goods. Since the quality was good, sales were good, and they ordered more. Nagarajan understood the power of stories.
How did Nagarajan see a market where others couldn't? Warren Buffett says the single most important predictor of business success is how early you get into doing business. Nagarajan got into business when he was still in school. He wanted to take up an agency for a newly launched children's magazine called Balamitra, and wrote to the publisher asking him if he could send him some copies. He couldn't pay the advance, but he could sell the magazines in his region. The publisher took him seriously, and started sending him the magazines.
Bottomline: What we see today is often a result of a long chain of causes and effects. Even if one is broken, we wouldn't know what shape something would take. Yet, there are a few principles that hold good irrespective of how things turn out:
The best insights come from feet on the ground.
Social consciousness helps build a good business.
Stories are powerful, especially when they are authentic.
And, of course, to succeed, businesses must solve a problem elegantly.
Covid Impact | How the pandemic is making exclusion worse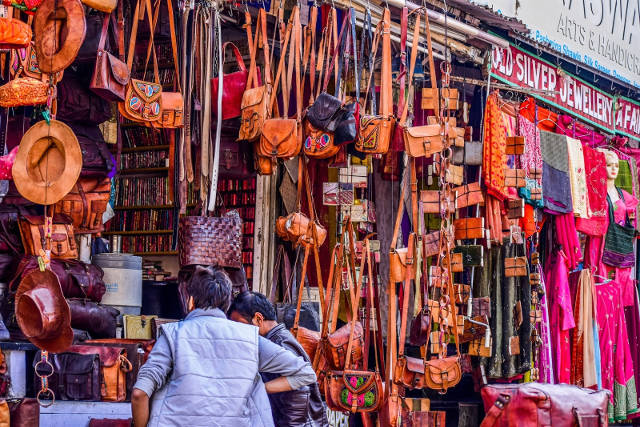 Many suspected this would be the case right at the start, and every step that migrants took towards their own homes, made it clear that the pandemic will make it worse for the excluded, people with limited access to food, healthcare and finance.
In a report, Mint gives an additional dimension to the story, by looking at how digital platforms are operating during the pandemic. Here's one example.
For Lendingkart Technologies, which provides working capital loans to small businesses, or MSMEs, 80% of new loan disbursals were to old customers.
"Our first response was to help our existing customers and see if they need any emergency credit line to restart operations. We also started looking at those who operate pharmacies, pharma labs and kiranas, which weren't impacted much by the pandemic," said Harshvardhan Lunia, co-founder and managing director, Lendingkart Technologies.
Chart of the week | Khadi: Sales are up, but what about employment?
By Vasisht Balaji Srinivasan
Being "vocal for local" is a policy that has gathered a head of steam. Sales in the Khadi and Village Industries have shot up from Rs 27,000 crore in 2012-13 to nearly Rs 75,000 crore in 2018-19, a CAGR of roughly 17.78%, according to government data.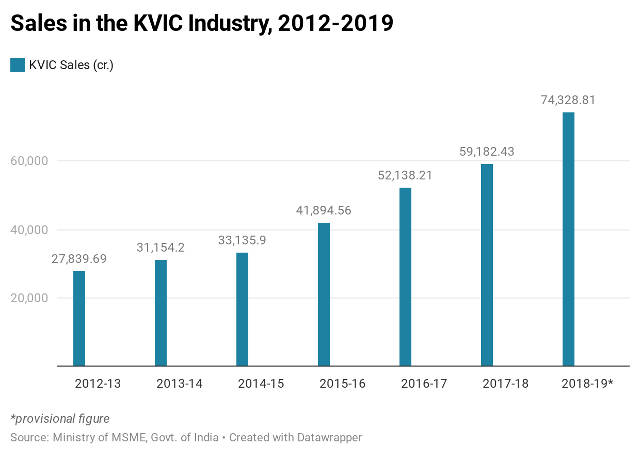 This comes on the back of initiatives taken by the government to promote this segment over the years. It includes moves such as partnering with institutes such as NIFT for fresh designs. And corporates such as Raymond's and Aditya Birla Fashion for distribution. The government has opened exclusive stores to sell Khadi products across the country.
All these on top of budgetary support (interest subsidies, easily accessible loans), improvement in technology and market development are a few measures that have been enacted.
But there is one thing that didn't keep pace with the growth of sales. Employment. While sales grew at a CAGR of 17.78%, employment in the sector grew only by 2.77% over the same period.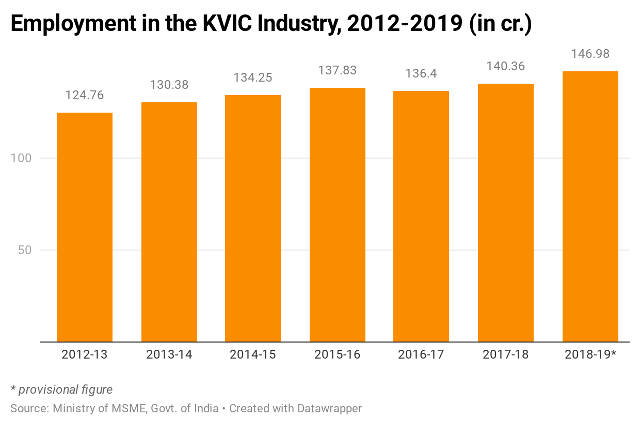 Let us know what you think
This weekly newsletter is curated by Founding Fuel's senior writer NS Ramnath, who is researching industrial clusters in Tamil Nadu on a Bharat Inclusion Fellowship. Bharat Inclusion Fellowship, an initiative of CIIE.CO of IIM, Ahmedabad, is aimed at addressing the knowledge gaps that prevent entrepreneurs from developing effective solutions for the underserved.
TGF Weekly will share insights from his research and reporting. The newsletter is a part of the conversation we will have with our community—on our website, over video conferences, webinars and a Discourse platform we are setting up. We will keep you posted.
Please do share this newsletter with friends and colleagues who might be interested in this theme. Thanks for being a part of what promises to be an incredible journey of learning and insights. (Sign up now.)