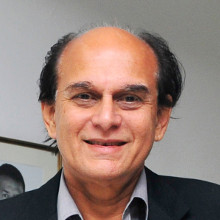 Harsh Mariwala is chairman of Marico, a consumer goods company, best known for brands like Parachute hair oil and Saffola. In 1971, when Mariwala, born into a traditional business family, took over the reins of the company, its revenue was just about $75,000. Over the next four decades, he turned Marico into a formidable, professionally-run multinational company with footprints in South Africa, Vietnam and the Middle East. Today, its revenues are well over $750 million and one out of every three Indians is a Marico consumer.
Mariwala is also the founder of the Ascent Foundation, a non-profit, peer-to-peer platform for entrepreneurs. Its core philosophy is to create sector-specific 'trust groups' of folks who have founded startups and want to scale them up to the next level. The idea is to gain perspectives from fellow entrepreneurs on the hurdles they face while trying to grow their businesses. In October 2014, Ascent had 26 trust groups of 338 entrepreneurs spread across India. By 2022, Ascent aims to increase that number to 10,000 entrepreneurs.
He is at work on his first book that will be published in 2016.