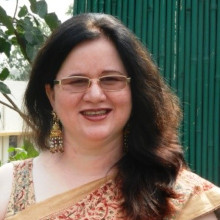 Tasneem has a Master's degree in Clinical Psychology followed by an M.Phill. She has advanced training in public health with a special focus on mental health.
She embarked on her professional journey as a psychologist working with people affected and afflicted with addictions and HIV/AIDS. Her professional path took her across the length and breadth of India, working on a diverse set of health issues and with various vulnerable groups.
She has over 25 years of experience in the health care sector and has worked on a range of issues including non-communicable diseases, infectious diseases and maternal and child health in various parts of the country.
Her core areas of interest include facilitation of people's participation in health care access.
Tasneem currently serves as the lead for Mental Health at the Tata Trusts. She is also a PhD scholar at the Warwick Medical School, University of Warwick, UK.