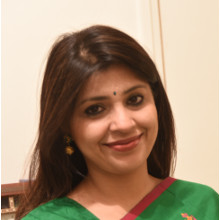 Amrita Chowdhury is Director of Gaia Smart Cities, an urban technology firm providing wide area Internet of Things (IOT) and data automation solutions for enterprises and cities.
Amrita is a business strategist, engineer and innovator, and brings high-energy leadership to the businesses and people she interfaces with. Her experience with strong brands—whether heritage or reinvented—allows her a unique understanding of growth, digital spaces and brands.
She was President of DY Works (Future Group), a brand strategy and brand design firm. She was the Country Head for Harlequin, where she expanded its overall India business and significantly grew its local content portfolio. She served as Associate Director, Education for Harvard Business School for India. Prior to moving back to India, Amrita provided board advisory and strategy consulting for ASX and FTSE 100 clients with Oppeus in Australia and strategy consulting for Fortune 100 clients with AT Kearney in the US. During her consulting career, Amrita worked across a variety of industries including engineering, mining, legal and professional services, insurance, technology, government, education, auto ancillaries, waste management, and more.
Amrita holds seven US patents for semi-conductor manufacturing for work done at Applied Materials in California. That initial work in innovation lets her view new products and services through the business lens. She has led high velocity, early growth stage businesses, looking at India entry and growth strategies.
She is an independent director on the board of Simmonds Marshall, a BSE firm, and on the board of Drishtant, a tech startup for the social sector.
She is passionate about content—spoken, written and visual. She has written two books of fiction: Faking It (Hachette), an art crime thriller, and Breach (Hachette), a cyber crime thriller, and is a contributing author to Chicken Soup for the IITian Soul (Westland). She writes on business, technology, marketing and lifestyle issues in mainstream media, magazines and electronic platforms.
Amrita holds engineering degrees from IIT Kanpur and UC Berkeley, where she was a Jane Lewis Fellow, and an MBA from Carnegie Mellon - Tepper Business School.
She loves art, music, travel, literature and baking, and supports various causes related to healthcare and education.