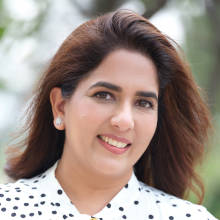 Aparna Piramal Raje is a writer, columnist, public speaker, educator and advisor, who likes to connect the dots and explore the intersections between diverse disciplines. Leadership, business, design, workplaces, education, and mental health are her overlapping areas of interest. She attributes her interest in multi-disciplinary thinking to her time as a student at Oxford University and at Harvard Business School.
Her popular column, Head Office, in the Mint newspaper looks at leadership through the blended lens of workspace design and management workstyles. The column led to her first book, Working Out of the Box: 40 stories of leading CEOs. She has also examined the confluence of the many parallel forces that shape our cities, for newspapers such as the UK's Financial Times Weekend.
A visiting faculty member at the Anant National University in Ahmedabad, she teaches a module called 'Netflix and the Art of Design Writing' and serves on its Board of Studies. Aparna enjoys speaking on design, leadership and business in various forums, including industry associations, companies and business schools. Coming from a family of Lego enthusiasts, she is a trained Lego Serious Play facilitator.
She is an advisor to Wonder Girls, a learning platform for adolescent girls and Talk To Me, a mental health NGO. With the publication of Chemical Khichdi: How I Hacked My Mental Health, Aparna seeks to leverage her lived experience to contribute to India's mental health landscape. She invites you to visit her website www.aparnapiramalraje.com and connect with her on social media.