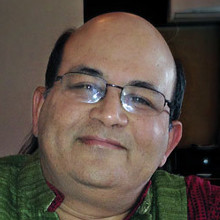 Rishikesha Krishnan is an author, columnist and professor of management who focuses on strategy, innovation, and education. He is listed in the Thinkers50 India list of most influential management thinkers from India.
Prof. Krishnan's book 8 Steps to Innovation: Going from Jugaad to Excellence (co-authored with Vinay Dabholkar) won the Best Book Award for 2013-14 from the Indian Society for Training & Development. His earlier book From Jugaad to Systematic Innovation: The Challenge for India proposed a blueprint for how India can enhance its innovation output.
From 1996-2013, Prof. Krishnan worked at IIM Bangalore, where he held the Jamuna Raghavan Chair in Entrepreneurship from 2007 to 2010. After serving a five year stint from January 1, 2014 to December 31, 2018 as the Director of IIM Indore, he returned to IIM Bangalore and is currently Director of IIM Bangalore and Professor of Strategy there. He was educated at IIT Kanpur, Stanford University and IIM Ahmedabad.