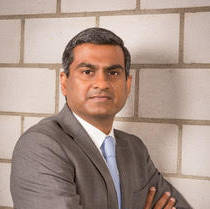 Hari Abburi is a global human resources executive with a focus on agility and design thinking for organisations, leaders and HR.
His work, approaches and solutions are often described as creative, innovative, unconventional and are anchored in simplicity. He has keen interest in emerging technologies and their interfaces with people. His experience and expertise is to shape differentiated, creative people strategies and organisation models in high growth companies, M&As/integrations and startups at both regional and global levels.
His two papers, 'Imagination, Watson, Not HR Strategy' and 'Gig it Up: How to Integrate Gig Talent into Strategic Workforce Planning', give you insights into the latest thinking on Agile HR.
Hari works with chief executives and chief human resources officers on specific long-term impact solutions. His paper on Agile HR focuses on why agility and design thinking are the future of HR effectiveness and highlights the exponential change required.
He is presently consulting in people strategy, Agile HR, leadership and accelerated change. His leadership experience includes roles as Global Head of OD & Talent – Hoerbiger; Leadership Consulting Practice Lead, Southeast Asia – Aon Hewitt; Vice- President HR for Bharti Retail; and Director HR Southeast Asia for Baxter Healthcare. He was also associated with GE and Coca-Cola India.
Key insights from him also include his role in building 'Leadership that shrinks the world' (a Harvard Business Client Case) and 'Self-driven learning for leaders'; people strategy for retail: 'Being the society we serve'; his role in anchoring cultural change on a global scale; points of view on 'skills for life'; and building a service industry mindset.
He has won awards for designing Corporate University that reflects and multiplies the brand culture. At Aon Hewitt Southeast Asia, he was part of the global research on Top Companies for Leaders and Best Employers Study.
Hari is a faculty at several universities on subjects such as change management, leadership and succession, HR strategy, growth capabilities, culture and international human resource management. He is also a speaker at several industry forums and conferences in Asia and Europe.